Many of Camosun's online services use your Camosun domain account to log in. Other services may use a different username, password, or both.
You can chat with student tech support Monday–Friday, from 8 am–4 pm.
Loading...
JavaScript is required for chat.
Your Camosun ID
Your Camosun ID is used to log in to many online services. A Camosun ID starts with a capital C followed by 7 numbers. Example: C0654321. Your Camosun ID is printed on your student ID card.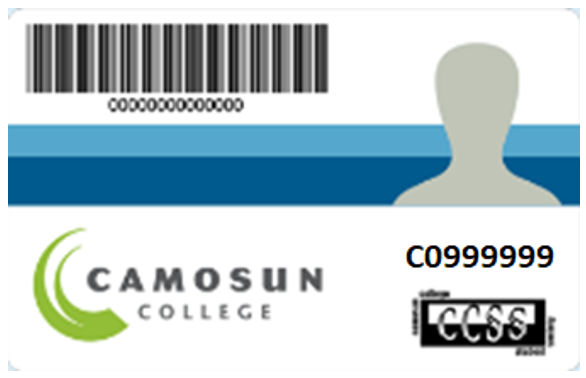 Some services may ask you to log in with your student ID, student number, Colleague # or C-number. Regardless of the wording, these services require your Camosun ID.
Camosun domain account
Your Camosun domain account is used to log in to most online services, Office 365, VPN, computer labs, wireless internet, and printers. It is also your library card.
Activation: Activate your Camosun domain account online
User ID: Your Camosun ID
Default password: Your birthday formatted MMDDYY
Reset password: Reset your password at password.camosun.ca.
For more details see Resetting your Camosun domain password
Use with:
Library accounts
Use your Camosun domain account to access library databases, ebooks, streaming videos and other licensed digital content off campus.
You can also use your domain account to place holds, renew items, and check due dates in the library catalogue.
Please contact the library if you have questions about your account or log in information.
Bookstore account
Bookstore accounts are managed by the Camosun Bookstore. Create an account.
Activated when you create an account
Choose your username when you activate your account
Choose your password when you activate your account
Microsoft 365
Activation: See this article for information on signing up for Office 365.
User ID: C#######@intra.camosun.bc.ca 
Password: Your domain password
Live Chat
Online chat is normally available from 8am-4pm, Monday through Friday
Loading...
JavaScript is required for chat.