Get started using Kurzweil 3000 reading software
 
Step 1 with Kurzweil Web:
First, complete your one time registration with Kurzweil. Fill in your personal details, including choosing Camosun in the School/Org field and put your full 8 digit Camosun C# in the External ID field.
Step 2 with Kurzweil Web:
Once you have successfully registered, you will see you have been added to Kurzweil and assigned a username and password

Step 3 with Kurzweil Web:
Send these to yourself so you won't forget them. Use them each time you sign into Kurzweil software.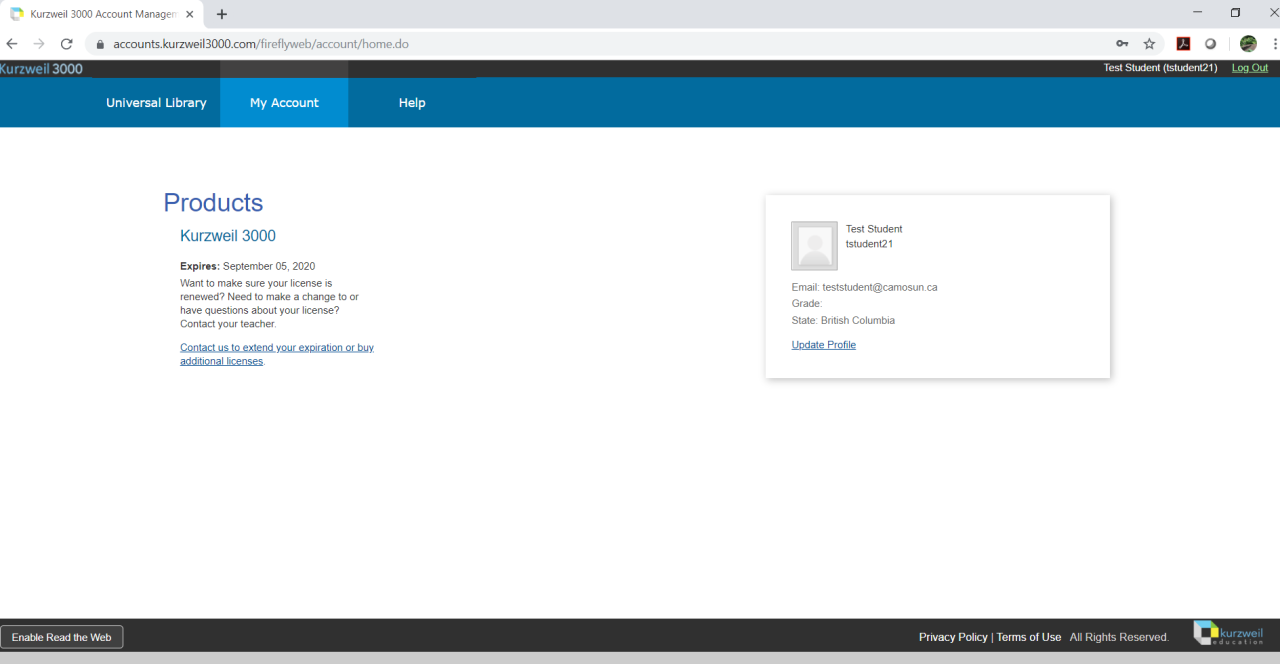 Step 4 with Kurzweil Web:
Now you can log into Kurzweil 3000 to use the Web version. You don't have to install any software on your computer and you can use Kurzweil Web from anywhere with a web browser, even on your mobile device. Just go to https://www.kurzweil3000.com/KLogin.php and enter your Kurzweil username and password.
Step 5 with Kurzweil Web:
Browse to your computer to find your materials you have saved in your documents folder or other folder.

Step 6 with Kurzweil Web:
Here's a sample PDF downloaded and saved to the My Documents folder. You can open it in Kurzweil Web and it will load and be available to read: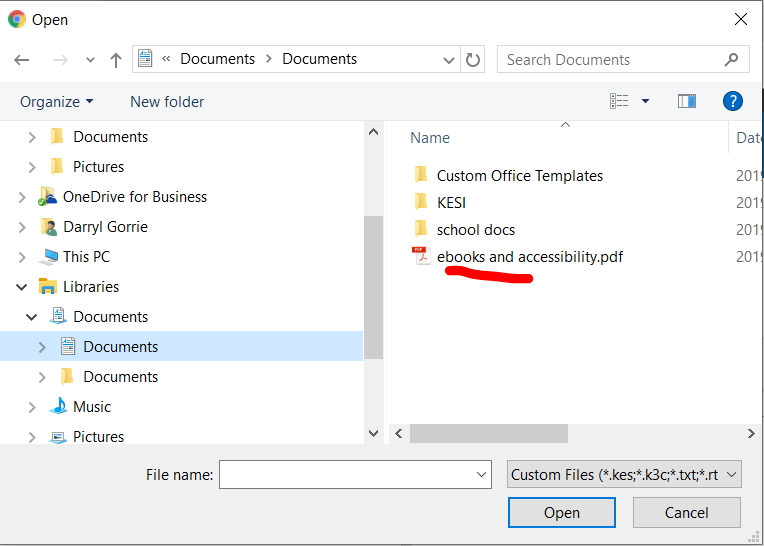 Step 7 with Kurzweil Web:
After your document loads in Kurzweil, press the reading button and it will read aloud to you!! Use the forward and back buttons at the top to move through the pages.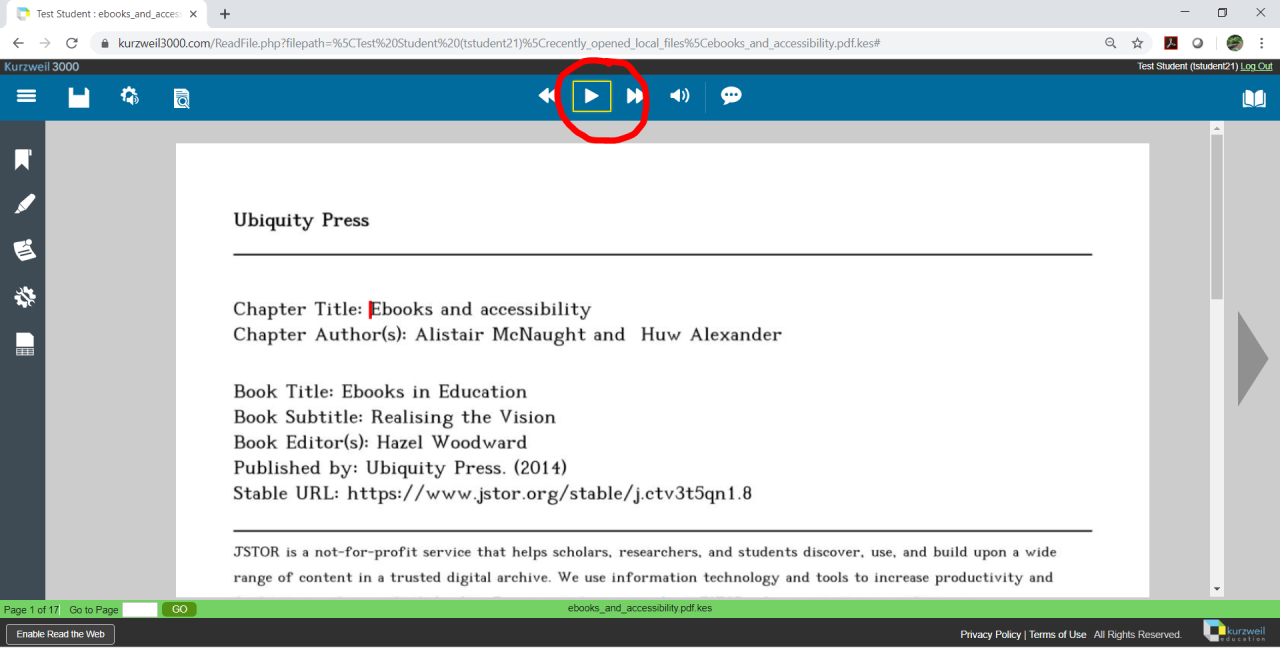 Step 8 with Kurzweil Web:
You can adjust the reading voice, speed and other reading settings by clicking on this button and selecting the options you want: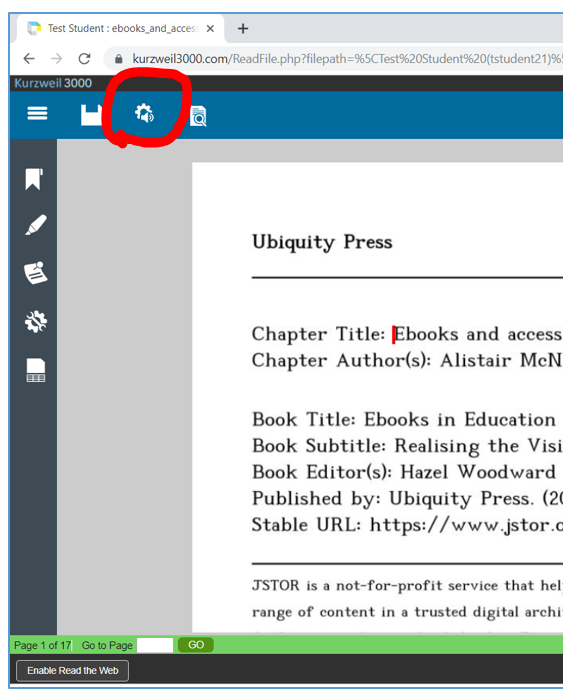 Step 9 with Kurzweil Web:
Once you open the Audio Options, here's where you select the voice, speed of the reading voice, etc.

More info on how to use Kurzweil 3000 Web and the desktop app
Kurzweil Academy with comprehensive set of videos on how to setup and use:
Something important thing to know is that there are different versions of Kurzweil, so you may notice differences in how various features look across various videos you may encounter. 
While both are called "Kurzweil 3000" there are actually two main kinds:
Kurzweil Web version is the web browser version which can be accessed on any device with an internet connection and a web browser (i.e. Chrome)

The app version which installs on a Mac or PC computer.  The app version has a few more bells and whistles.