The clinic is an extension of the Centre for Sport & Exercise Education. Our teaching clinic provides an applied learning environment for our massage therapy students to practice their assessment, hands-on skills and post-treatment care with real clients.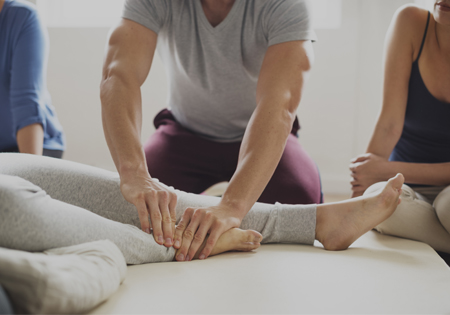 Open to Staff, Students and Public Clientele
We are pleased to offer the community affordable rates for treatments provided by our Massage Therapy Diploma students under the supervision of an experienced Registered Massage Therapist (RMT).
What to expect
You will be treated by one of our Massage Therapy Diploma students under the supervision of a Registered Massage Therapist (RMT).
All appointments are 75 minutes and include assessment, hands-on treatment and post-treatment homecare.
As we are a teaching clinic, students may be joined by their RMT clinical instructor at times during your treatment.
On your first visit, please arrive 10-15 minutes early to check-in and fill out your client intake form unless you have already been able to complete it electronically.
We accept payment by cash, debit or credit.
Clinic Policies
Camosun College practices a scent-free environment. Please refrain from using scented products prior to your appointment.
Please silence/turn-off cell phones upon entrance to our clinic and for the duration of your treatment.
In consideration of our student therapists, please adhere to our 24 hour Cancellation / No-Show Policy and notify the clinic as soon as possible for any cancellations or changes.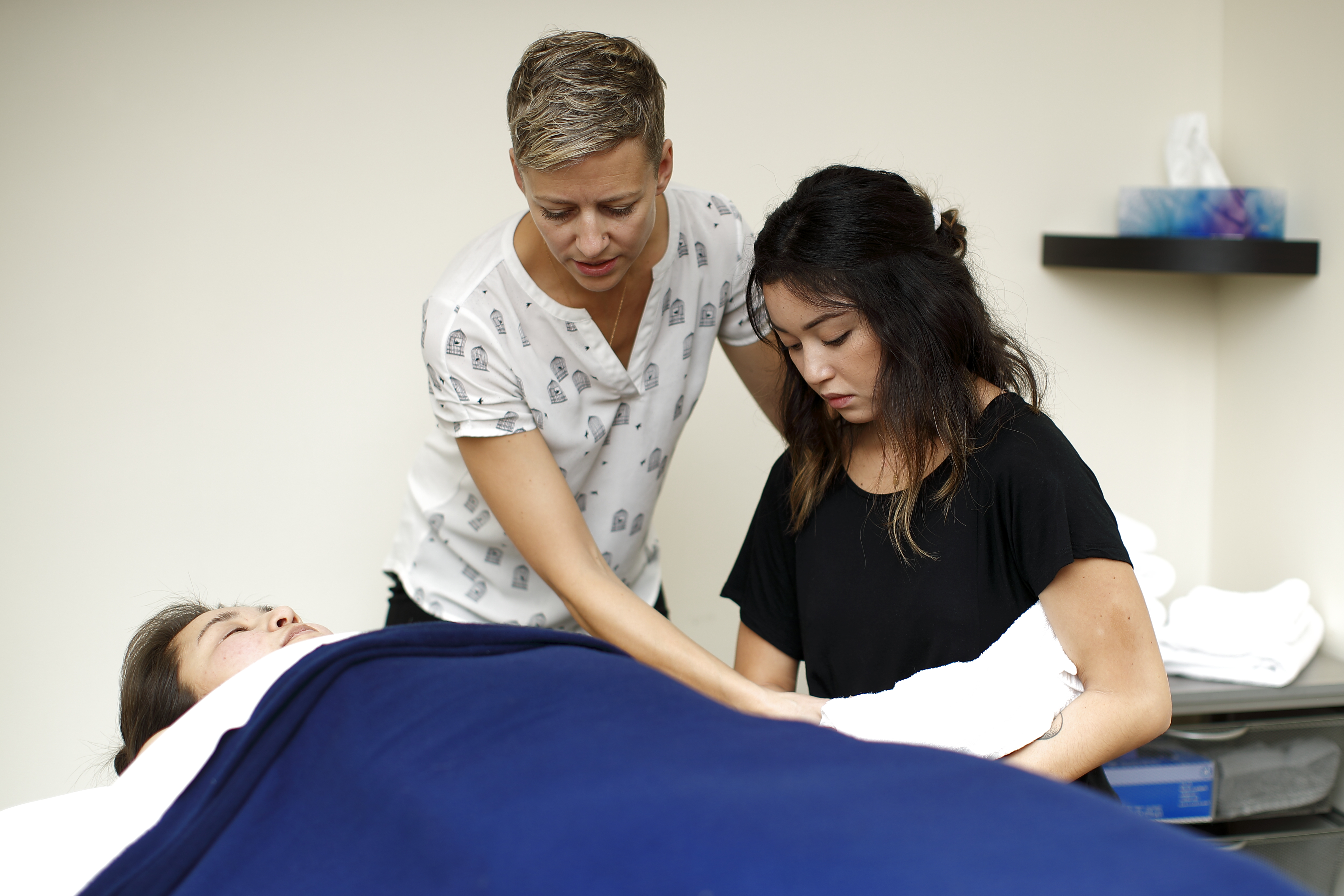 Book an Appointment
Interurban Campus:
Tuesdays: 8:30am - 5:30pm
Wednesdays: 8:30am - 7pm
Fridays: 8:30am - 7pm
*Subject to change each term.
Massage Therapy Rates
75 Minute Appointments
| Client | Fee |
| --- | --- |
| General Public | $20 |
| *Camosun Employee | $15 |
| **Camosun Student | $10 |
All clients receive their first treatment for FREE!

*subject to change
24-Hour Cancellation / No-Show Policy: Missed appointments prevent us from accommodating other clients and ensuring our students receive their required hours. Cancellations with less than 24 hours notice and no-show appointments are subject to being charged the full treatment rate. Please contact us to cancel or reschedule your appointment as soon as possible.
Please Note: As our students are not yet RMTs, we cannot accept clients with current ICBC or WorkSafeBC claims and our treatments cannot be submitted for health insurance reimbursement.
Community In-reach / Outreach
We offer community in-reach and outreach opportunities. This provides our students experience with diverse clientele and working environments.
In-reach
Employee & Lansdowne Student In-Reach (Fisher 208)
We are excited to report that the Massage Therapy Clinic at Lansdowne will continue to serve students and staff.
| Lansdowne Massage Clinic  | Hours |   |
| --- | --- | --- |
| Wednesdays | 8:30am - 7pm | Camosun students & staff |
| Fridays | 8:30am - 7pm | In-Reach Appointments & same day bookings for Camosun students & staff |
Please contact 250-370-4747 or email: Massageclinic@camosun.ca to book an appointment in the Lansdowne Clinic.
Lansdowne Clinic is also giving back to the community and offering treatments to the following organizations:
MOVE Adapted Fitness: an independent registered non-profit society whose vision is to provide accessible and therapeutic exercise to empower people of all physical abilities to experience the enjoyment of moving through life.
Umbrella Society: an organization that provides support to individuals, and their loved ones, struggling with substance use issues. This organization embraces Communities and supports all those affected by substance use and concurrent mental health challenges.
University of Victoria Vikes: Athletes in summer sports (swimming, rowing, baseball, track, and golf) will be receiving treatments from our Massage Therapy students to optimize their performance.
Outreach
Our students provide treatments at external locations such as geriatric facilities, long-term care, medical rehab facilities, sporting events and other facilities that allow for patient treatment.
If you are interested in establishing an in-reach or outreach opportunity, please contact our clinic manager for further details at massageclinic@camosun.ca.
Interested in earning a diploma in Massage Therapy?
Our applied program prepares students to become Registered Massage Therapists.
Contact information
Massage Therapy Clinic
Contact us to book an appointment
Campus location
Camosun College, Interurban
123 | Liz Ashton Campus Center
4461 Interurban Rd
Victoria BC V9E 2C1
Location link