The AET Clinic is an extension of the Centre for Sport & Exercise Education, offering both a state of the art applied learning environment for Camosun students, and exemplary services to our clientele.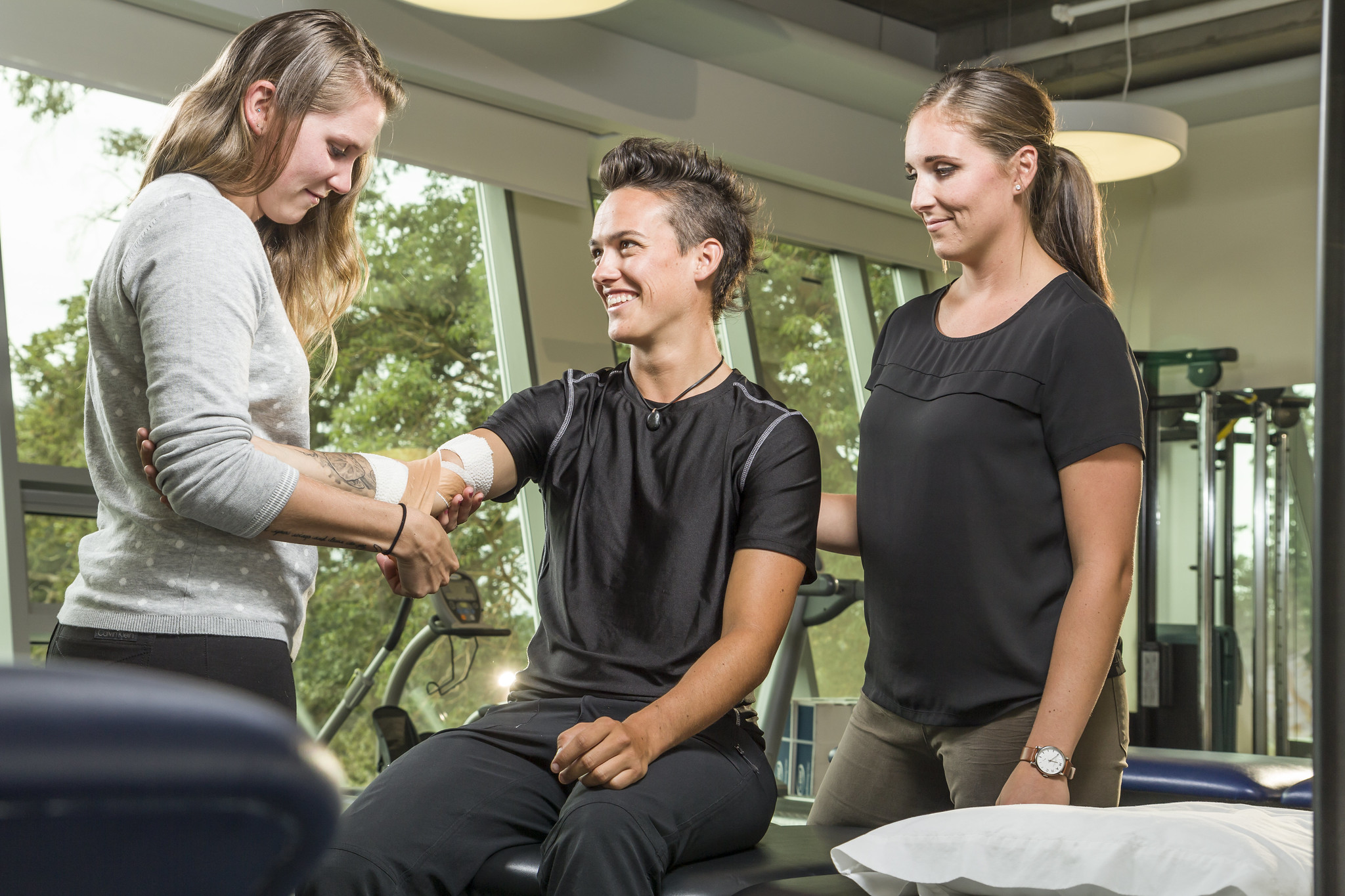 Open to Camosun Students, Employees and the General Public
The AET Clinic offers fee-per-service appointments including, immediate care, reconditioning of musculoskeletal injuries, and health assessment associated with the prevention and management of chronic disease.
Athletic Therapy: Musculoskeletal Assessment and Rehabilitation
Exercise Therapy: Fitness and Health Risk Assessment and Evaluation
LASER Therapy: LightForce Class IV LASER
Stabilizing Orthotics: Assessment, Provision and Fitting
Our COVID-19 SafeStart plan includes the following enhanced protocols that will make your experience at the AET Clinic look and feel different than before. It is set up in order to keep one thing in mind: the safety of the clinics staff, patients, and students while keeping the same quality of service.

Limited personnel in both communal and closed door spaces.
Staggered appointment times with increased time between patients to allow for enhanced cleaning measures.
Pre-screening protocols upon entry to the clinic for all staff and patients.
One way traffic flow.
Touchless payments.
Usage of personal protective equipment throughout appointments.
Efforts to ensure physical distancing.
Removal of 12-hour cancellation fee to ensure that those who feel unwell are not obligated to attend appointments.
Regular review of protocols in order to stay up to day with the ever changing information and recommendations surrounding COVID-19.
Clinic Services
Athletic Therapy 
Musculoskeletal Assessment and Rehabilitation
Athletic Therapy offers initial assessments and follow-up visits, regarding both musculoskeletal injuries and conditions. This service uses contemporary rehabilitative techniques in preparing the individual for safe reintegration into an active lifestyle and fosters an attitude of positive health.
Initial assessment will include a first treatment.
The session will include but is not limited to:
In-depth musculoskeletal and postural assessment
Injury specific assessment and rehabilitation
Contemporary rehabilitation techniques
Therapeutic modalities (ultrasound, IFC, tens, NMES, cryotherapy, laser, heat)
Soft tissue mobilization
Physical reconditioning, rehabilitative, and conditioning programs
Supportive strapping procedures
Concussion management
Prophylactic or supportive taping
Stabilizing orthotics
Exercise Therapy
Fitness and Health Risk Assessment and Evaluation
Exercise Therapy focuses on fitness and health risk factors associated with an onset and management of chronic disease and sustainability and/or recovery of functional independence.
The session will include but is not limited to:
Assessment and evaluation of cardiovascular fitness, muscular strength, muscular endurance, flexibility and body composition
Assessment of Activity Readiness and individualized program prescription guidance
Body composition through anthropometric measurements and use of InBody
Assessment of bone health through predictive analysis
Laser Therapy
LightForce Class IV LASER
The Deep Tissue Class IV Hot LASER works by means of light energy. This Hot LASER penetrates deep into the tissues, stimulating the damaged cells and increasing circulation to the painful area. This produces a cascade of healing responses in your body, reducing inflammation, thereby reducing or even eliminating your pain.
Our Certified Athletic Therapists are specifically trained to use the Class IV LASER to reach both deep and superficial tissues involving injuries such as ligament sprains and muscular strains, arthritis, calcified muscles and fibrotic adhesions, as well as intra-articular tissues inside of the joints. Within a few sessions the Class IV LASER allows many conditions to vastly improve. With treatment times of as little as 5 to 15 minutes, often patients find immediate, soothing warmth and relief that improves with each session.
This unique therapy can be used as:
Adjunct to prescription drugs
Substitute for surgery
Pre-surgery treatment
Post-surgery treatment to accelerate healing
Long-term pain management system
Acute injury treatment
Your initial LASER appointment consists of a one hour assessment and treatment where the practitioner will assess your area of concern and provide LASER therapy treatment. Subsequent treatments will range from 5 to 15 minutes, depending on the condition being treated.
Stabilizing Orthotics
Assessment, Provision and Fitting
This service includes assessment, provision and fitting of Stabilizing Orthotics
Dynamic Scan
Proprietary diagnostic software analyzes digital pressure mat, patient data and translates it into a prescription for orthotics
Static Scan
Bilateral pressure distribution assessment and report
Useful in detecting leg length discrepancies
Postural Scan
Postural analysis to determine deviations in alignment, movement pattern and body symmetry
Visually observe postural movement over time (replay for analysis and patient education)
| Client | Fee |
| --- | --- |
| General Public | $368 |
| Camosun Employee | $368 |
| Student | $368 |
Clinic Fees
Initial Assessment (60 minutes)
| Client | Fee |
| --- | --- |
| General Public | $75 |
| *Camosun Employee | $60 |
| **Student | $45 |
| Treatment for all ICBC Claims | $75 |
Follow-up Appointments (30 minutes)
Client
Fee
General Public
$60
*Camosun Employee
$45
**Student
$30
*Camosun Employees: Athletic Therapy fees are covered by Camosun's insurance provider for eligible employees.
**Camosun Students: Athletic Therapy fees are covered under the Student Health Plan with a referral from a physician. Please check with your provider for details.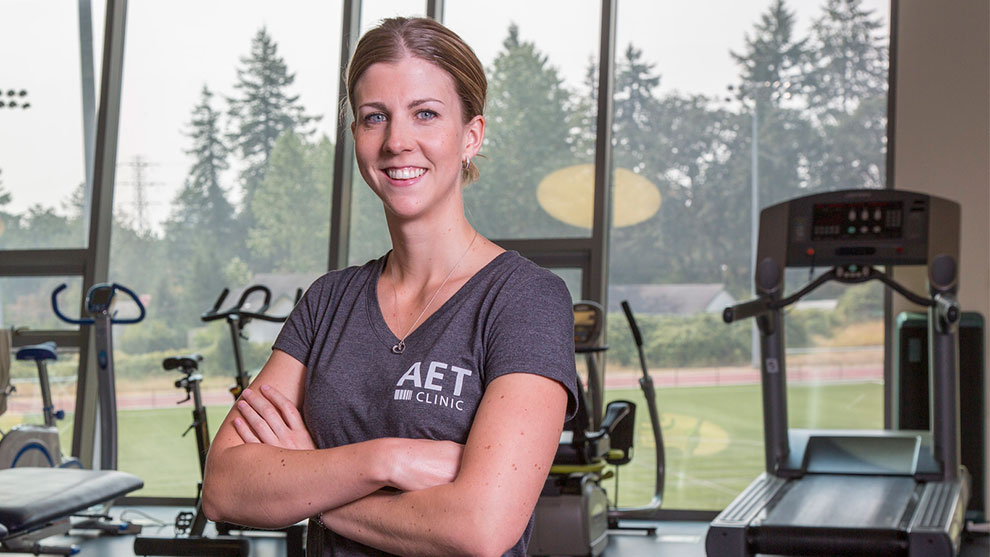 Book an Appointment
Interurban Campus
AET Clinic Hours:
Monday - Friday: 9am - 5pm 
Entrance near the front
corner of the PISE building
Meet our Team
Camosun's AET Clinic Staff and Practitioners work ensure a robust and positive learning environment for our CSEE students and excellent treatment for our clients.
AET Clinic Staff
AET Clinic Practitioners
Interested to become an Athletic and Exercise Therapist?
The AET teaching facility is part of Camosun College's Centre for Sport and Exercise Education. Learn about the programs we offer and how we train the students who work with you in the clinic.
Contact information
Athletic & Exercise Therapy Clinic
Contact us to book an appointment
Campus location
Interurban Campus
4461 Interurban Rd
Suite 204 - PISE Building
Victoria BC V9E 2C1
Location link