Emergency blue phones located on both campuses immediately connect you to emergency responders.
Emergency? Dial
250–370–3075
for help in any emergency or
3075
from any campus phone.
For non-emergency access to Campus Safety, please call 250-370-4567
Lansdowne
Blue phone locations
Outside the Young Building across from the Visual Arts Building
On the path between the Ewing Building and Wilna Thomas Building
Outside the Isabel Dawson Building, near the fountain
Outside the Fisher Building near the courtyard
Interurban
Blue phone locations
Inside the Technologies Building near Room 150
Outside Portable A near Parking Lot 5
Outside the Helmut Huber Building near the fire lane
Outside the Jack White Building near the first aid room
In the PISE parking lot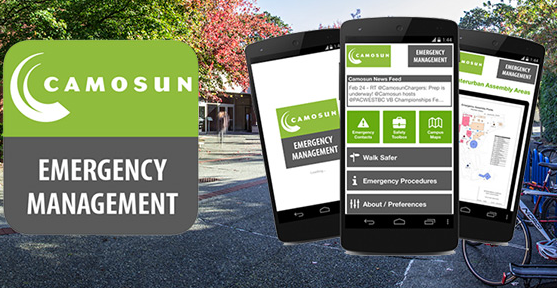 Emergency Management App
The free Camosun Emergency app is your personal safety toolkit and emergency notice centre.