Program at a glance
Work experience
Clinical/fieldwork placement

Information Sessions
The Certified Dental Assistant information sessions are a great way to learn more about the program and to get your questions answered by the faculty.
Scheduled Sessions
Certified Dental Assistants provide a vital health care service
Start in September
The Certified Dental Assistant (CDA) program is fast paced, practical, hands-on and simulates the work environment. The program provides six weeks of practicum experience in a dental office to provide you with hands-on experience to be job-ready when you graduate. The CDA program is fully accredited nationally and graduates have performed extremely well on the national board exam.
Collaborative
You'll be working in Camosun's 24 chair, fully equipped clinic learning to prepare for and provide chair-side support to assist dentists and clients as well as independent skills and duties. You'll learn about becoming a collaborative partner in the delivery of all aspects of dental care. CDA skills include assisting the dentist at chair-side, as well as providing direct client care.
Your interpersonal skills will play a large role in your success as a CDA to meet the needs of a variety of clients.
We'll help you succeed!
You'll be given many opportunities to transfer your theory and professional communication skills into both the clinical setting at Camosun and dental offices. This helps to better understand the broad scope of your practice and to help you grow in confidence and competence.
Clinic practice is scheduled for 17 hours per week to allow you to develop clinical skills that can lead to jobs after graduation.
Hands-on learning
The field of dentistry is becoming increasingly sophisticated and technological.
In the 10 month Certified Dental Assistant program you'll participate extensively in hands–on clinical activities. You'll learn specific skills to assist the dentist as well as independent duties such as taking dental x-rays, impressions of teeth, placing dental dam and providing preventive care. Providing a wide variety of skills makes the job very satisfying
Community learning
You'll provide preventative dental care to the public in the Camosun Dental Clinic, and practice in a live working environment through three separate practicum experiences in general dental offices in the community.
Discover your opportunities with the Canadian Forces
The Certified Dental Assistant (CDA) Program has been recognized by the Canadian Forces (CF) and now qualifies for a CF Paid Education program.
Current Information for Health and Human Services Students and CDA program specific handbook sections.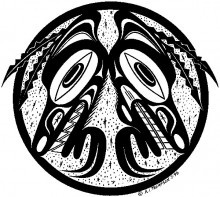 Indigenous Limited Priority Admissions 
The School of Health & Human Services (HHS) offers Priority Seating for Indigenous students in all Health related programs.
Visit Eyēʔ Sqȃ'lewen - Centre for Indigenous Education & Community Connections (IECC) for information on how to apply.  
Any questions about the application process, please contact hhsindigenoussupport@camosun.ca
The Indigenous Limited Priority Admissions process, approved by the Board of Governors, supported by the Education Council, and approved by the BC Human Rights Tribunal, welcomes applications from all qualified Indigenous applicants.
What you'll learn
Current students wanting information about your program, go to student planning in myCamosun.
Program outline
For more details, including courses, please see the program outline in the Academic Calendar.
What to expect
Located at our Lansdowne campus, the CDA program is 10 months long, full-time. Classes are scheduled for 28 hours per week with homework commitments that vary per student but amounting to about three to four hours per day including weekends.
Our program is administrated with a philosophy of self-direction and you and your 35 classmates will be expected to treat your clinical learning environment as though it were your place of employment.
Successful completion of the National Dental Assisting Examination Board (NDAEB) examination is required to qualify for registration and licensure as a CDA in British Columbia. The NDAEB examination process is external to Camosun College.
Term 1
In the fall term, you'll relate theory to practice through learning head and neck anatomy, physiology, microbiology, pharmacology, radiology, nutrition, infection control, dental armamentarium and professionalism. Near the end of the term you'll participate in a one week dental office practicum.
Term 2
In the winter term you will continue to develop your theoretical knowledge and clinical skills from term one. You will also have the opportunity to apply your clinical skills outside the simulated clinical environment in community dental offices for two weeks in your second practicum.
Term 3
During the final 5 weeks of the program you will provide preventive care to children in the dental clinic for 2 weeks and participate in a 3 week practicum in a general dental office.
Tuition and fees
Effective from September 1, 2023, to August 31, 2024
Estimated tuition
Tuition estimates are for the entire program
Certified Dental Assistant, Certificate
$8,932 (domestic)
$20,430 (international)
Domestic tuition fees vary depending on the individual course fees for the classes you select.
For International students visit: International Tuition & Fees.
Student fees
In addition to tuition estimates, student fees are calculated based on your enrolment. Refer to: Student Fees.
Financial assistance
You may need to find more than one source of funding to help pay for your education and living costs while attending college. Check out sources of money you don't need to pay back as well as those that need to be repaid.
Admission Requirements
One of:
C in  
C in   
One of: 
C in   
C in  
And all of:
Grade 12 graduation or equivalent
When you apply you will need to submit proof that you meet the program admission requirements listed above. Where a letter grade is specified, you must have proof of that grade or higher.
For more details, including courses, please see the program outline in the Academic Calendar: Loading...
Contact us
If you have admissions questions contact us today!
If you have questions about what you can expect to learn in your dental assistant classes contact hhsinfo@camosun.ca.
Feel free to investigate our Public Dental Clinic pages.
Faculty/staff profile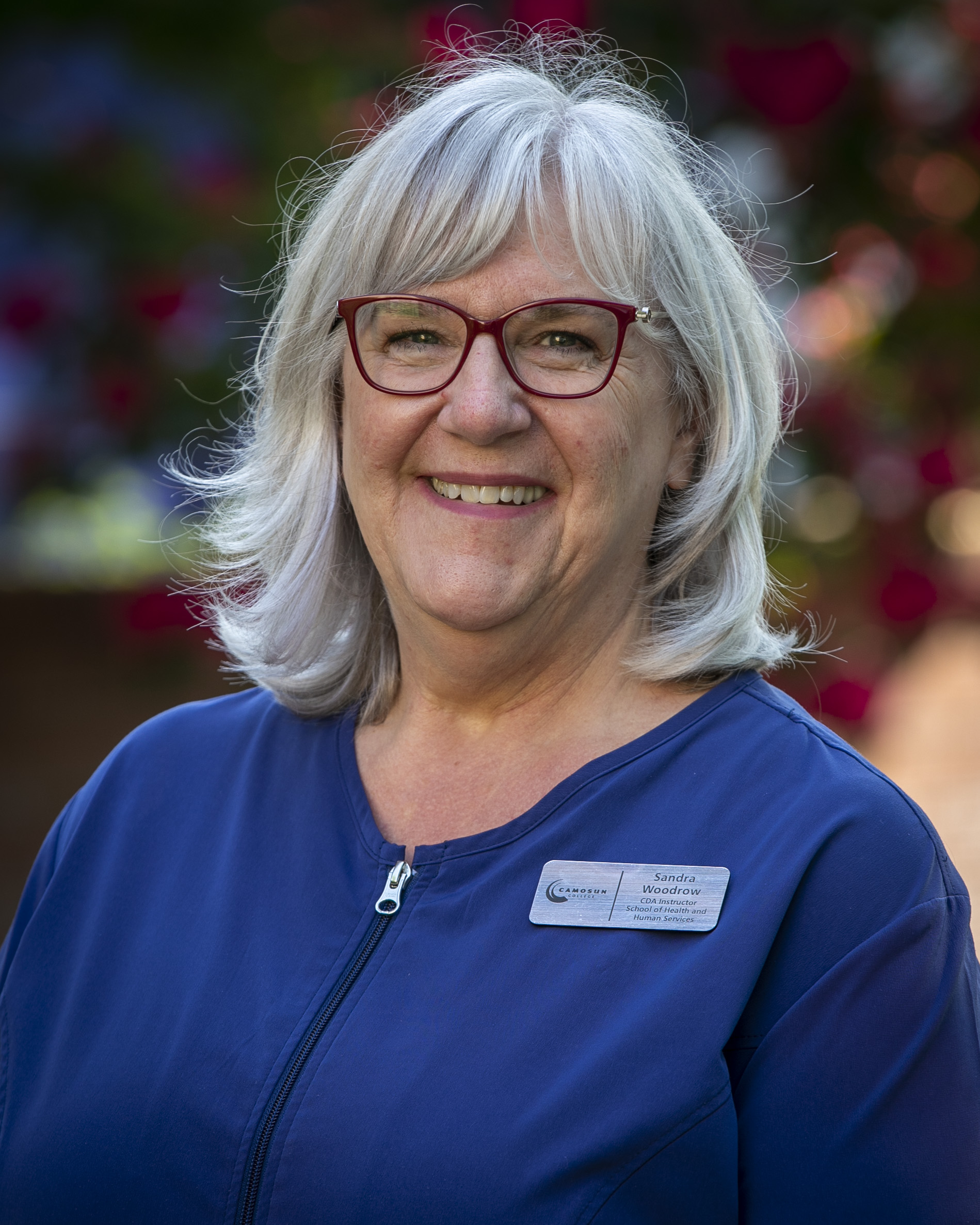 Sandra Woodrow
Clinic and Practicum Lead, Instructor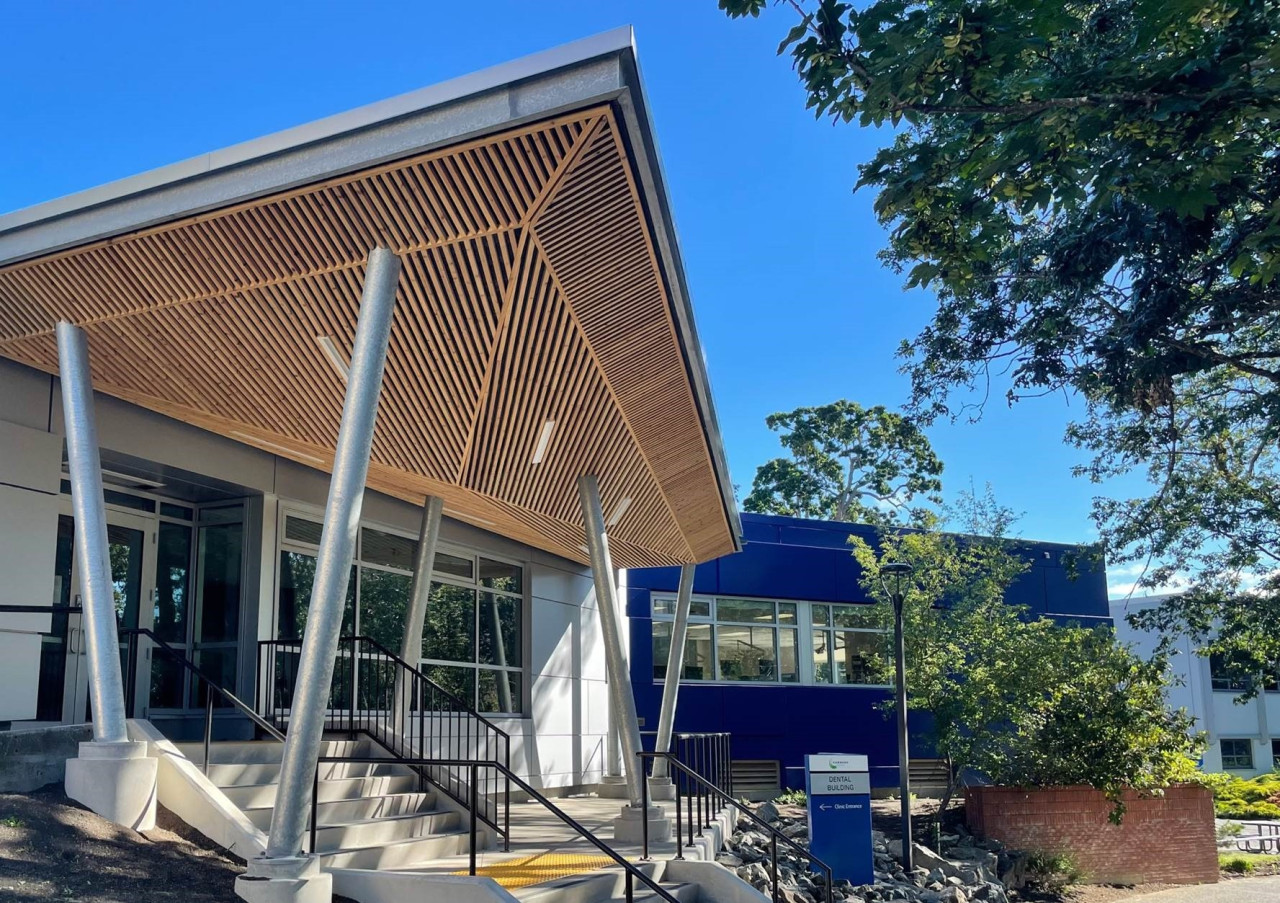 Learn more
For more details, including courses, please see the program outline in the Academic Calendar. 
Contact information
School of Health and Human Services (HHS)
Campus location
Alex & Jo Campbell Centre for Health & Wellness (CHW) 207
Location link
Admissions questions: