Program at a glance
Other nautical training courses
Camosun's Department of Professional Studies and Industry Training offers industry-approved Marine Training Certification taught by industry professionals.
Marine training
Begin your career at sea!
Indigenous people and women who are Canadian citizens or Permanent Residents are invited to participate in the fully-funded Bridge Watch Rating program to learn and enhance seamanship skills, earn nationally-recognized certifications, and embark upon an exciting, entry-level career in the Marine industry.

Supported by Transport Canada and OPP (Oceans Protection Plan), and via a partnership with BCIT,  Camosun's Bridge Watch Rating program provides a pathway for you to enter into rewarding marine sector careers. You'll learn the essential knowledge and skills related to the practice of seamanship, navigation, standards of safe working procedures, and the hazards associated with the marine environment.
Learn from experienced sailors, take field trips, practice hands-on techniques, undertake a practicum at sea, and earn nationally recognized Transport Canada marine certifications.  Marine-based employers are excited to hire our graduates!
A Camosun success story
Richard Watts, a recent graduate from the Bridge Watch Rating program, talks about his experience with the program.
Train on a variety of marine vessels
The program is designed to provide entry-level personnel with base-level knowledge of seamanship to prepare for a career at sea with:
BC Ferries
Canadian Coast Guard
local tug operators
cruise ships
deep-sea vessels, and more.
In addition to working on commercial vessels, career opportunities exist for:
water-based ecotourism
commercial fishing
sport fishing
travel
other recreational marine guiding roles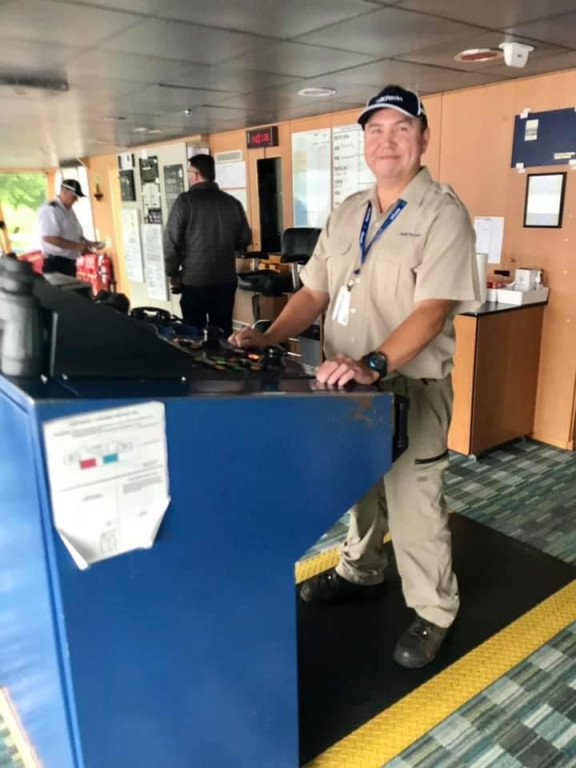 Get the skills you need to begin a career on the water
Training covers the hands-on skills and coursework required by Transport Canada for employment. Over 17 weeks (depending on electives) this full-time program is based on three modular courses designed to prepare you for a career in the marine industry.
Gain hands-on skills and knowledge in:
Keeping a lookout
Steering the vessel
Operating communication systems
Anchoring and mooring
Responding to emergencies
Basic environmental protection procedures
Assisting in cargo operations
Handling ropes and chains
Earn nationally recognized training certificates
Transport Canada Bridge Watch Rating Training Certificate
Workplace Hazardous Materials Information System (WHMIS 2015)
Restricted Operator's Certificate – Maritime Commercial (ROC – MC) 
Small Vessel Operator Proficiency (SVOP)
Marine Basic First Aid Certificate (MBFA)
STCW Basic Safety Training (BST)
STCW Proficiency in Survival Craft (PSC)
Program cost
All tuition, 

books, and course materials 

are provided.

Lunch or lunch funds are provided for all students for each day a student is on campus

Bus passes for travel within the greater Victoria area are provided

Students who must relocate to attend training may be eligible to receive accommodations and meals for the time that they are away from home.
Costs not covered:
Rent/mortgage

Vehicle payments and insurance

Groceries

Child/elder/pet care

Phone and internet

Extended health care
Program start
Multiple start dates are available throughout the year. The course is offered at Camosun College in Victoria with supplementary training at BCIT in North Vancouver. Contact BridgeWatchRating@camosun.ca for more details on dates, location, entrance requirements, and prerequisites, or to apply for the Bridge Watch Rating program.
Contact BridgeWatchRating@camosun.ca for more details.
Class hours: 8:30 am-4 pm, Monday - Friday excluding statutory holidays and College closures.
Contact us
Faculty/staff profile
Cindy Drover-Davidson
Bridge Watch Rating Coordinator
Born and raised on Newfoundland's West Coast, Cindy gradually made her way across the country to Victoria. At every stop through the country, Cindy ta ...
A career at sea!
Get the skills to start a nautical career aboard commercial vessels.
Contact information
Bridge Watch Rating Program