Program at a glance
Study options
Full-time
Part-time
Rethink your classroom
Spend a semester or two abroad and earn Camosun credits.
Study Abroad
If you are learning English as an International language, this program is for you!
Start in September, January or May!
With our help and support, you'll become more confident listening, speaking, reading and writing English. Offering eight levels of English as a Second Language (ESL) training, Camosun has a course for everyone.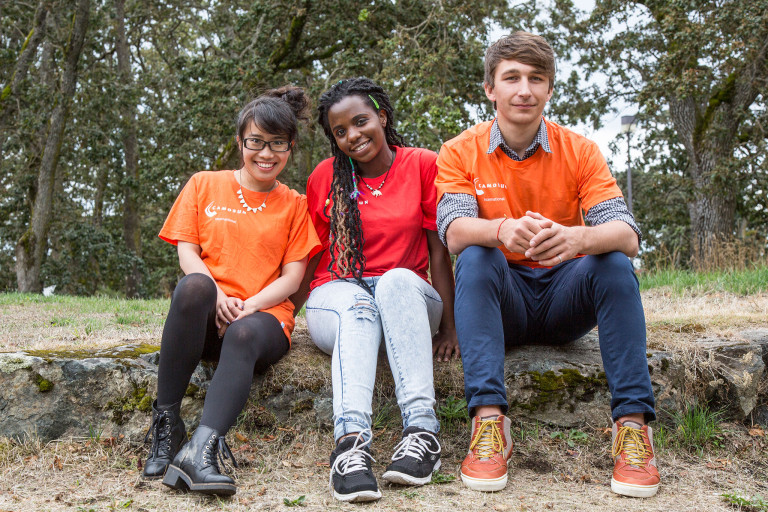 Intermediate, Advanced and Provincial levels of English language skills
In the English for Academic Purposes program, speakers of other languages develop essential English reading, writing, listening and speaking skills. This program provides a unique opportunity to learn with a multicultural student population, authentic language practice, Canadian culture experience, and electives to support the required courses. Domestic and international students can study full and part-time to improve their English skills for a variety of goals related to academic study and daily life in an English language setting.
This skills-based program focuses on the development of advanced academic English language skills needed to gain entry into college-level programs or technical and professional English language skills needed in the Canadian workplace.
For success in these programs, you are encouraged to immerse yourself in English outside your classes, attend regularly, participate in class, and complete homework and assignments.
A supportive community
Our instructors are highly qualified and committed to providing a friendly and caring learning experience in an adult environment. We understand the pressures and challenges of learning a new language. Our scheduling is flexible to fit your busy life: full-time, part-time, at your own pace; day or evening; all year round.
Staffed with expert language tutors, multi-media computer labs and a variety of other support services to help you succeed. You'll be a part of our campus community and meet new friends.
Learn at your level
If you're a beginning or pre-intermediate student, you will start with listening and speaking skills and an introduction to reading comprehension and written composition. BESL
If you're a more experienced English language learner, you will take more advanced courses, either to prepare you for college and university level programs or to gain professional English skills for the Canadian workplace.
What you'll learn
Current students wanting information about your program, go to student planning in myCamosun.
Program outline
For more details, including courses, please see the program outline in the Academic Calendar.
Related link
Tuition and fees
Effective from September 1, 2022, to August 31, 2023
Estimated Tuition
Tuition estimates are for the entire program.
English for Academic Purposes, Certificate
For domestic students, 0-level English (ELD) upgrading courses are tuition-free.
For International students visit: International Tuition & Fees.
Student fees
In addition, student fees are calculated based on your enrolment. Refer to: Student Fees.
Financial assistance
The Adult Upgrading Grant (AUG) covers student fees, deposit, tuition (if applicable), required textbooks and childcare support for eligible students enrolled in 0-level upgrading courses.
You may need to find more than one source of funding to help pay for your education and living costs while attending college. Check out sources of money you don't need to pay back as well as those that need to be repaid.
Admission requirements
For more details, including courses, please see the program outline in the Academic Calendar.
Ready to get started? Get your application in for the September, January or May intake.
Missing admission requirements?
You may be able to take an assessment or upgrade with us.
Need help applying?
Find out more on How to Apply or speak to an Admissions Advisor.
Our Teaching Staff
Camosun College is fiercely proud of the excellent quality of its instruction. Our teaching staff are experienced, inspiring and supportive of our students' individual journeys.

Learn more
For more details, including courses, please see the program outline in the Academic Calendar. 
Contact information
English Language Development (ESL)
We want to hear from you!
International Admissions
International students please contact International Admissions