At Camosun, we're dedicated to providing an exceptional learning experience for every student. Central to this commitment is our Educational Quality Framework.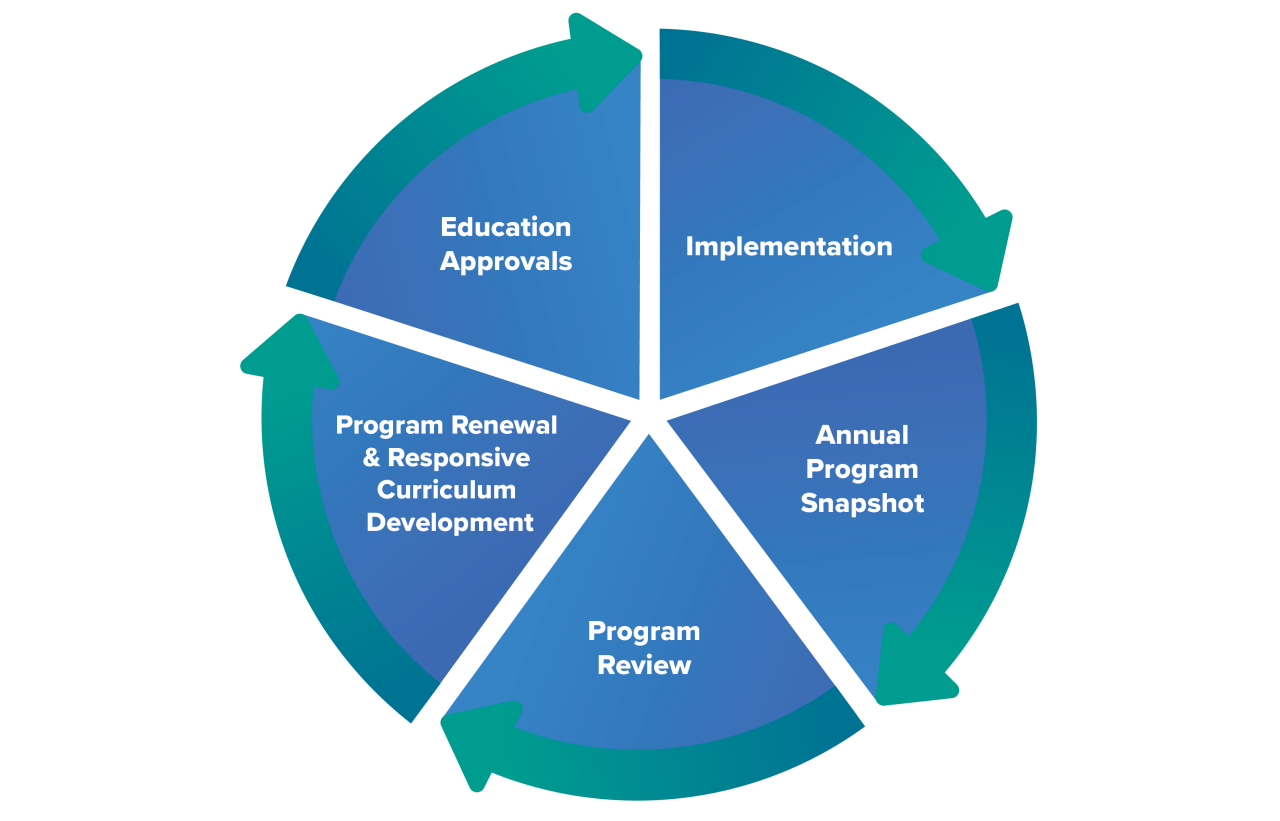 Our Approach
The Educational Quality Framework, which drives continuous improvement in curriculum development and review activities for Camosun's credentialed programs and credit offerings, ensures that programs remain current, relevant, and of the highest quality.  In alignment with the college's 2023-2028 strategic priorities, these activities support our goal of providing education that prepares students for the challenges and opportunities of the future:
Annual Program Snapshot (launching Fall 2023):

provides an opportunity to reflect on accomplishments, as well as identify trends, opportunities, or challenges for the upcoming year
provides data to inform the more in-depth program review process
Program Review:

program evaluation that occurs on a 5–7-year cycle
includes self-study and external review, incorporating quantitative and qualitative feedback from key stakeholders
Program Renewal and Responsive Curriculum Development:

process to build upon outcomes from program review recommendations, and
ongoing enhancement of curriculum in response to identified issues and opportunities
Educational Approvals:

approvals process where curriculum proposals are vetted through Camosun's governance process
Camosun colleagues can find more specifics and resources in the Educational Quality SharePoint site.
Who's Involved?
Providing quality education at Camosun is a collaborative effort.  The Education Policy & Planning team stewards the framework approaches, supporting schools in implementing quality assurance activities under the leadership of the dean.   We acknowledge and value the important contributions of our faculty, staff, and students: we all play a role in advancing and promoting quality at every level of the college. 
About the Quality Assurance Process Audit (QAPA)
Camosun participated in the Quality Assurance Process Audit (QAPA) during 2019/20. Initiated by the Degree Quality Assessment Board (DQAB), this external review process ensures that all BC public post-secondary institutions periodically conduct rigorous, ongoing program and institutional quality assessments. To learn more, see Camosun's Institutional Report which was submitted for the 2019/20 QAPA process.
Camosun received the final DQAB Secretariat Summary Report in 2020, with valuable recommendations based on the QAPA findings. Since then, we have been working to implement their suggestions as we enhance Camosun's educational quality processes.