Camosun has two campuses and guided group tours can be pre-arranged for either one. The campuses are about a half-hour drive apart, so it is sometimes possible to visit both campuses in one day.
Virtual tour
Virtually tour some of the buildings that make up the Interurban and Lansdowne campuses.
Self-guided visits
You're welcome to visit Camosun for an unaccompanied, self-guided tour. Both campuses are open to the public anytime. We recommend visiting Monday to Friday, 10am to 2pm when the General Information desk is open in case you have questions about programs or services. 
General information desk:

Lansdowne - first floor of the Dawson Building
Interurban - second floor Liz Ashton Campus Centre
International student tours
International students please contact Camosun International
Guided tours
Our upcoming dates/times are:
Winter 2024
10am, Jan 24 - guided walking tour at Lansdowne
10am, Jan 25 - guided walking tour at Interurban
10am, Feb 28 - guided walking tour at Lansdowne
10am, Feb 29 - guided walking tour at Interurban
Book a group tour
Groups of 10-75 people
Admissions and Recruitment is happy to work with you to arrange a general tour of either campus. We appreciate notice three to four weeks in advance.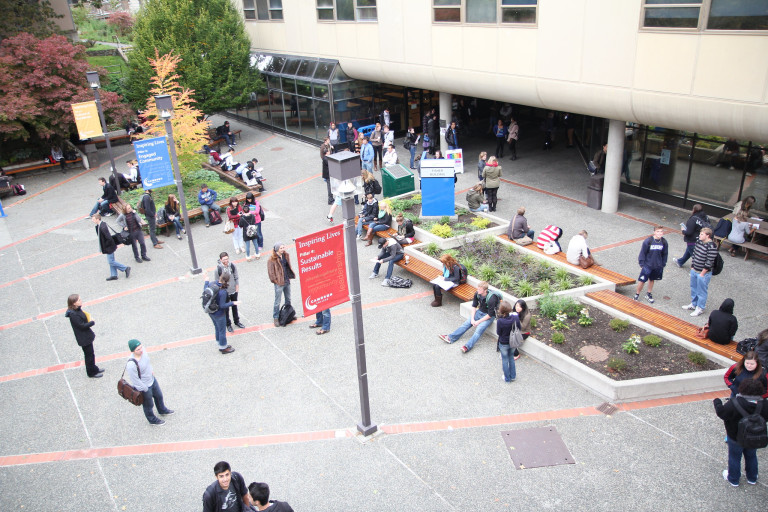 Explore the campuses
Lansdowne quick tour
Historic Lansdowne campus has spectacular clear-day views of Victoria and the Olympic Mountains. It is a 5-minute walk from shopping and restaurants, 10 minutes from the University of Victoria, and 15 minutes from the downtown core. 
The Lansdowne campus serves the majority of students choosing university studies. Lansdowne is also home to programs:
Camosun College Lansdowne Campus
3100 Foul Bay Rd
Victoria BC V8P 5J2
Interurban quick tour
The Interurban campus sits in a more rural setting but is still a quick and safe cycle or bus ride from downtown.
The Interurban campus is home to programs in:
Camosun College Interurban Campus
4461 Interurban Rd
Victoria BC V9E 2C1
Contact information
Admissions and Recruitment Office
Monday – Friday, 9am – 4pm