Each year, alumni, parents, friends and local businesses choose to support Camosun students. But why do they give? Every donor's answer is different but here's what some people have to say about what they support, and why.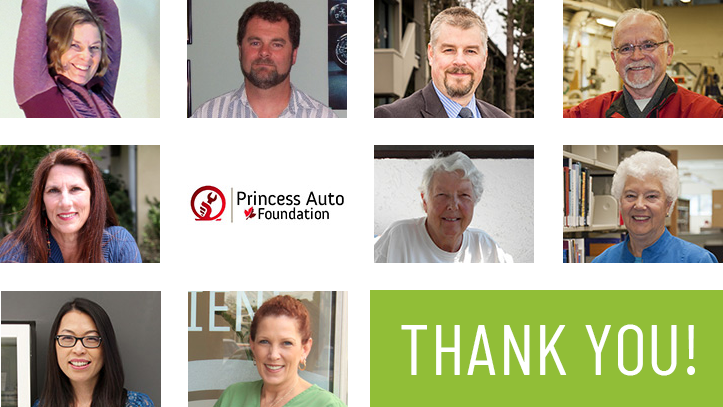 Why I give
Paula Carey Yoga with a Cause
Paula Carey is a yoga instructor whose students come to her private, in-home studio to make their bodies feel better. They leave feeling better in other ways as well.
"One-hundred percent of what my students pay for their classes is donated to support local community charities," says Paula. "Each year I pick a cause that speaks to my group, where there is an obvious gap. They also go out and act as ambassadors to widen the circle of interest. Together, we generate enough money to make an impact."
For several years, Camosun has been lucky enough to benefit from their generosity. Paula and her group – known collectively as "Ohm Sweet Home" – have supported both Camosun's Single Parent Family bursary and the South Island Partnership (formerly LYNC) program.
"Everyone knows a person or a family, maybe even themselves, who are at risk of slippage, of going sideways," says Paula. "A little support can mean the difference between falling back or moving forward. The college has really listened to my goals as a donor, and the kind of experiences I'd like to provide to my donor group – my yoga students – as well. What I do is all about feeling good. Taking yoga makes you feel good, and so does giving and supporting programs like these."
Chris Clements-Currier Alumni
Chris Clements-Currier started at Camosun College in an earlier version of the Heavy Duty/Commercial Transport Mechanic Foundation program in 1982-83. It was a newspaper article back in 2011 that sparked his involvement with Camosun as an active alumnus.
"I read the Times Colonist one morning and noticed Camosun had just received a donated vehicle for their Heavy Duty automotive program," says Chris, the Automotive Fleet Manager for BC Ferries. "BC Ferries was getting a new crane truck at that time, and I thought Camosun might be able to use our older truck for training purposes." Since then, he also arranged for another donation of a used Ford F450 flat-deck truck equipped with a mobile arc welder and continues to look for opportunities to support the college.
Chris also sits as a member on the Alumni Council. "I enjoy giving back so participating in the Camosun Alumni Council provides me that opportunity, along with the feeling of "staying connected" to my career roots," says Chris. "Participating is a great way to feel you're always part of the Camosun "Community". It provides excellent networking opportunities, regardless of what courses or career path you may have chosen."
John Espley & Accent Inns Chargers Sponsor
The Camosun Chargers intercollegiate basketball, volleyball and golf program encourages students to pursue excellence on the court, in the classroom and in the community. The teams can't do it without community support, though. That's where important sponsors like Accent Inns come in.
"I love the Chargers!" says Accent Inns Business Development Manager and former Chair of the Victoria Chamber of Commerce John Espley. John is responsible for arranging Accent Inns' sponsorship of the PacWest Academic Excellence Award, presented annually to six Camosun student-athletes for achieving academic honours over the academic year.
"Sure it's a business decision to support the Chargers," says John. "Teams travel and everywhere they go, they need somewhere to stay – we want to make sure they think of us first. But it's much more than that."
John himself has taken a variety of community education courses at Camosun over the years, and he's spoken to a number of classes about the world of business. "I know the place. I know the people. Camosun is such an integral part of the community and it means a lot to us, and to me personally, to support the home team and to support youth in general. I think it's the best way to do business, where you help build your business and you help build community at the same time."
At Accent Inns­ – like any other business, says John – you have to bring in revenue to give it out. "It has to make sense, and supporting the Chargers does for us. It's one of our favourite and wonderful things. Go Chargers!"
To learn more about Sponsorships at Camosun contact: 250-370-4233
Pat Lintaman Trades Donor
Camosun's environmentally-friendly green trades have caught the interest of local contractor Pat Lintaman. The owner of Pat Lintaman Design Ltd., he specializes in planning and building custom, eco-friendly log and timber homes. He's also co-owner of the Shawnigan Eco-Industrial Park, a showcase of local wood-related products and services.
Pat's focus on wood and sustainability drew him to support Camosun's trades students. "I support the development of the skills, technologies and processes we need to minimize the waste of our timber and pursue green practices."
Pat supports a Carpentry award, for a student pursuing the Leadership in Energy and Environmental Design (LEED) associate exams, and a Fine Furniture award, for a student who shows strength in design and incorporates environmentally sustainable materials, construction techniques and finishing products into their work.
To learn more about partnership and donor opportunities for Camosun's new Centre for Trades Education and Innovation contact: 250-370-4233.
Val Mieras Alumni
Val Mieras became a donor soon after graduating from Camosun's Applied Communication program in 1980.
"I graduated in April and by September I had a full-time job at Camosun College," says Val. "ACP instructor Kerm Carlson congratulated me and pointed out the obvious—that I got the job because of what I learned in ACP. He suggested I donate $100 to the Camosun Foundation for an ACP bursary. Of course, he was right—I did owe my new job to my new college credential". Val then made arrangements for payroll deductions of $10 per month. ("Hey, that was a lot of money back in 1980," says Val.)
33 years later, she's still at Camosun, and still contributing to the Foundation through payroll deductions. "I feel it matters," says Val. "I believe in the importance of post-secondary education. It makes a difference in people's lives."
Princess Auto Foundation Bursary donor
The Princess Auto Foundation is a major supporter of Camosun's trades students. "Four years ago the Foundation generously donated $60,000 to help trades students who might not otherwise have had a chance to go to college," says Angie Bowles, Advancement Officer for the Camosun Foundation. "Contributions of this magnitude have ensured our trades students in need continue to receive funding in perpetuity."
This past fall, the Foundation added to their contributions by donating a further $25,000 for annual bursaries of $5,000 each to help entry-level trades students complete their programs. The first of these bursaries were awarded to Katharine Lane in Electrical Foundations and Neil Ballard in Refrigeration and Air Conditioning Mechanics.
"Receiving this bursary was huge for me and my family," says student Neil Ballard. "My plan for the future is to become a journeyman HVAC (heating, ventilation and air conditioning) technician within the next four years and see where this amazing trade takes me!"
"This bursary took so much weight off my shoulders and I'm so happy I took this step going back to school," says recipient Katharine Lane. "I can't wait to get out in the field and start working. I so appreciate what Princess Auto has done for me."
Bob Tallman, Chairman of Princess Auto Foundation and Princess Auto Ltd., says he likes to work with colleges because he was a college student and the applied education he received helped him grow in his field. "The Princess Auto Foundation has always had a warm reception in colleges across Canada," he adds. "Colleges have been very open, especially the trade schools –they're one of the best kept secrets in our country!"
Gillian Sanderson Endowment Donor
Donor Gillian Sanderson has a long-time interest in Indigenous history and culture.
As a young woman growing up in England during WWII, Gillian had the opportunity to study music in Austria and Germany. Meeting people in post-war Europe changed the direction of her life, and after further studies in social work and musicology, she found fulfilling work as a sessional lecturer and counsellor in Alberta. It was there she began learning the harmful consequences of colonization for Indigenous people. In 1991 Gillian retired to Vancouver Island, settling in Cowichan and Coast Salish territory. "I've always had a great interest in and admiration for Indigenous history and culture," she says.
This past fall, Gillian established a new endowment to encourage Indigenous women who are in the process of reclaiming or renewing their Indigenous identity while studying at Camosun. "I hope to encourage and support Indigenous women as they reach for their dreams, enjoying similar opportunities to those I had," she says.
Pam Shemilt The very first "Friend of Camosun"
When Pam Shemilt found out she was to receive the first-ever Friend of Camosun Award, she was "speechless." "I felt very humbled and very honoured, at being selected. Also totally taken aback!"
The annual Friend of Camosun Award recognizes the generosity and community involvement of an individual or organization demonstrating a high-level of engagement with the college, and Pam certainly fits that bill.
Since 2000, both Pam personally and her family business – Island Blue Print, a local high-tech custom printing and art supply company – have donated to a variety of Camosun programs and campaigns, including the Visual Arts program and the Pacific Institute for Sport Excellence capital campaign. Pam has also set up bursaries for students in a number of program areas, including English, civil engineering and computer graphics.
"We started giving to Camosun because my husband wanted some way to honour his 50 years with Island Blue Print," she says. "We chose program areas related to our work – we print books, for example, so we wanted to support writers, and engineers, of course, need blue prints, which is the foundation of our business. The community has been exceptionally supportive of our company, and this is our way of giving back to the community and to students who so desperately need help."
Pam is also a member of the Camosun Foundation Board and has helped the college connect with other potential donors. "Students today struggle to try and figure out how to make ends meet. I tell potential donors how much the students are in need, but also how much we need the students."
Danielle Sim Alumni
Computer Systems Technology alumnus Danielle Sim says Camosun changed her life. In 2007, Danielle immigrated to Canada from Korea with her husband and two small children. After two years of feeling isolated because of the language barrier, she enrolled in English classes at Camosun. The satisfaction of completing her English courses spurred her on to continue her studies so she could find a good job.
Since she already had a bachelor's degree in geography from Korea, she decided to try something new. She chose Camosun's two-year Computer Systems Technology (CST) program.
During her studies, Danielle says there were many times when everything seemed like an enormous struggle and she felt like quitting. Receiving the Claire Hotvedt Memorial Award from the Camosun Foundation changed all that. Danielle realized her efforts had not been in vain and she felt proud of the recognition. The award gave her the strength to persevere even harder to achieve her goals. After completing the first year of her program, Danielle landed a co-op job and was hired on the spot as a full-time employee.
Now Danielle is giving back. This past fall she established a new annual award to support a first-year student in the Computer Systems Technology program who maintains a high level of academic achievement and shows excellent working relationships with colleagues.
"I want to help students who, like me, need an encouraging hand," says Danielle." One of my biggest motivations for doing my best came when I received my award - it gave me a lot of hope and spirit to keep studying hard. Camosun changed my life and I wanted to thank the college for helping me become someone I'm proud to be."
Cheri Wu Alumni
Since graduating from Camosun in 1992, Cheri Wu has been giving back to her community and to the college.
Through her state-of-the-art private dental hygiene practice, Focus on Dental Hygiene, she helps patients in need, mentors young students and lectures part-time to students and other dental hygiene schools and organizations. "I love being a small part of helping others gain knowledge, develop skills and move themselves forward building self-confidence and realizing their potential," says Cheri.
As a business owner and mother, and having been a single mother and student, Cheri understands the overwhelming feeling of adding "another thing" but she sees the benefits that outweigh that feeling. "Becoming involved as an alumnus has enriched my life," says Cheri. "It has returned me to my 'roots'—being involved has ignited the passion I enjoyed at the beginning of my career."
Cheri adds, "We all need passion to drive us forward and be 'that person' we so admire – being proud of your roots, engaging with others of the same mind and challenging ourselves is at the core of being an alumni."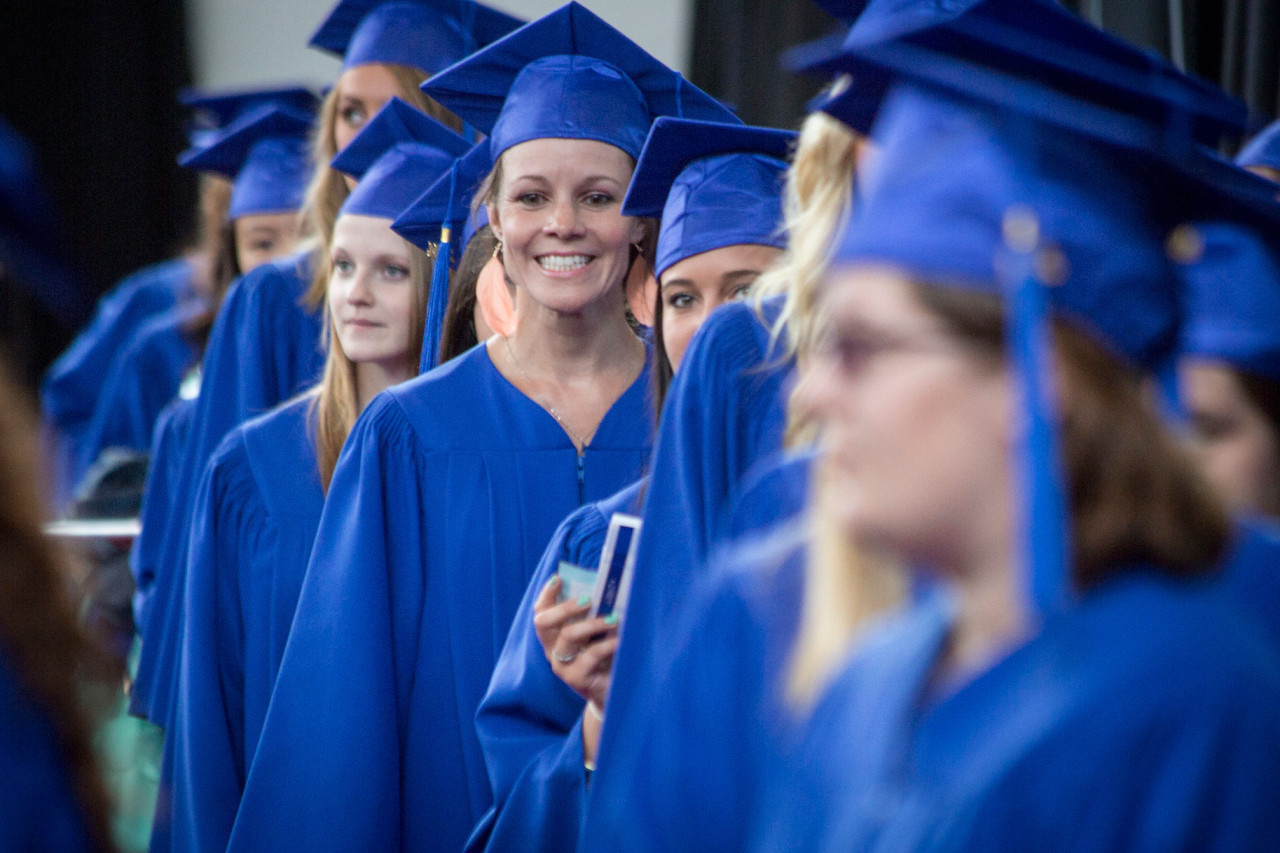 Why I give
"I want to help students who, like me, need an encouraging hand. 
  - Danielle Sim Alumni