Faculty/staff profile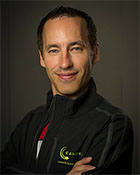 Interurban
PISE (Pacific Institute for Sport Excellence)
306K
M.Sc., CAT(C), NSCA-CSCS, NASM-PES
Kinesiology, Sport & Fitness Leadership, Athletic & Exercise Therapy
Centre for Sport and Exercise Education
Co-Owner of Elite Performance Athletic Therapy
Co-Owner of Jumpstart Boot Camp
Steve has worked in a professional capacity with athletes and teams from minor hockey and T-ball to the NHL, NBA, and US and Canadian Olympic teams. Recently, Steve was a member of the medical team for the Vancouver 2010 Winter Olympic Games.
Steve played varsity volleyball and badminton as well as club hockey while pursuing his post-secondary education. He has coached club volleyball and minor hockey teams from Initiation to Midget AAA levels.