The applied research department at Camosun College – Camosun Innovates – designed and manufactured foam trays that are being used to safely transport up to seven syringes containing a pre-drawn, single dose of a COVID-19 vaccine.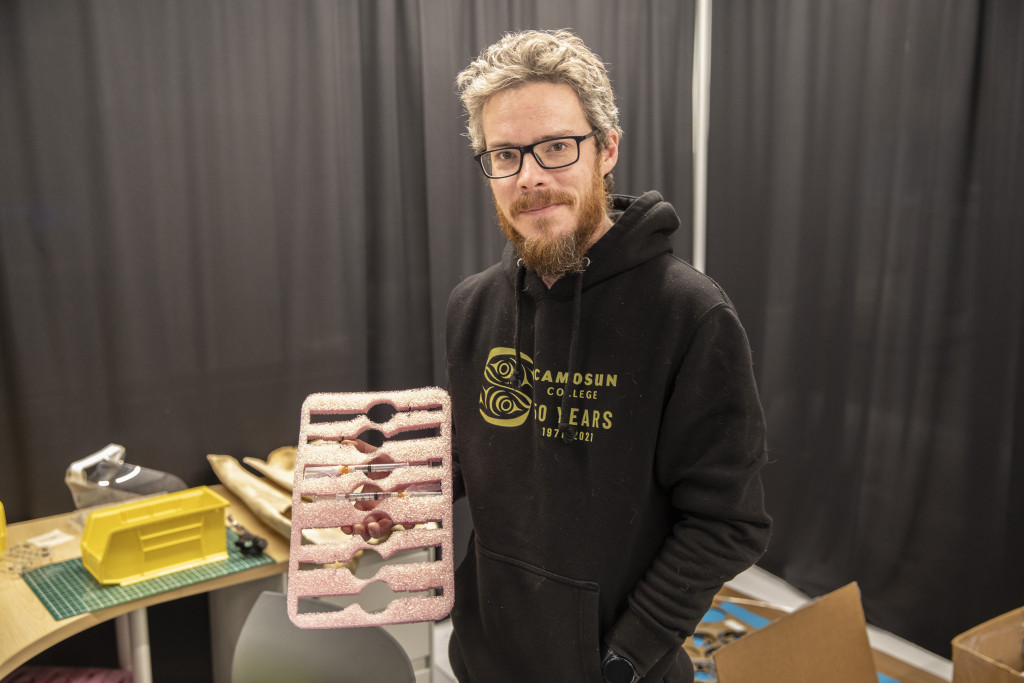 Camosun College
"Specially designed and manufactured foam trays keep syringes containing the vaccine absolutely stable and protected," explains Matt Zeleny, Applied Research Technologist. "Camosun Innovates is pleased to continue helping the roll-out of the immunization program in any way possible, especially with so many people now looking forward to their booster shot."
Once a COVID-19 vaccine vial is punctured it cannot be transported except in a syringe. The specially designed foam trays stop the doses from rolling around or the accidental depression of the plunger. The foam trays are manufactured using a commercial-grade laser cutter located in the Babcock Interaction Lab on the college's Interurban Campus
"Typically, the trays will be used to get the COVID-19 vaccine to facilities where smaller quantities, or one-off doses, are needed in people's homes," adds Zeleny.
The material is a chemically-resistant polyethylene closed-cell foam with each tray holding seven pre-drawn syringes. Each of the trays is designed to fit inside the standard portable cooler used by public health.
Camosun Innovates manufactured 200 foam trays for the BC Centre for Disease Control who will distribute them to various health authorities.
Other recent Camosun Innovates projects include design and manufacturing of competitive equipment for Olympic para-athletes, complex sport simulators, and self-righting watercraft, as well as medical grade face shields, vaccine trays and portable decontamination devices to support front-line health care professionals during the pandemic.
Camosun College has campuses located on the traditional territories of the Lkwungen andW̱SÁNEĆ peoples. Established in 1971, the college serves thousands of learners a year in over 160 certificate, diploma, bachelor's degree, post-degree diploma, and professional studies and industry training programs.
Contact information
Rodney Porter
Camosun college