Camosun's School of Health and Human Services is celebrating 10 years of preparing students for careers as Medical Radiation Technologists (MRT) through applied learning and theoretical instruction.
Since launching in 2012, the program has graduated about 135 students from nine cohorts, with two more in the wings.
"Ten years on, it's so exciting to see the different directions Camosun medical radiography alumni are taking their careers," says Sarah Erdelyi, program leader and instructor in Medical Radiography. "From leadership and teaching roles, to students going on to sub-specialize in different technologies, the career options for graduates are more diverse than some think."
For Asha Johal, her journey towards a Diploma of Medical Radiography at Camosun came after completing an undergraduate degree in biochemistry. Small class sizes and the opportunity for hands-on learning in local hospitals lead Johal to choose the program, but her passion for helping people in diverse situations lead to a career that's distinct from many of her classmates.
"Researching jobs for after graduation, I came across a position in the military which allowed for both professional development and a career where I would need to adapt to situations outside of my comfort zone," says Johal, who currently works as a Medical Radiation Technologist at the local Canadian Forces Health Services Centre where she takes x-rays and CT scans of military patients. "I have been fortunate to have participated in everything from operating a portable X-ray machine in field exercises, to being on a navy supply ship and overseas on deployment with limited resources and time."
For other alumni, like 2017 grad Michael Medynsky, the decision to start at Camosun meant a total shift in life and career direction. "I had been self-employed for eight years, I shut everything down for something new and really put all my eggs in one basket," he says.
"From leadership and teaching roles, to students going on to sub-specialize in different technologies, the career options for graduates are more diverse than some think." 

-Sarah Erdelyi
Medynsky, who at age 47 began to upgrade his prerequisite courses to get into the program hadn't been in school for many years, but decided to dedicate himself to changing his career. He now works in a full-time, permanent position as a Medical Radiation Technologist at Victoria's Royal Jubilee Hospital, which involves him seeing patients in the medical imaging department, as well as includes bringing mobile imaging units to the emergency department, operating room, intensive care unit, and more.
"Having the hands-on experience through placements and volunteering was a huge part of what led me to my current position," says Medynsky. "I worked hard, and when finishing my last clinical in 2018 I was hired before I graduated. I'm really happy with the job I have, and the transition was worth it."
With a strong, growing demand for MRTs, a career in medical imaging can give graduates the opportunity to find the kind of work that fits their goals and lifestyle. From local, permanent positions in hospitals, to travelling specialists to part-time or seasonal work, the flexibility offered by the job was what initially attracted graduate Alexandria Walenciak.
Walenciak, who has now been working in the field since 2016, says that she was looking for a change when she started Camosun's two-year program. "I wanted a job that I actually like and that I enjoy doing. Something that feels valuable and where I'm appreciated," says Walenciak.
Like Medynsky and many other alumni, Walenciak was offered jobs in multiple health care facilities thanks to the skills and reputation fostered during her practicums. After working for three years and learning more about the field and her own interests, she now works in breast imaging, specializing as a Mammography Technologist.
Graduating in the third cohort of the program, Walenciak has one piece of advice for upcoming students: "Your practicum stage is such an important opportunity. Treat it as preparation for your future employment, make connections, focus on your skills and you'll be graduating with a career with so many different options to pursue."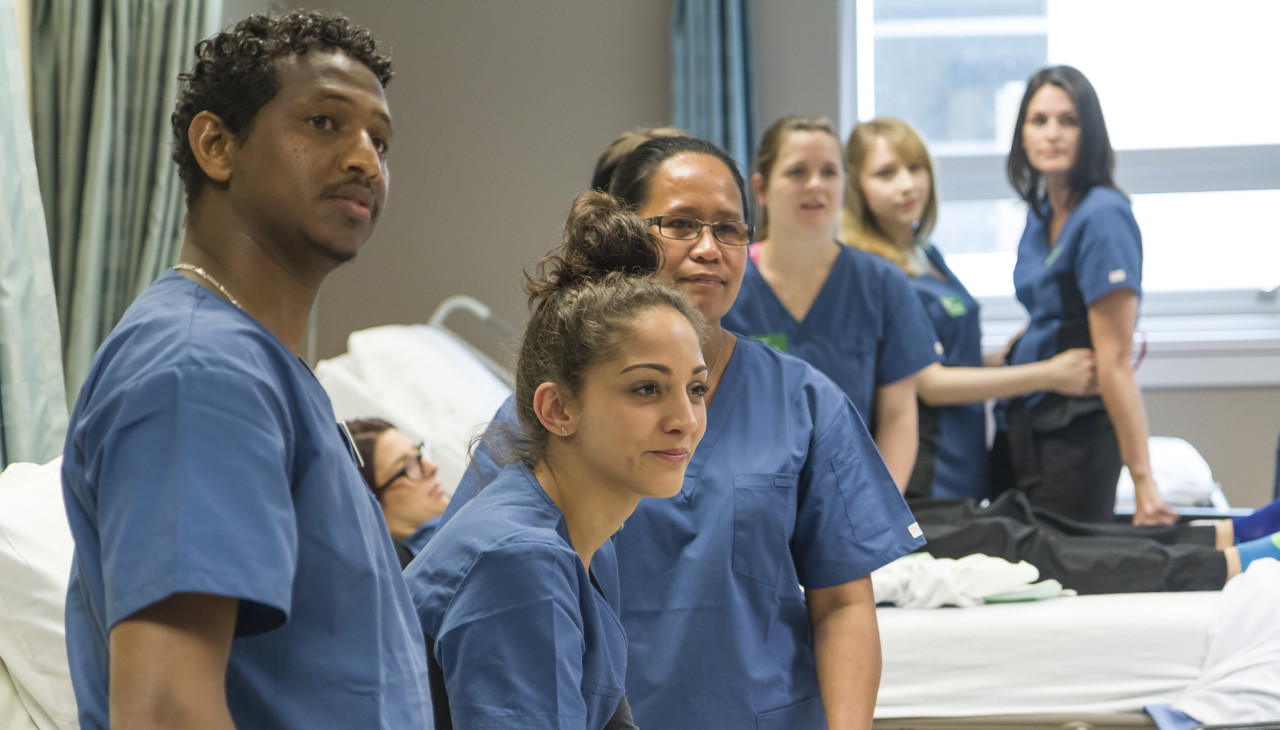 Medical Radiography, Diploma
The art and science of medical imaging. Two years at Camosun prepares you to enter a challenging and rewarding career as a Medical Radiography Technologist.
Contact information
Katie McGroarty
Marketing/ Communications Strategist
Camosun College