Camosun College is proud to announce the recipients of its annual academic awards for outstanding achievement in their programs and community.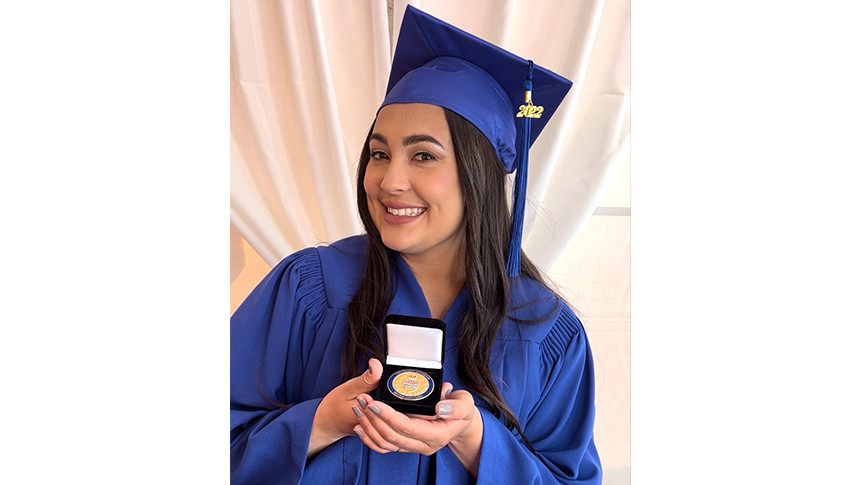 "We are so proud of Camosun students and their outstanding achievements especially while persevering through the last two years of the pandemic," says Dr. Lane Trotter, President of Camosun College. "As they've worked through their assignments in the middle of worldwide health concerns, they have proved to be a resilient bunch who have overcome great obstacles."
The British Columbia Lieutenant Governor's Medal is presented to an outstanding student who has excelled in their studies while contributing to the life of their institution and community by promoting inclusion, democracy, and reconciliation.
Gretta de Carvalho Kawahara, who graduated from the School of Health and Human Services is this year's recipient.
Gretta began her studies online in Brazil, while working as a teacher. In January 2021, she moved to Victoria to continue studying in the Early Learning and Care diploma program at Camosun College.
"From her arrival, she was committed to not turning away, and to listening deeply to the Land, the People, and to combining this knowledge into her practice of early learning and care."

- Gretta's instructor and nominator, Lindsay Lichty.
"I feel grateful to be recognized for something I put my heart into it," says Gretta. "Furthermore, Inclusion, Democracy & Reconciliation, are topics and values ​​that we all need to not only talk about, but practice and I am very grateful that Camosun offered me a safe space to put them into practice."
The Governor General Collegiate Bronze Medal is awarded each year to the top academic graduates of a two-year or longer program. For 2021 and 2022, all these recipients came from the School of Trades and Technology. 
Samreeta Kandola, Rylen Enger, and Garret Wright are receiving this award for achieving the highest-grade point averages overall in their respective diploma-level programs.
Samreeta Kandola, a graduate of the 2022 Information and Computer Systems Technology program told us that her desire to take the course came from her interest in project management for businesses associated with technology. 
"I loved how hands-on the program was. While we did spend some time on the theoretical, most of our focus was on the practical. This was a huge advantage when entering the workforce." says Samreeta.
Rylen Enger worked for six years in the civil construction industry before deciding to take Camosun's Electronic and Computer Engineering Diploma program and then the Engineering Bridge program to UVic. He graduates from UVic in 2024 with a degree in Computer Engineering and hopes to stay in Victoria and work within Vancouver Island's vibrant tech community. 
"I am very grateful for the excellent experience I had with instructors in both the Diploma and Advanced Diploma (UVic Bridge) programs. The plentiful access to labs and related equipment really helped to aid in learning outside of class time," says Rylen.
Garret Wright receives this year's 2022 Governor General Award for his top marks in the Civil Engineering Technology Diploma program. 
"I chose to study at Camosun because it was close to home," says Garret. "This program is also well known and accredited by the Applied Science Technicians of BC, which would give me an advantage in the local workforce."
Contact information
Alisha Dsouza
Marketing and Communications Strategist
Camosun College