Faculty/staff profile
Chair, Instructor, Mechanical Engineering Dept.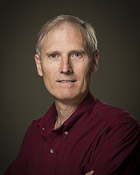 Interurban
TEC 140
Dip. Tech., B.Eng., P.Eng.
Mechanical Engineering Technology
School of Trades and Technology
Ross is one of the original faculty members in the Mechanical Engineering Department of Camosun College, joining the department in the summer of 1985. A graduate of BCIT's Mechanical Technology program and later Lakehead University's Bachelor of Engineering program, Ross worked for several years designing and building equipment ranging from underwater instrumentation to wood-waste fueled heating systems. At the College he has worked as an instructor and developed the Co-operative education program for both Mechanical and Civil Engineering Technologies. Most recently he serves as Department Chair. In his spare time, Ross enjoys playing recreational badminton and using his engineering skills to create solutions to unusual problems.