Faculty/staff profile
Instructor, Electronics and Computer Engineering Environmental Technology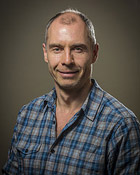 Interurban
TEC 216A, Paul 226
B.Eng, M.Sc. Eng, M.Res Biology
Electronics and Computer Engineering, Environmental Technology
School of Trades and Technology
Ian initially trained as an electro-mechanical design apprentice in the telecommunications field followed by further studies and industrial experience in a range of engineering roles including hardware, systems and software design. He has worked in a diverse range of industries including aerospace, automotive, scientific-instrumentation and special-purpose machinery. His main interest however, is in the design of low environmental impact technologies based on biological and ecological principles.
Ian believes strongly in education that is applied, multidisciplinary and most importantly hands-on, in an environment that cultivates critical thinking, creativity, communication and collaboration from an early stage.
Current pursuits and interests include habitat-restoration, hiking, yoga, and playing various forms of ethnic music including African percussion, Flamenco and Didgeridoo.