The Dunlop House serves as a training restaurant operated by Camosun College, School of Business, Hospitality Management students and open to the public.
Hours and reservations
The Dunlop House is licensed and welcomes guests for dinner (5-6:30pm) on Wednesday from October-April, showcasing a variety of locally and globally influenced sustainable meals in an affordable table d'hôte format.
Winter 2022
February 2, 9, 16

March 2, 23, 30

December 6, 13
 

Online reservations available through OpenTable

Reservations are recommended. For more information, please call:
250-370-3144.
Maintaining a safe learning environment is a shared responsibility, and the health and wellbeing of our students, staff, and guests is our highest priority.
In accordance with the provincial mandate, guests attending the Dunlop House restaurant after September 13 will be required to demonstrate that they have received one dose of the vaccination via their Vaccine Passports. Reservations after October 24 require proof of two doses of the vaccine given a minimum of 7days prior. Guests will have their Vaccine Passports checked alongside a piece of valid government photo ID upon arrival.
Please note: Dunlop House Restaurant is a student-operated dining experience and a classroom environment where learning is taking place. We appreciate your patience while students learn in this non-traditional restaurant environment.
Camosun is proud to have Dunlop House as part of its Lansdowne Campus
Designed by famed Victoria architect Samuel Maclure, this home was built in 1928 for the Dunlop family. Businessman James Lyle Dunlop, his wife Annie and son George had moved to Victoria from Winnipeg in 1920.
The original floor plan remains largely unchanged. As you enter the house, the room on your left was the drawing room with the adjoining sun room. The room to the right of the entry hall was the dining room and evidently has known many dinner parties through the years. The carved wooden mantle over the fireplace was a gift from the architect. Samuel Maclure thought that Dunlop House might be the last home he would design and wanted the fireplace to be a remembrance. North of the dining room was the original kitchen and pantry and they are still being used for that purpose (albeit the Dunlop family had neither a dishwasher nor a microwave oven). The main floor also included a den and a maid's room.
Dunlop House has two floors and a basement. Originally the second floor comprised five bedrooms. They have since been converted to office space for seven faculty members and support staff. The basement formerly had a playroom, laundry facilities and a garage but it is now used mainly for storage.
The ten acres of land on which Dunlop House stands had at one time been owned by the Hudson's Bay Company. By 1957, the house and the property had been sold to the government for use by the Victoria Normal School.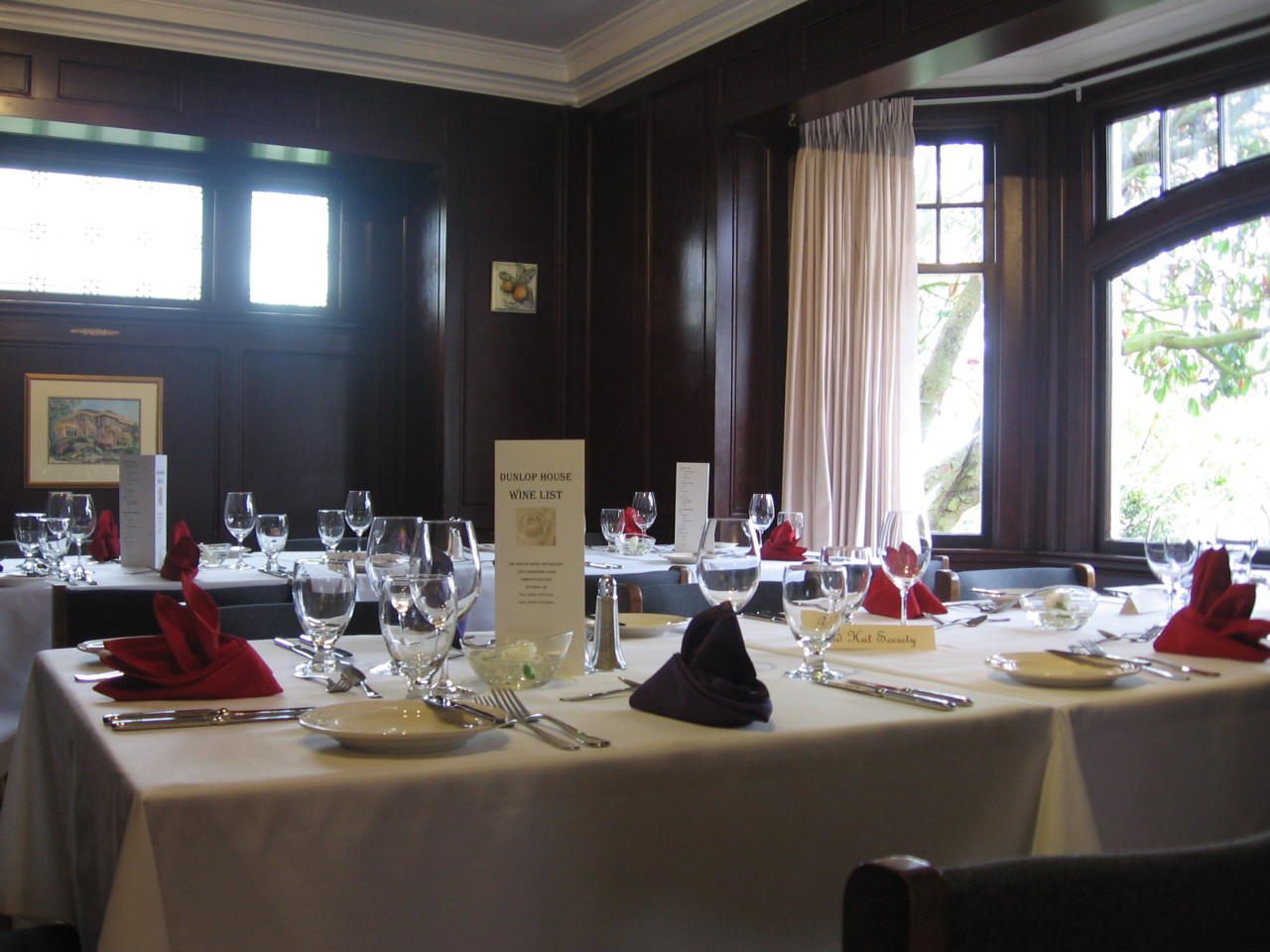 Reserve a table