Part of the reduction of social issues is environmental. We are all connected – poverty, waste management, hunger, homelessness – everything is interconnected and we must work together to make this planet more sustainable.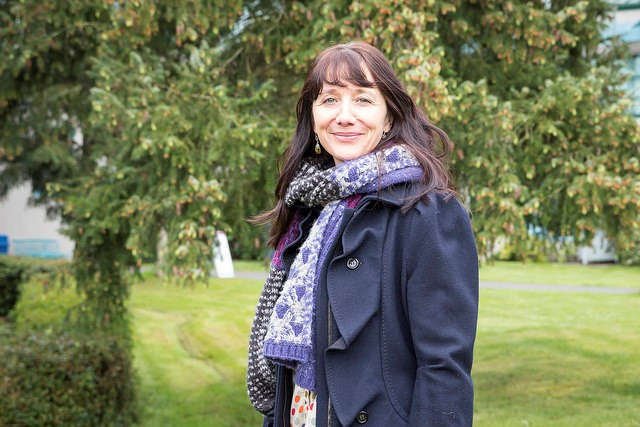 Michelle Clement: Sustainable Systems and Fair Business Practices
"Part of the reduction of social issues is environmental. We are all connected – poverty, waste management, hunger, homelessness – everything is interconnected and we must work together to make this planet more sustainable" begins Michelle Clement, Chair and Instructor of Marketing at Camosun, as we sit to discuss the importance of sustainability.
Michelle takes a holistic approach to sustainability, often referring to sustainable systems rather than sustainability as a separate entity. "Sustainable and fair business practices would help environments – and by helping environments we could be reducing poverty and hunger" says Michelle, "start locally – move globally!" Michelle has first-hand understanding of the global reach of business, having worked with Proctor and Gamble in sales and marketing for more than 15 years prior to joining Camosun in 2005 and is confident that what students are learning at Camosun "gives them a leg up, and more knowledge of what is going on in the market." With a range of courses students learn a variety of marketing principles and techniques. One of Michelle's favorite courses to instruct is Sustainable Marketing (MARK 360) which looks at corporate citizenship and explores sustainable business practices to examine issues of ethical decision making and marketing fundamentals with core environmental, social, and economic principles. Michelle's other courses include Creative Selling (MARK 235), Digital Marketing (MARK 440) and Consumer Behavior (MARK 365) which covers green products, learning behaviours, and "green washing" - a marketing technique Michelle says consumers are now aware of and is no longer effective.
Michelle says her students are her motivation and is always impressed by the way they imagine today's challenges in a different light. "Students' ability to analyze and strategize is incredible," Michelle says mentioning a recent case competition she and a team participated in at Vanier College in Montreal, "the students have three hours to prepare their presentation and the results are jaw breaking."
The pride Michelle has in her students is clear, but she is also proud to be able to work within the greater community. One highlight is Ready, Set, Solve, a program hosted by the Capital Regional District (CRD) that matches teams of students with organizations to solve local sustainability challenges. "The [program] offers a chance for post-secondary students to gain practical experience while supporting organizations that are taking action on climate change," Michelle tells us.
Connecting and contributing to the community is invaluable, and it also enhances the learning experiences. "We have had the Coast Waste Management Association do a presentation about waste management," explains Michelle who has also taken students to visit the Heartland Landfill. "For the students it is so graphic to see the amount of waste that we need to deal with" she says of the unique learning experience.
Forming partnerships with outside organizations such as the CRD, or other non-profit groups, is a great way for students to be more involved, and a great way for the community to reach those students. "Business is realizing that students are accessible, now they are looking for ways to engage them which is wonderful because it gives students the ability to be engaged and understand the world through a new lens," Michelle says. "When students work with the community they see that what they are learning applies and so do their ideas. It is very rewarding."
With positive engagement from the greater community and real world experiences for students, it seems as though sustainability and stewardship should be easily incorporated into the business world, as well as the curriculum and lifestyle at Camosun. However, Michelle believes budget is a very real obstacle.
"Start small, build your confidence, and move ahead from there" says Michelle. She continues by recommending instructors to "…introduce a simple [sustainability] concept and build upon it each time they teach the course. It builds confidence for instructors and students. And teaching these lessons gives [students] a leg up and knowledge of what is going on in the market." The same principles go for incorporating sustainability into your personal lifestyle.
Michelle has managed, through a series of small steps, to incorporate sustainability into her personal and professional life. She leads by example. Recently, she and her teenage daughter completed a three month "buy nothing new" challenge. Michelle says the challenge wasn't easy but it was fun "…because there are so many wonderful options to buy used in Victoria." She also makes use of the many transportation options available to her such as the Camosun Express and recycles and reuses whenever possible.
Taking a holistic approach to understanding the value of sustainability is important to Michelle. "People are more aware of the importance of sustainability. Unfortunately, for social issues we aren't quite there yet," Michelle says, identifying room for increased awareness of different types of sustainability such as social, cultural, and economic.
When asked what is on her horizon Michelle mentions she is currently working to complete her Doctoral of Education (EdD), that focuses on social entrepreneurship and its signature pedagogy, the sharing economy, at the University of Liverpool. She is also working to introduce digital story telling into her Sustainable Marketing (MARK 360) course beginning in the Fall semester of 2015 with hopes that students will be able to use a new avenue to communicate topics related to sustainability.
Despite her busy schedule as both a student and an inspiring educator Michelle manages to enjoy time outdoors kayaking and paddle boarding with her family, doing yoga with her daughter, and watching movies with her son when she can't convince him kayaking in the rain is fun. Thanks, Michelle!
Contact information
Camosun College
Communications Department