The Board of Governors at Camosun College is recognizing the innovative work of the South Island Partnership to create a range of dual credit pathways and options for students from five local school districts.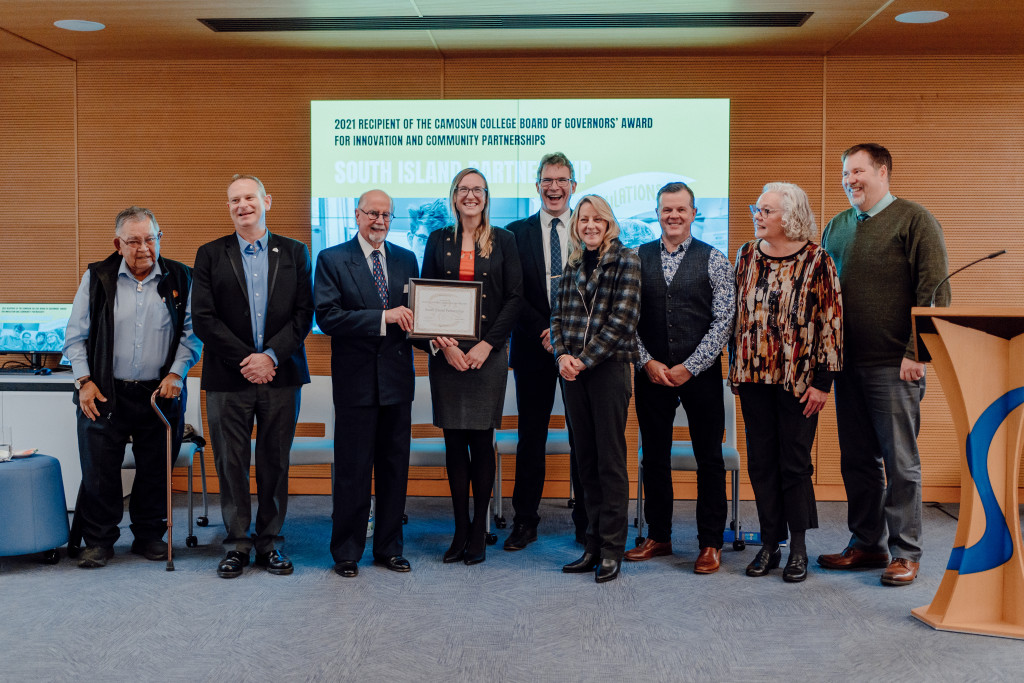 Camosun College
The 2020/21 Award for Innovation and Community Partnership was presented during a special ceremony on Nov. 30, 2022, hosted in the Wilna Thomas Hall on the college's Lansdowne campus to Nicola Priestley, Director of SIP, on behalf of the team, by Board of Governors Chair Dr. Monty Bryant.
"The award acknowledges the innovative approach that the South Island Partnership team takes to learning in the classroom, online or in the community," says Bryant who is a retired Associate Superintendent of Schools in Victoria. "Their work creates partnerships and helps maintain a high profile for the college, while embodying our values. Congratulations on behalf of the Board to the team."
The Board made the decision to award the South Island Partnership during COVID-19 but for safety reasons had to delay the ceremony.
"The South Island Partnership is honoured to be recognized by Camosun's Board of Governors for the commitment we have to supporting post-secondary transition and exploration for our community's youth," says Priestley. "Dual credit is an amazing opportunity for high school students to be college students while still in high school. Dual credit courses and programs allow students to get a jump start on their post-secondary training, while building confidence and soft skills to help them in future years."
The South Island Partnership supports over 950 students each year and is based out of Camosun College on its Interurban campus, working with five school districts – Cowichan Valley, Greater Victoria, Gulf Island, Saanich Schools, and Sooke.
"The partnership we have with Camosun is very valuable for students," says Paul Block, an Associate Superintendent with Sooke School District. "Dual credit programming presents students with the opportunity to access college programs while still in high school, capitalizing on the familiar supports of their secondary school experience combined with the transitional challenge of increased academic rigour and responsibilities at the college level. The dual credit experience has proven beneficial in preparing students for the transition to post-secondary, whether it's the academic courses or trades-related training, connecting students' learning from present to future is highly relevant and meaningful for our students' future success."
Programs include business, health, trades and technology in addition to courses in subjects such as psychology, criminology, math, English, and more. Credits go directly towards students' high school and post-secondary transcripts, and most of the courses are transferable to other colleges and universities.
Learn more about dual credit opportunities.
Contact information
Rodney Porter
Camosun College