Camosun College is proud to announce the naming of the multi-purpose hall in the Wilna Thomas building to honour retired president Sherri Bell.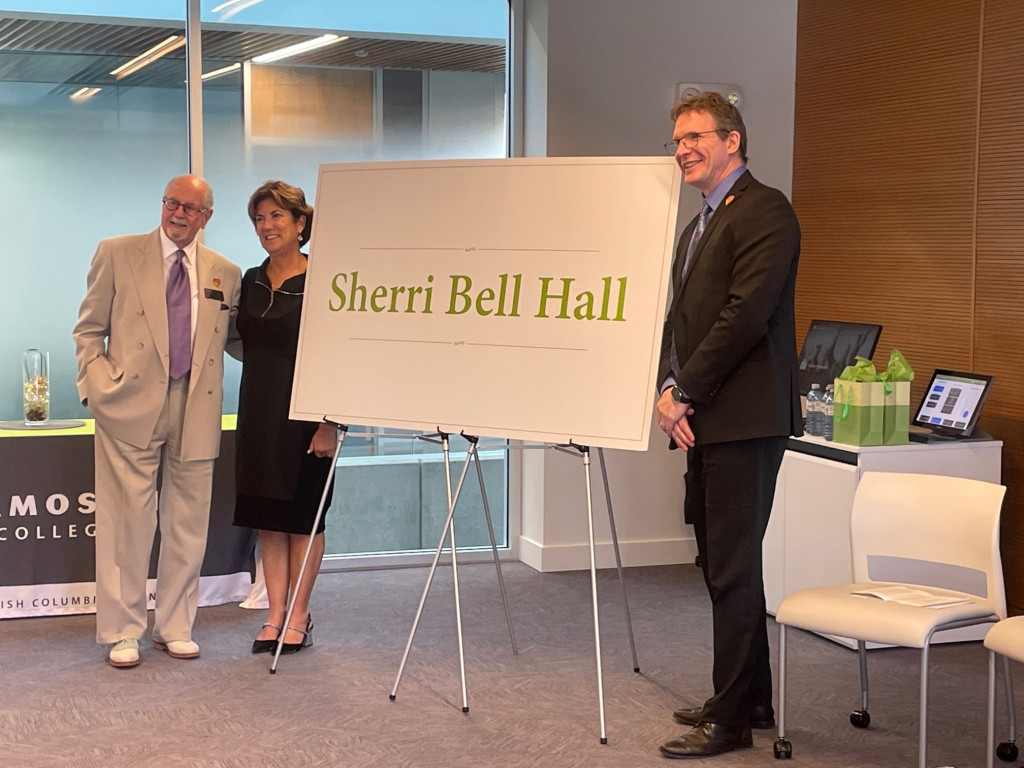 Camosun College
The Sherri Bell Hall is the largest space in the building, with adjoining patio on the upper south-side and an expansive 150-guest conference room for the college and local community use. The naming took place during a special event on April 12, 2023.
"We're delighted to be able to recognize the contributions that Sherri made to Camosun College during her time as president," says Lane Trotter, president. "We look forward to the continued use of the new Sherri Bell Hall by the college and local community, and hope that it will inspire future generations."
Bell spent 40 years in education including serving as president of Camosun College from 2015 to 2022 overseeing the opening of the Centre for Trades Education and Innovation, the Babcock Interaction Lab and the Alex & Jo Campbell Centre for Health and Wellness in addition to the start of renovations to transform the Wilna Thomas building.
For Bell, three accomplishments in particular stand out:
Expanding services and supports as part of the new Student Experience Division;

Greater Indigenization with a commitment to truth and reconciliation; and,

Helping to create a world-class reputation for applied research and innovation.
"It's an honour to be recognized by the college with the naming of the new hall."

 - Sherri Bell
"When I started as president, one of the first things I noticed was that there were very few locations for students to collaborate and no space for large gatherings on the Lansdowne campus," recalls Bell. "The completely renovated Wilna Thomas building provides students, faculty and staff with new spaces that were not available before. It's an honour to be recognized by the college with the naming of the new hall."
The Wilna Thomas building served as a learning centre for health and human services students before moving to a brand-new facility at the Interurban campus and adult basic education students, as well as a gathering place for Indigenous, cultural and college-wide events.
The renovated Wilna Thomas building is unique because it is not dedicated to one school or department. All Camosun students, staff and faculty benefit and have access to it.
Contact information
Rodney Porter
Camosun College