We spoke with Service Manager Adrian Gatt to get to know more about Sea Cider Farm & Ciderhouse; one of more than 40 different food establishments from Victoria to Sidney, Cowichan and Sooke participating in Camosun's Food Affair.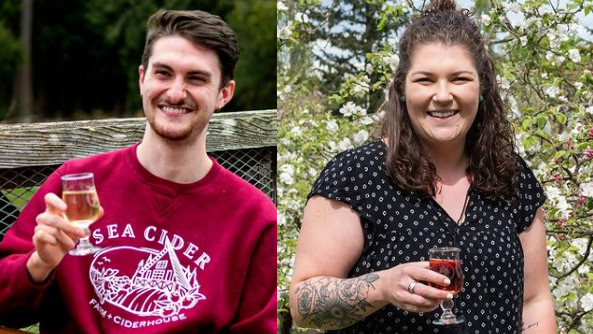 What's the best thing about Sea Cider?
"Since 2007 our award-winning ciders are what people come to taste but we are much more than that. We offer a great selection of local and regional products as well as hosting events such as weddings all year 'round."
Any special menu highlights?
"Our Artisan board features local cheeses (Haltwhistle in Cowichan), meats (Haus Sausage) and a few other goodies from our friends at Justos' Hummus, Jennie Marie Crackers, Sarah Staples Mustard and Island Speciality sweets. We also have a special cocktail that we like to make called the 'Saanich 75.' It features our very own Kings & Spies, Empress Gin, lemon juice and a touch of simple syrup."
How has your restaurant been resilient during the pandemic?
"We have had to think on our feet and adapt to the changes brought by this pandemic. We have upgraded our online store and our digital presence in general. We've also introduced our own delivery service to the local community. Working with local artisan producers has also been our mission to help our community get through this difficult time."
What does Camosun mean to you?
"Camosun has been great to work with over the years and has been excellent at getting their students ready for industry. Currently, we have two alumni and two students doing their internship with us."
Why do you love food?
"Food can be so versatile and I love trying new things. Each region/country has its own unique cuisine. Food is an expression of the local people and when combined with local drinks it creates the perfect atmosphere for a great time!"
Do you have a sweet or savory tooth?
"I tend to love sweets a little bit too much!"
What's your message to students thinking about a career in your industry?
"This industry is definitely not an easy one. We tend to be working when other people are having fun, however, there is so much reward in creating magical experiences for our guests. It is satisfying to know that we open people's eyes to new things and get to meet new people all the time."
Camosun Food Affair, Sept. 16 to 23
Whether you're a Camosun alum, student, employee or community supporter, treat yourself to the Camosun Food Affair and savour 50 years of alumni success!
Dine in or take out delicious local fare at participating Camosun Food Affair establishments, Sept. 16 to 23. Keep an eye out for enticing Camosun-themed dishes and beverages!
For a full list of participating eateries and info visit: camosun.ca/eat and follow #CamosunEats on social media.
Camosun Food Affair
September 16-23, 2021