Nine soup-erstars from the Maker-to-Market program at Camosun College placed second in a provincial competition that supports immigrant entrepreneurs.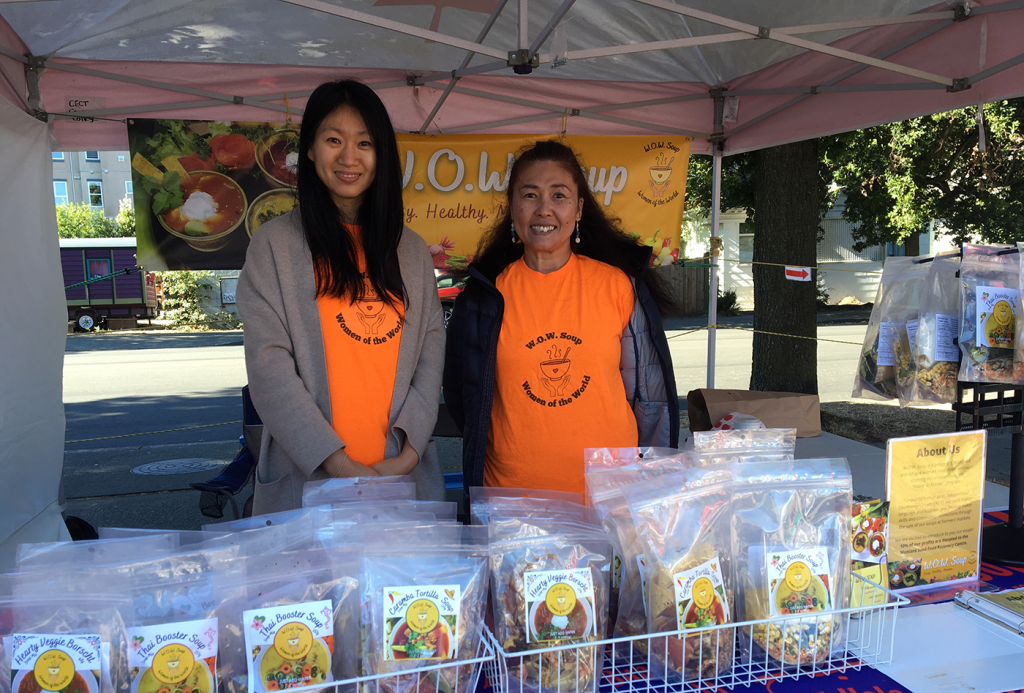 The Women of the World (W.O.W.) Soup was awarded $1,500 prize in the 2022 DIVERSEcity's new Business Pitch Competition that will allow the team to develop their small market business after graduation.
 "What makes this program special is that it meets women where they are, with different language levels, personal experiences and circumstances," says Sydney Wilson, one of five program coordinators. "Over approximately 11 months, the women form a team, business, long lasting friendships and ties to community. They complete the program through online and in-person classes with new-found confidence, and language and work-related skills that will benefit them regardless of their chosen paths. We are so proud of these amazing women!"
 Karina Gomez and Nok Hutawatthana represented the team in front of a judging panel at Surrey City Hall on Oct. 19, 2022.
 "While we were all very nervous, I am extremely grateful for the support given to me and all of the other women by DIVERSEcity," explains Karina, an immigrant from Mexico. "Being an entrepreneur is challenging but success is possible as the program has given us the skills and confidence to grow our business as well as developing new friendships."
 There are three W.O.W. Soup varieties each featuring local dried vegetables and ingredients authentic to their culture: hearty veggie borscht, caramba tortilla soup and Thai booster soup.
 Soup packages can be purchased online for pickup at a market, or at upcoming local markets including Oaklands West Coast Winter Market on Nov. 19, Esquimalt Holiday Market on Nov. 27, the Camosun pop-up Christmas market at Lansdowne on Nov. 28 and the Dickens' Fair on Dec. 3 in James Bay.
 The Maker to Market program is offered by the Professional Services and Industry Training team at Camosun and demonstrates the college's commitment to meeting the diverse educational and training needs of the local community. The program is funded by Immigration, Refugees and Citizenship Canada.
 "Teaching in Camosun's Maker to Market program has been a career highlight for me," says Lisa Robertson, English Language Development instructor. "It is gratifying to see the students building their English language and customer communication skills and then using these skills successfully in real life Market settings."
 This year, the program expanded its collaboration to work with the Inter-Cultural Association of Greater Victoria, BC Association of Farmers' Markets, The Mustard Seed and DIVERSEcity Community Resources Society. Maker workshops and production was moved to the Mustard Seed commercial kitchen.
Contact information
Rodney Porter
Camosun College