Witness traditional local Indigenous cooking at Camosun's annual Pit Cook demonstration on Oct. 20 & 21.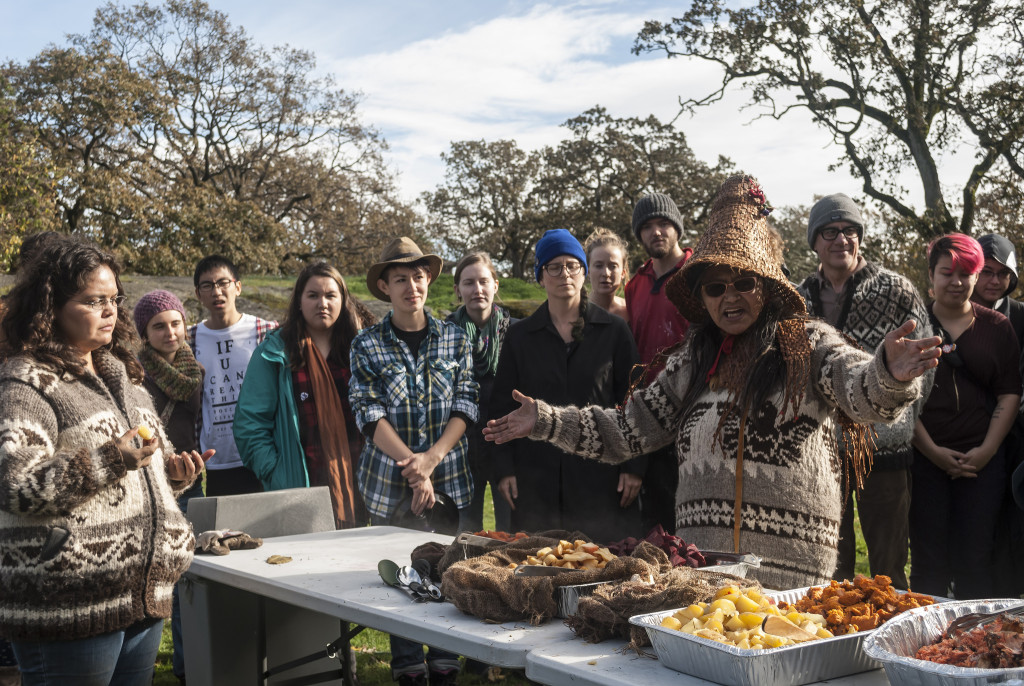 Camosun AV Services
Camosun students and staff are invited to take part in a traditional Indigenous Pit Cook demonstration as part of the 30th anniversary of Eyēʔ Sqȃ'lewen, the Centre for Indigenous Education and Community Connections at Camosun, and the college's 50th anniversary.
In partnership with the Songhees and Tsartlip Nations, faculty and staff of Eyēʔ Sqȃ'lewenwill host the Pit Cook events at Interurban campus, Oct. 20 and Lansdowne campus, Oct. 21.
The annual gathering demonstrates how camas bulbs, the roots of a bright blue star-like flower, an Indigenous plant that grows locally in Garry Oak meadows, is used in traditional Indigenous cooking.
Camas bulbs, along with other edible plants, are placed in a fire-pit, between layers of locally harvested plants like sword fern, salal and skunk cabbage.  
"The Pit Cook is one of the highlights of our year," says Janice Simcoe, Director of Eyēʔ Sqȃ'lewen. "It allows us to honour our traditional hosts by learning from them, eating with them and practicing their ancestors' techniques for feeding families and villages. It's a beautiful day and we always throw in the opportunity for people to try some frybread too. That was introduced after contact but we Indigenous people have made it our own!"
 
The Pit Cook demo and food tasting will be held at both campuses. The event includes teachings from Cheryl Bryce of the Songhees Nation, as well as a medicine walks with Della Rice-Sylvester from Cowichan. John Bradley Williams from Tsawout First Nations will host the event at Interurban campus.
The Pit Cook "is part of who we are," explains Bryce. "It helps with reinstating traditional First Nation roles, restoring the environment and ecosystem, and connecting with 'territories'."
Pit Cook Times & Locations:
Wednesday, Oct. 20 | 9am to 3pm
Camosun College, Interurban Campus
Outdoor Basketball Courts
 
Thursday, Oct. 21 | 9am to 3pm
Camosun College, Lansdowne Campus
Na'tsa'maht - The Gathering Place
Contact information
Michelle Tinis
Communications/Marketing Strategist
Camosun College