Designer-maker, wood-bending expert, and the owner of Mike Randall Designs is the recipient of the 2022 Distinguished Alumni Award.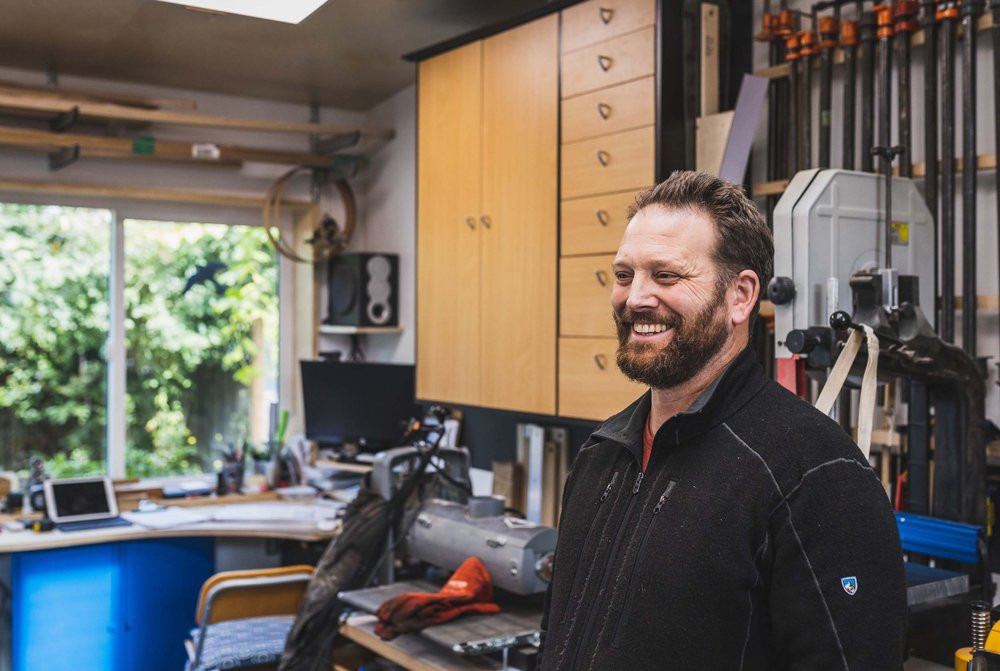 In 2010, Mike decided to hone this talent through the Fine Furniture program at Camosun College in Victoria. It was here he uncovered a real love of problem-solving through design, as well as making complex ideas look refined – taking inspiration from the clean aesthetics of contemporary European designers.
"Congratulations to Mike on being recognized for his achievements," says Dr. Lane Trotter, President of Camosun College. "We are proud of our students for using their education and skills to build their own business and we look forward to seeing the positive impact they make on the community."
The Fine Furniture program allowed Mike to learn from experienced instructors in a hands-on learning environment.
"The Fine Furniture program is an amazing opportunity to learn about good design, to learn about perfection, and to push yourself outside your comfort zone," says Mike. "I was under the watchful eye of some amazing professors who I brought on as mentors to give me advice and guidance every step of the way."
Mike is a master of his craft and has gained a reputation within his industry for being able to create products tailored specifically to each customer and their property. Proudly neurodiverse, he credits his ability to create boundary-pushing forms to his non-linear, dyslexic thinking.
"I know from my own career how difficult it is to be successful as a designer-maker in the field," says Sandra Carr, Instructor, Fine Furniture Program. "Mike has found long-term success and continues to be recognized for his talent.I am very proud of his accomplishments."
Mike is now working with a business coach to help form a solid and sustainable business that focuses on high-quality, well thought out and sustainable design.
"I'm hugely honoured and grateful to be receiving the Distinguished Alumni Award," says Mike. "Without the Fine Furniture program, I would not have had the skills, knowledge, and courage to get to where I am today.
"To the Camosun College graduates of today – Graduating from your chosen course is only the first step towards your goal. Never stop learning and never give up on your dreams!  It is hard work to get really good at what you do, you need to be able to adapt and grow, pick yourself up from your failures, keep up with current thinking and technology, and develop the courage to challenge the status quo, it's how you learn."
Contact information
Alisha Dsouza
Marketing and Communications Strategist
Camosun College