The applied research department at Camosun College has employed its design and manufacturing abilities to help with the distribution of Pfizer COVID-19 vaccines by producing bright orange trays and dividers that easily distinguish doses for children.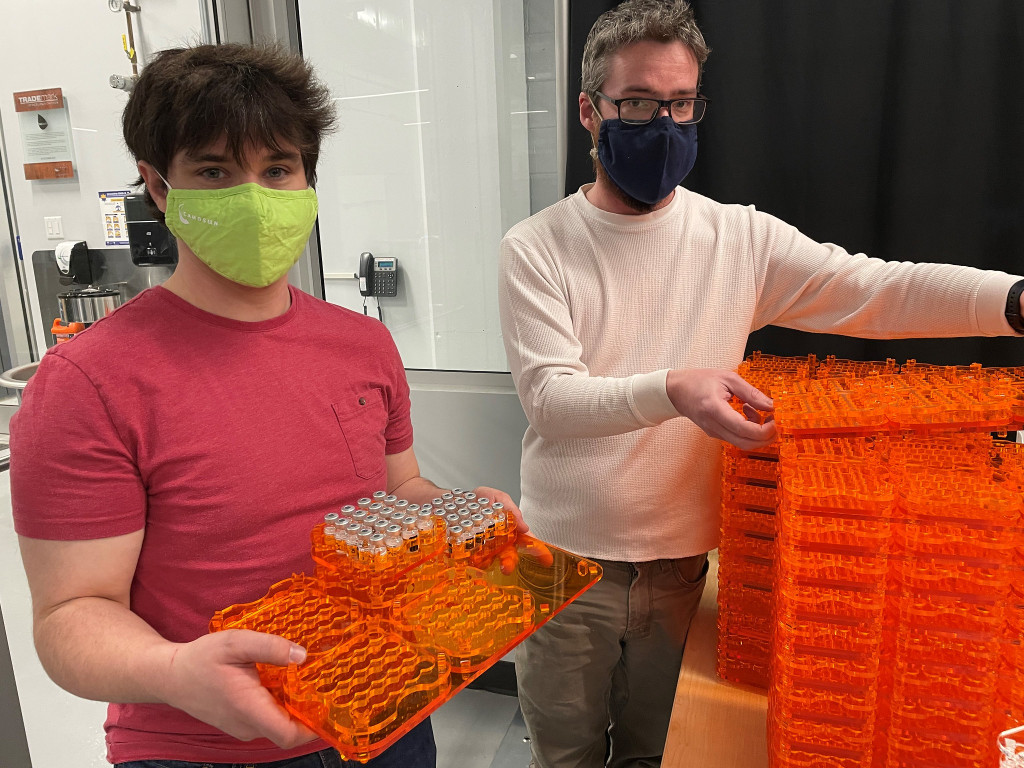 "The colour-coded trays developed by Camosun support health-care professionals to safely administer vaccines to children. Innovations like these trays are the foundation of B.C.'s post-secondary institutions," says Anne Kang, Minister of Advanced Education and Skills Training. "By manufacturing these orange trays, Camosun has demonstrated they can deliver practical solutions to everyday challenges and contribute to B.C.'s vaccination efforts."
Working in the Babcock Interaction Lab on the college's Interurban Campus, Camosun Innovates used a commercial-grade laser cutter to make 150 trays to hold doses for children aged five to 11, along with 25 retaining bases that help to stabilize the trays during transportation.
"Camosun Innovates has once again shown how applied research can help with the efficient distribution of vaccines so they get to where they need to go," says Sherri Bell, President of Camosun. "As a community college, we are committed to working with our partners to improve the lives of students, communities and our province through innovation and education."
The 0.635-centimetre-thick acrylic modular, stackable trays hold 20 vials and fit inside ultralow temperature portable freezers. The Camosun Innovates team 3D scanned the inside of the freezer and designed a retaining structure to stabilize the modular trays and ensure a perfect fit.
"Orange coloured vaccine trays allow people to easily distinguish between the children's and adult doses of the vaccines," explains Matt Zeleny, Applied Research Technician. "These colour-coded trays are an example of how community colleges like Camosun can hit the ground running with solutions to real-world problems."
The request for the distinctive children's dose trays came directly from the BC Centre for Disease Control, and was prompted by Camosun Innovates' previous work designing and manufacturing clear vaccine trays for regular doses as well as face shields and a portable PPE sterilizer.
Camosun Innovates worked with the B.C. Ministry of Health, Health Emergency Management BC, the BC Centre for Disease Control, and regional health authorities to design, prototype and manufacture specialized trays to secure the COVID-19 vaccine vials for transport to where they were most needed. Camosun Innovates also developed the VI Gripper to facilitate rapid distribution and efficiently lift vaccine vials up to five at a time.
Other recent Camosun Innovates projects include design and manufacturing of competitive equipment for Olympic para-athletes, complex sport simulators, and self-righting watercraft, as well as medical grade face shields and portable decontamination devices to support front-line health care professionals during the pandemic.
Established in 1971, Camosun is one of the largest colleges in British Columbia with campuses on the Traditional Territories of the Lekwungen and W̱SÁNEĆ peoples. For 50 years, Camosun has been delivering innovative, relevant and applied education, supporting communities, businesses and employers.
Contact information
Rodney Porter
Communications and Marketing
Camosun College