Tuesday, Aug. 10, 9am-3:30pm
Camosun College's Information and Computer Systems and Interactive Media Developer students will showcase their Capstone projects to potential employers and the public.

Camosun College's Information and Computer Systems and Interactive Media Developer students will showcase their Capstone projects to potential employers and the public. Now, at the culmination of their studies, these students possess the ability to design and create exciting and innovative projects. The public and media are welcome to attend.
The event's major sponsor, Checkfront Inc, will have a guest speaker in addition to presenting the Capstone Symposium Award for Innovative Excellence. This exciting event provides the opportunity to network with this year's graduates and check out the sponsored software development projects. There is no cost for admission, and guests are encouraged to pre-register online.
A special thank you goes to all the project sponsors, event sponsors, and Camosun faculty for their great efforts and generous contributions to make the Symposium a success.
More details and registration are available online at capstone.camosun.ca
Capstone Symposium project descriptions
Team Five Goat Games
Is creating a 2.5D Metroidvania style platforming video game prototype spanning two playable zones and including fully implemented saving and loading architecture, enemy and NPC AI, and an extensible character progression and power-up system.
The Code Queens
Utopian Moon: Salvage Run is an immersive space race game created in Unity featuring completely original models, customized physics, intelligent procedural level generation, and integration with a server-side authentication and scoreboard system for competitive play.
Team MeepMeep
An iOS application able to connect to and interact with multiple MeepMeep disc golf trackers to aid in locating wayward discs.
Team Cuboh
Developing from the ground up a web-based scraping tool that generates reports to help restaurants optimize menus hosted on a multitude of online ordering platforms.
Team Dyspatch
Using Dyspatch's AMP enhanced markup language to create live updating and interactive email applications that live in the inbox.
Team Checkfront
New Customer Data Importer 2.0 (NCDI 2.0) is the new version of an existing tool, now with gift certificate and guest information import functionality, enhanced data validation, detailed error feedback, and refined UI/UX.
Team Point Cloud Initiative
A traversable and interactable 3D simulation derived from scans of ship interiors called "point scans" after converting them into mesh.
Team Metl
Is creating a Microsoft Teams extension based on a Slack communication app made by Metl Solutions Inc.
Team RDSI Designed
Is designing a solution to improve status reporting to the Digital Investment Office in the Government of BC using a web application and is developing a functional prototype for our solution.
Team Unforgotten Ones
We offer a safe place for clients and healers to meet. In this platform, healers can share their gifts, clients can search for their best healer match, and record their healing progress.
Team Rental Connections
Rental Connections will transform the renting experience for both tenants and landlords with its user-friendly, inclusive, and rental focused design.
Team Archio
Archio is a video archival website where users can share recordings, transcriptions and translations of their oral histories and storytelling traditions, to prevent changing technologies and lifestyles from erasing historic knowledge.
Team Safe-T-Peg
Safe-T-Peg is an android application designed to revolutionize the mental health space by connecting distressed individuals with their loved ones, putting an end to loneliness and isolation.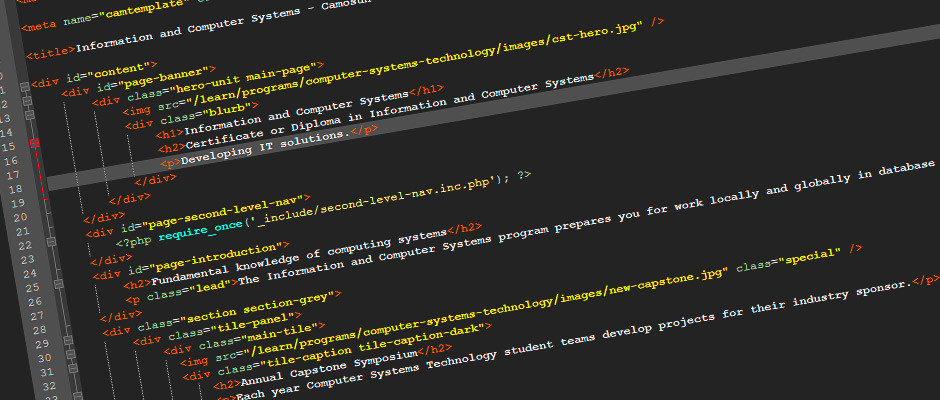 Registration
Contact information
Saryta Schaerer, M.Sc.
Program Chair, Computer Science
Camosun College