Twenty-eight Camosun College faculty members were honoured for their contribution to teaching and learning in the second annual teacher recognition celebration.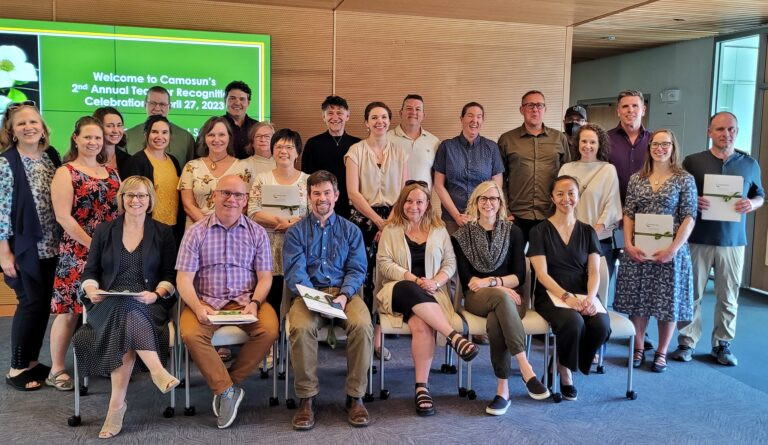 Camosun College
The awards ceremony took place in the Sherri Bell Hall on April 27, 2023, and is an initiative of the college's Teaching and Learning Council. Awards were based on testimonials from faculty, staff and students.
"While nominations came from employees and students, once again it was inspiring to see an amazing response from students who highlighted some of the incredible work being done to support student learning," says Dr. Heather Cummings, Vice-President of Student Experience. "Congratulations to every faculty member who promoted student success by using engaging and flexible approaches to better meet the needs of all learners."
Camosun College is committed to teaching excellence. A range of teaching resources and learning opportunities are available to instructors to support their pursuit of excellence in teaching through the Dr. Lloyd Morin Centre for Excellence in Teaching and Learning (CETL).
"Reciprocity in teaching and learning, as one of the four Rs of Indigenous Education, is an important component of equity, diversity, and inclusion and key to the work instructors and students do here at Camosun," says Emily Schudel, Chair of CETL. "I was honoured to be among those celebrating some of our inspirational faculty who work in relationships and reciprocity with their students."
The event included The Mary Burgess Open Education Recognition Award, which recognizes a faculty member who has made profound contributions to open learning at Camosun College. This year, Charlie Molnar, Biology, was recognized for his work in revising, adapting and creating open education resources since 2015.
Open education resources / open textbooks have positive benefits on the student experience by lowering access barriers and reducing student costs for learning materials. They also enable instructors to modify, edit or adapt high-quality resources to fit their individual teaching goals to provide meaningful contextualized materials for their students.
Recognizing the 28 recipients of the 2023 teaching recognition awards
The 2023 annual teacher recognition event took place on April 28 in the Sherri Bell Hall. The 28 recipients were:
Andrea Durdle, Plumbing and Pipe Trades
Arloene Burak, Psychology
Brent McMillen, Medical Radiography
Brooke Cameron, Biology
Dan Reeve, Political Science
Darren Hall, Plumbing and Pipe Trades
David Armstrong, Hospitality Management
David Raju, Biology
Dianne Patterson, Health Care Assistant
Emah Christiansen, Massage Therapy
Gilles Cazelais, Math
James Smyth, Plumbing and Pipe Trades
Joanne Irvine, Management and HR Leadership
Joyce van de Vegte, Electronics and Computer Engineering Technology
Katie Waterhouse, Anthropology
Kendal Adam, Diagnostic Medical Sonography
Lynnea Jackson, English Language Development
Matt Agbay, Business Statistics
Meaghan Feduck, Education Assistant, Community Support
Michelle Lysak, Accounting and Finance
Nicole Kilburn, Anthropology
Noreen Ortilla, Massage Therapy
Pei Mei Chia, English Language Development
Phil Vreugdenhil, Electronics and Computer Engineering
Richard Burman, Mechanical Engineering Capstone
Robin Fast, Community, Family and Child Studies
Selena Hebig, Nursing
Tony Vernon, Health Care Assistant-ESL
Contact information
Rodney Porter
Camosun College