Camosun Medical Radiography student receives major bursary from Colleges and Institutes Canada (CICan).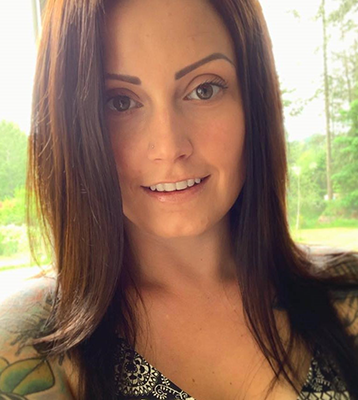 Victoria, B.C. - Camosun College Medical Radiography student Riley Briscoe will be able to focus more on her studies with one less worry following the award of a $5,000 bursary from Colleges and Institutes Canada (CICan).
The annual CICan Paul and Gerri Charette Bursary Award provides financial support to Canadian students who are facing financial challenges in completing their post-secondary education.
Riley Briscoe worked as a clerk in the emergency department in her home town of Thunder Bay, Ontario for seven years before deciding to move to Victoria and enrolling in the two-year Medical Radiography Technology (MRT) program at Camosun.
"I decided to take the program after watching the amazing work that MRT's do," says Riley.
Riley works part-time in Medical Imaging at the Royal Jubilee Hospital as a Booking Clerk. "Not having any family support in Victoria has made going back to school as an adult very challenging, but this money will certainly help me get through this program successfully," she says.
"It's always fantastic news when one of our students gets the support to continue their studies," says Sherri Bell, President of Camosun. "I wish Riley every success in her future career as a front-line health care professional!"
Bursary donor Paul Charette said a $200 bursary he was given in Grade 12 changed his life. Now that he and his wife Gerri are in a position to give back, they want to help students in need, especially those from rural communities who have limited access to bursaries and scholarships.
"Accessing post-secondary education can be absolutely transformational and opens up a world of opportunities, but we know that many students still face barriers that can be hard to overcome alone," says CICan President and CEO, Denise Amyot. " That's why we are so grateful for the support of Paul and Gerri Charette, who made this bursary possible to help relieve some of the pressures promising students like Riley can face." 
"I am so grateful to receive this bursary, it will help me through my upcoming clinical practicum at the Nanaimo Regional General Hospital," she adds."Once I graduate I want to advance my skills in CT (Computed Tomography) and, hopefully, work at a hospital in Victoria."
Camosun's Medical Radiography program is an intensive, two-year, applied program that prepares students to become part of an integrated medical team as qualified Medical Radiation Technologists. Students study human anatomy, radiographic procedures, physics, medical imaging, pathology and patient management through a combination of in-class theory and on-site clinical rotations on the South Island.
Camosun, located in beautiful Victoria, British Columbia with campuses on the Traditional Territories of the Lekwungen and W̱SÁNEĆ peoples, is one of the largest colleges in the province.  Established in 1971, Camosun now celebrates 50 years of delivering innovative, life-changing academic and applied programs to 20,000 students annually.
Contact information
Michelle Tinis
Communications/Marketing Strategist
Camosun College