Wheelchair racer Austin Smeenk credits the support of the applied research department at Camosun College as one of the factors behind setting a new Canadian record in March at the Dubai World Para Athletics Grand Prix.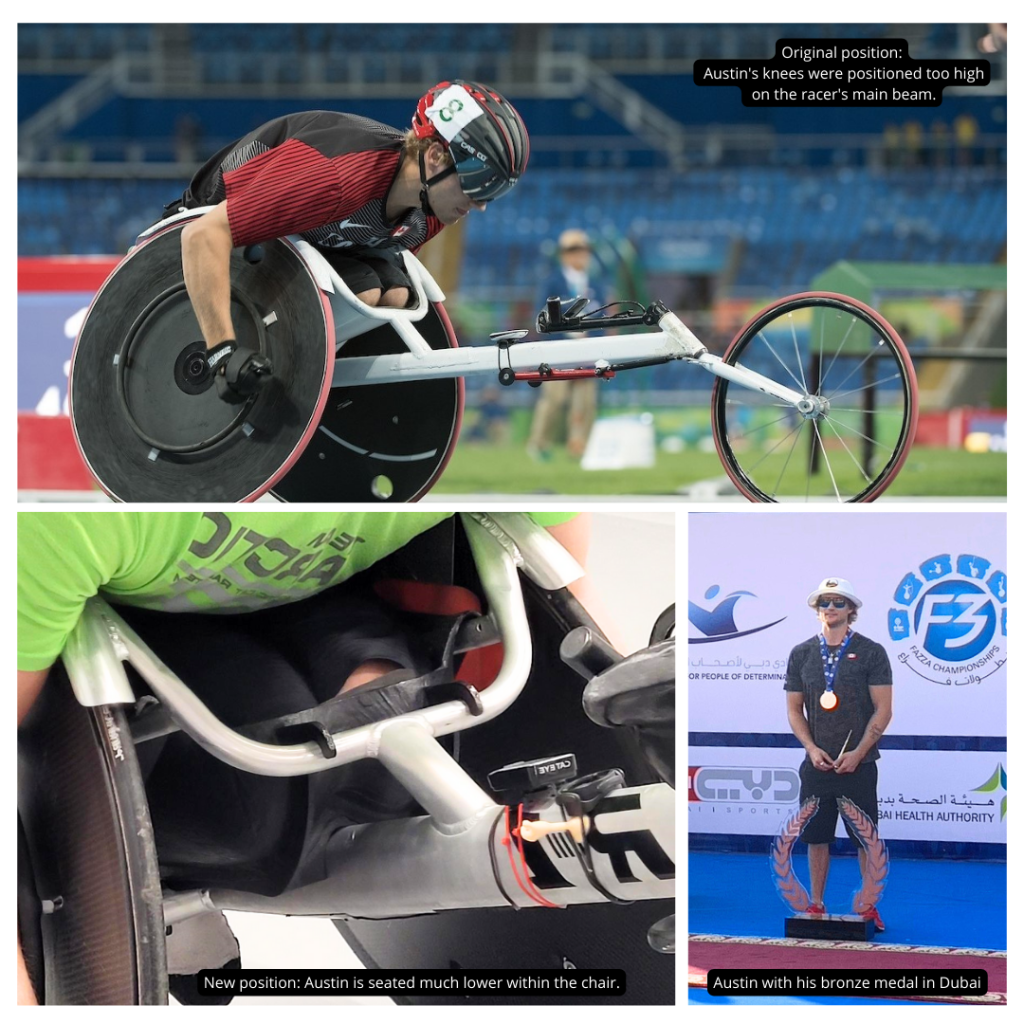 Originally from Ontario, Smeenk moved to Victoria for a 12-month training camp at Athletics Canada's West Hub, where he teamed up with Camosun Innovates. They used 3D scanning technology to design and build a form-fitting seat that supported Smeenk's ideal athletic posture, maximizing his potential for success. 
"Camosun Innovates has been amazing to work with, they took the time to analyze my biomechanics and optimize my racing chair for my body and performance. The adjustments they made have made a huge difference." 

- Austin Smeenk
Geoff Harris, Smeenk's coach, commends the partnership between Athletics Canada and Camosun, which has a proven track record of supporting para-athletes for more than 10 years.
"Victoria is becoming a hub for para-athletics, thanks to its mild climate and proximity to world-class training facilities. Groups like Camosun Innovates play a crucial role in developing Canadian athletes," says Harris. "With their expertise in technology and design, they are able to help athletes like Austin make the necessary modifications to their equipment to reach their full potential." 
According to Harris, the changes needed to optimize Smeenk's racing chair would typically require a new chair, which could cost up to $7,500 for the frame alone, and no guarantee that the new position would be appropriate for the athlete. Thanks to Camosun Innovates, Smeenk was able to achieve peak performance without breaking the bank. 
"We worked closely with the coach and athlete to determine not only what was required, but also the best path to get there," says Richard Burman, Student and Faculty Lead for Camosun Innovates. "Our phased approach focused on comfort and fit for the athlete while supporting them in their optimum athletic posture within the chair, all while considering deadlines and cost." 
The project made use of 3D scanning technology, design, 3D printing, and composites manufacturing. Adam Holroyd, a recent graduate from the Mechanical Engineering Diploma program, played a crucial role in the project's success. He was supervised by two senior Technologists, Matt Zeleny and Sergio Solares, developing new skills and capabilities.
Camosun Innovates connects applied learning and applied research, design thinking, interdisciplinary inquiry, productivity improvement and tech-savvy invention. It is home to B.C.'s first Technology Access Centre and a Canadian leader in practical problem solving.
Contact information
Alisha Dsouza
Marketing and Communications Strategist
Camosun College