Two young chefs in the Professional Cook program at Camosun College shone brightly at a regional competition where they cooked up a storm.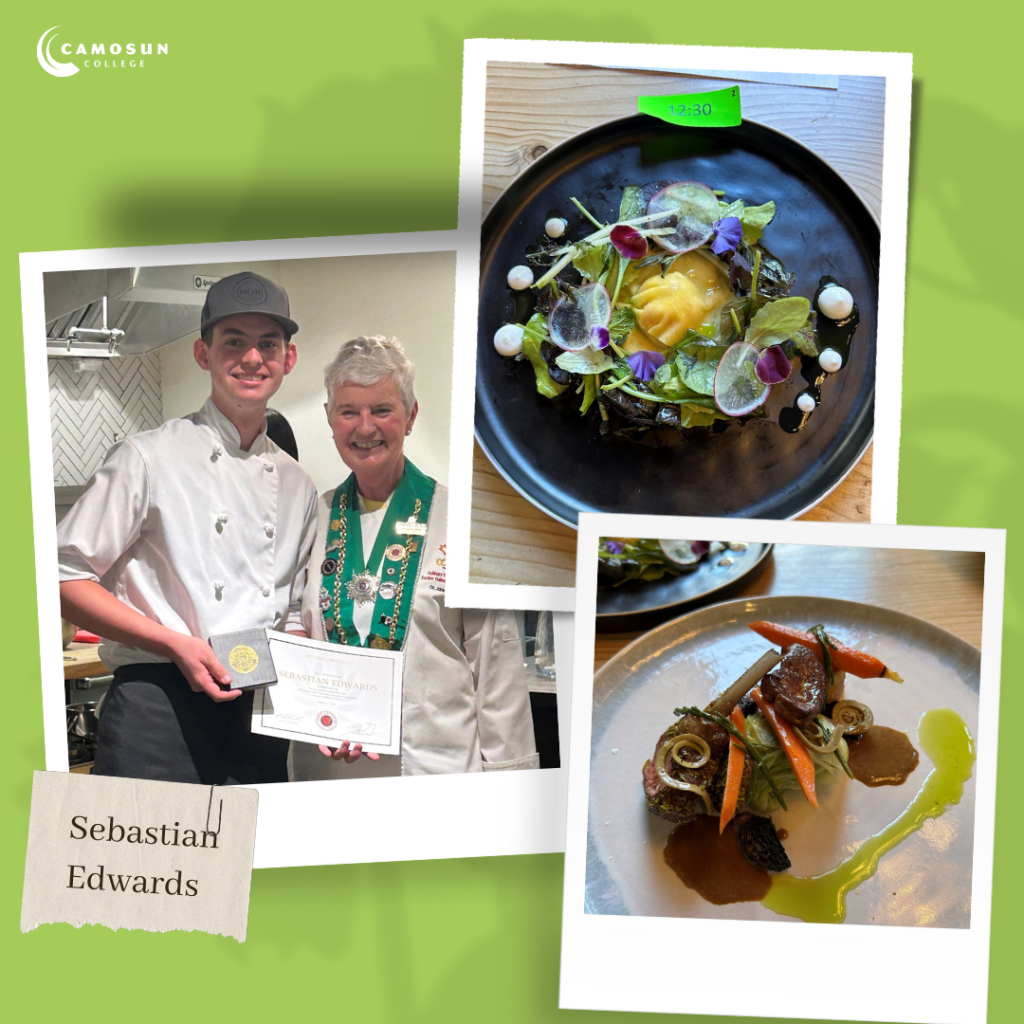 Benjamin Duval and Sebastian Edwards, participated in the Regional Jeune Chef Commis, a La Chaîne des Rotisseur competition at Vancouver's Dirty Apron cooking school on Saturday, June 11.
The competition, featuring aspiring young chefs from across the region, witnessed Benjamin Duval and Sebastian Edwards showcasing their culinary skills, honed through their rigorous training in the Camosun Professional Cook training program. The high-stakes event promised not only recognition but also a chance to represent Canada on the international stage.
Sebastian Edwards emerged victorious, securing first place in the Victoria Chapter and earning an invitation to the prestigious National Jeune Chef Commis, a La Chaine des Rotisseur competition in Toronto in October 2023. This remarkable accomplishment places Sebastian in the running to represent Canada in Paris.
"I couldn't be more grateful for this opportunity to showcase my culinary skills on a regional level," says Sebastian. "Camosun College has provided me with the tools and knowledge to excel in this competition. I'm looking forward to the national stage and aiming to make Victoria proud."
"We are immensely proud of Sebastian Edwards and Benjamin Duval for their remarkable achievements in the regional competition," says David Lang, Culinary Arts Chair at Camosun. "I speak for the entire college community when I say that we eagerly await Sebastian's journey in the national competition. His outstanding performance has already made a lasting impression and will undoubtedly inspire future generations of culinary enthusiasts."
The local members of La Chaîne des Rôtisseurs provide bursary awards for Camosun's Culinary students, and in 2024, we will be celebrating the 25th year of that support. The organization's long-standing partnership has played a crucial role in nurturing and encouraging aspiring culinary talents at the college.
Contact information
Alisha Dsouza
Marketing and Communications Strategist
Camosun College