A traditional Coast Salish pit cook demonstration is taking place at Camosun College's Interurban Campus. The pit cook demonstrates and promotes the traditional use of the camas, and keeps the teachings, and traditional ways alive.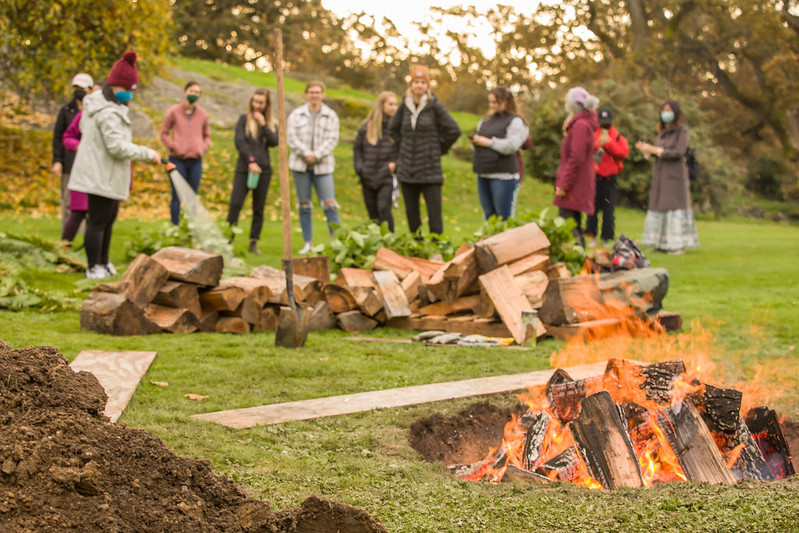 Camosun College
Faculty and staff from Eyēʔ Sqȃ'lewen will host the Pit Cook event at the college's Interurban campus on Thursday, Nov. 2.
The annual event shows how the Coast Salish Nations in the region use a fire-pit to cook camas bulbs, the root of a bright blue star-like flower that grows in Garry Oak meadows. The bulbs are cooked between layers of other locally harvested plants such as sword fern, salal or skunk cabbage.
The event includes teachings from territory Elder JB Williams of the Tsawout Nation and instructor Nicole Kilburn from the college's Anthropology department.
"The college hosts a number of events throughout the year to enhance and celebrate Indigenous student success and encourage community development," explains Nancy Potvin Indigenous Special Events Coordinator for Eyēʔ Sqȃ'lewen. "It is an honour to be able to host a pit cook to demonstrate how Nations of the region have used a fire-pit for many generations to cook the camas bulb."
Approximate times and activities:
10 am: start of the pit cook followed by a traditional medicine workshop and storytelling.

1:00 pm to 1:30 pm: open pit cook and share the feast.
Honouring Indigenous Resurgence is one of the priorities in Camosun College's 2023-2028 Strategic Plan. Under this priority, the college is advancing work to honour Indigenization, decolonization, the Truth and Reconciliation Commission of Canada's Calls to Action, the UN Declaration on the Rights of Indigenous Peoples and B.C.'s Declaration Act.
Contact information
Rodney Porter
Camosun College