VICTORIA, B.C. – Students at Camosun College will see a new design on their college credentials with the use of the first official institutional seal on certificates, diplomas and degrees.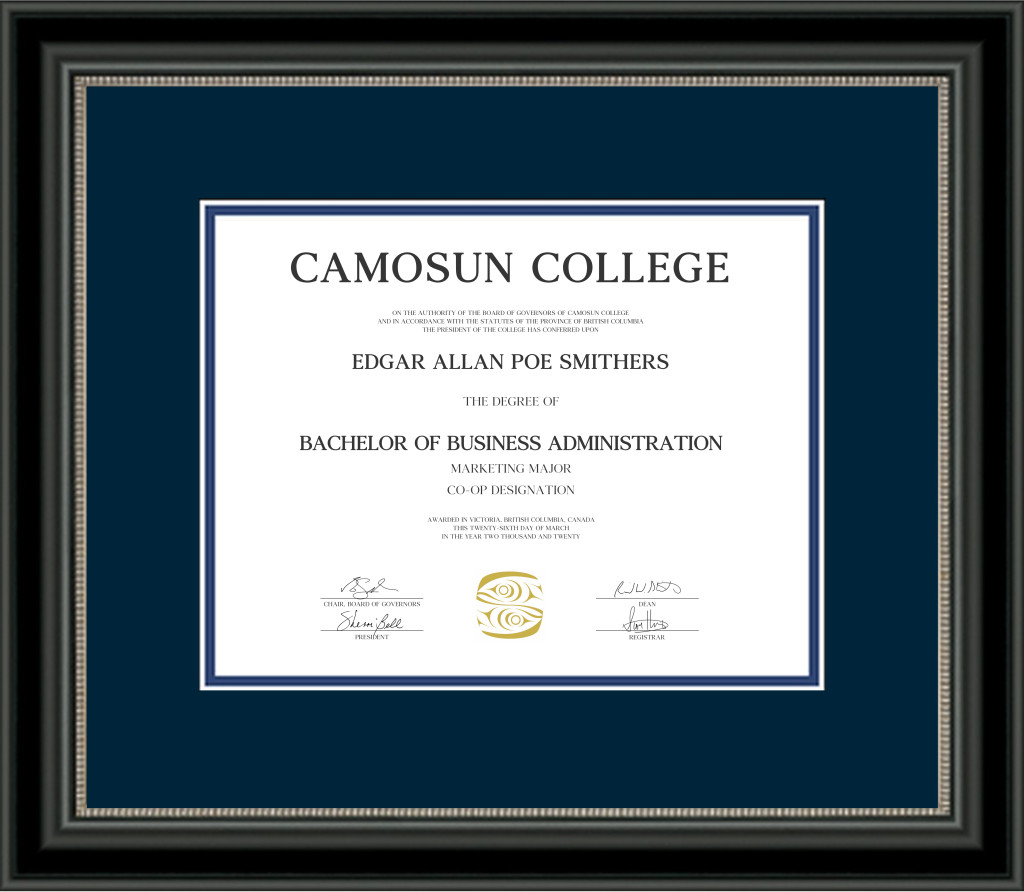 The Seal reflects the artwork in the college's specially commissioned 50th anniversary logo, which was created by Coast Salish artist and college alumnus Dylan Thomas and will be used on parchments, transcripts, and other official documents produced by the Registrar's Office
"The logo that Dylan created is incredibly beautiful," says Sherri Bell, President of Camosun. "We wanted to honour the legacy of the college's golden anniversary through the creation of a seal that will carry on for the next 50 years. As a college with an Indigenous name, it is fitting to have an Indigenous artwork-inspired seal that speaks to the fact."
The design features two herring swimming in opposite directions, framed by stylised streaks of swirling waters in the distinctive green colours of the college, the logo visually represents the underlying narrative legend of Camossung.
"The explanation of the Camosun legend is that the Transformer, the key figure in Coast Salish mythology, turned the girl Camossung into stone, and told her she had to be protector of the waterways at the Tillicum Narrows," says Thomas. "The herring comes into it because the Protector offered Camossung herring which she liked, and that's the reason why herring are there today."
The paper will be high quality, with the new seal being embossed gold foil. Students, alumni, and internal stakeholders were consulted and reviewed the designs. There are two parchment designs – one for certificates, diplomas, and degrees, and one for non-credit activity.
"The goal at the outset was to develop a clean, clear, classic design that draws attention to the most important elements of the parchment, while being something that graduates will be proud to display," explains Scott Harris, Camosun Registrar. "We also wanted integration of a visual to honour our relationship with Indigenous communities, and create a parchment that will be timeless in appearance."
The first recipients of the new parchment will be the graduating class of 2021. Due to COVID-19 the graduation ceremonies will be entirely virtual and take place at the end of June 2021.
Discover more about the history of Camosun and what the next 50 years hold at https://50.camosun.ca/
View the new seal at: https://flic.kr/s/aHsmVrpWda
Camosun, located in beautiful Victoria, British Columbia, with campuses on the Traditional Territories of the Lekwungen and W̱SÁNEĆ peoples, is one of the largest colleges in the province. Established in 1971, Camosun now celebrates 50 years of delivering innovative, life-changing academic and applied programs to 20,000 students annually.
Contact information
Rodney Porter
Executive Director
Camosun College