Faculty/staff profile
Chair, Indigenous Studies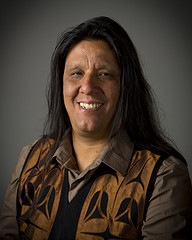 Lansdowne
Ewing Building
E 204
BSW, MPA, PhD
Northern Tutchone/Tlingit
Indigenous Studies
Centre for Indigenous Education and Community Connections
Hi all. My name is Todd Ormiston and I am Northern Tutchone/Tlingit. I have been a visitor in the territory of the Songhees/Esquimalt peoples of the Coast Salish Nation since 1996. I also acknowledge the W̱SÁNEĆ peoples whose shared territory Camosun College is situated on. It is an honour and privilege to live and work as a visitor in Coast Salish Territory.
My journey within academia over many years has earned me a Masters of Public Administration (UVIC), A Bachelor of Social Work (UVIC),a diploma in Criminal Justice (Douglas College). I am also honored to have graduated in November 2012 with my Doctorate in Education at the University of BC. I wrote on Indigenous Leadership Pedagogies in higher education and focused my dissertations on the wonderful Indigenous teachings at Camosun College and University of Victoria. Over the years I have also worked in various community social welfare organizations including the Boys and Girls Club as a bail supervisor for youth corrections.
I see learning as a lifelong process and I am constantly engaging in new learning. I also believe that as instructors, we have an important role to play in ensuring that learning is not just an obligation but a form of liberation towards walking in a good way throughout our lives. My belief is we are all teachers and we are all learners. Stop by and see me in Ewing 204 or drop an e-mail below!
Dr. Todd Ormiston
Program Leader
Indigenous Studies
Publications
Ormiston, N.T. & Grande, S. (2016).  Neoliberal globalization as settler Colonialism the remix: Centering Indigenous resistance and resurgence. In Caouette, D & Kapoor, D (Eds).  Beyond Colonialism, development and globalization. Social movements and critical perspectives (p 205-222). London. Zed books.
Ormiston, N. T. (2014). Transforming stories and teachings into social work pedagogies. Affilia, 29(3), 368-372.doi:10.1177/0886109914522630
Ormiston, N.T. & Green, K.J. (2014).  Indigenous child welfare Practice: Progressing or regressing?     International Encyclopedia of the Social and Behavioural Sciences. Eds. In chief: Neil J. Smelser and Paul  B. Baites. Elsevier Ltd.
Richardson, K.C., Green, K.J., Thomas, R., & Ormiston, N.T. (2012). Indigenous Specializations:  Dreams, developments, delivery and vision. The Australian Journal of Indigenous Education, 41, 173-180. doi:10.1017/jie.2012.16.
Ormiston, N.T. (2010). Re-conceptualizing research: An Indigenous perspective. The New BC Indigenous Child Welfare Research Network. First Peoples Child & Family Review.  An Interdisciplinary Journal Honoring the Voices, Perspectives and Knowledges of First Peoples through Research, Critical  Analyses, Stories, Standpoints and Media Reviews.  Volume 4, Number 2. Pp. 50-56.