At Camosun, an interdisciplinary focus is being actively developed at the course, program and college level. With collaboration and teamwork, students and faculty are bringing interdisciplinary elements into their coursework, initiatives, projects, practicum opportunities, events, and workplace practice.
Annual Student Interdisciplinary Education Festival
Using an interdisciplinary education approach, the School of Health & Human Services held its first Student Interdisciplinary Education Festival to recognize and celebrate the tremendous interdisciplinary projects and/or educational endeavors. The annual themed event showcases end of term capstone like projects in the format of oral presentations, table/poster presentations, portfolios of practicum/placement experiences, or student presentations posted to the IDE virtual platform.
2023 | Getting a Scoop on our Scope - What we wish our Colleagues knew! 
We are excited to be bringing back the first Interdisciplinary Student Festival to be held in person since 2019 to HHS. Students' online Festival projects will be featured on the Virtual Festival website from April 3rd - April 7th, with our in person student presentations being held in the Jo and Alex Campbell Centre for Health and Wellness on April 5th! We hope you'll join us as we continue "learning with, from and about each other" to improve patient outcomes and improve service to our clients through interdisciplinary learning and collaboration.
2022 |

Collaborating and Connecting for Resilience




The fifth annual Student Interdisciplinary Education Festival remains virtual, starting March 21st and running until Apr 4th. Please visit the IDE Student-run education platform showcasing live interactive digital activities on the 2022 

Virtual Festival website. 
2021 | New Age, New Ways for Interdisciplinary Learning 
The fourth annual Student Interdisciplinary Education Festival remained virtual - for the second year in a row due to the pandemic. A revised 2021  Virtual Festival website was created by Camosun Interactive Media Design (IMD) Students who worked collaboratively with programs across HHS and the college to present the changes our world is undergoing at this moment in time. 
2020 | Passport to HHS 
The third annual Student Interdisciplinary Education Festival moved online due to the pandemic. Student presentations provided an educational and networking journey exploring Health and Human Service (HHS) programs.   View the 2020 Virtual Festival site.
2019 IDE Festival Local Public Health.  Be a Part of It. 


The second annual Student Interdisciplinary Education Festival showcased 43 student presentations with a150 delegates from BSN Nursing, Certified Dental Assistant, Community, Family & Child Studies, Dental Hygiene, Health Care Assistant, and Medical Radiography students.

 

The celebratory event recognized the tremendous interdisciplinary projects and/or educational endeavours our students accomplished this academic year.
2018 |  Learning With, From, and About Each Other.


The inaugural Student Interdisciplinary Education Festival showcased

25-30 oral and poster presentations were the focus for 100 student attendees who participated in a passport stamp program. Students across programs exhibited their work to their peers, providing an educational and networking session with a focus on learning with, from, and about each other.
Interdisciplinary Education Approach for Dialogue on Reconciliation (2018)
Almost 180 students from Early Learning & Care, English, Marketing, Mental Health & Addiction, Nursing, and Sociology met for a Sunday afternoon to discuss the sensitive and important topic of reconciliation. This event built on the success of a similar project one year earlier, where the focus was on homelessness. Given our chosen focus on reconciliation this time, it was essential to include an Indigenous perspective. Speakers with lived experience shared their stories. This work was messy and at the edge of everyone's current comfort zones but spurred on by a taste of how transformative it can be for both faculty and students to grapple together with such complex challenges. Different lenses were applied to tackle complex topics, issues, and challenges. Opening up to diverse perspectives in order to create the possibility of novel solutions is not easy. However, we see it as essential work for higher education.
Joint Nursing 2 and Medical Radiography Simulation
The Baccalaureate of Nursing (BSN) and Medical Radiography (MRAD) programs facilitated an interprofessional simulation (SIM) to build knowledge, skills, and abilities in interprofessional competencies. The SIM started with a pre-brief as an orientation to the learning activity and to provide the basis for a psychologically safe learning environment. The SIM involved BSN students assessing a simulated post-surgical patient experiencing delirium and then calling upon the MRAD students for a portable chest x-ray. The post-SIM debrief guided reflection of the experience and purpose including role clarification, collaborative leadership, and person-centred care.
Practicum Opportunities
The students witness firsthand how a variety of disciplines can work together and the roles each one has for the benefit of the people they serve. We've had great success because it's a circle, all relating to each other when we have IDE placements with our community partners, as our human bodies and minds are related, not square, and not separate.
Without a doubt, we have had at least 5 programs that have been supported at one location with up to 3 programs at the same time. When this type of placement occurs, it is common place that the students meet with their site mentors at team meetings to review the whole picture of a person's needs, all under strict confidence. This happens with several of our community partners who choose to support our students.
In health, right from the start when we come from an Interprofessional Education perspective, we look at the whole picture hence the whole well-being of a person, which in most cases leads to solving challenges. There has been and always will be the opportunity for more than one discipline to work together.
College wide community of practice: Interdisciplinary education
Our students are entering complex work environments where they will need to take into account multiple perspectives, and collaborate across a wide range of disciplines. How can we better prepare them for this reality? How can we as educators begin collaborating more effectively so that we are modelling interdisciplinary practice? If you get excited about innovating new approaches to education, and want to draw on a diversity of perspectives, then join faculty from across the college for stimulating conversation with an action oriented focus.
Simulation Based Education: Targeting excellence in simulation programs, with Dr. Colette Foisy-Doll
Dr. Foisy-Doll is the Clinical Director of Clinical Simulation in the Faculty of Health Sciences at MacEwan University in Edmonton, Alberta. In this session Dr. Foisy-Doll provided an overview of existing standards in Simulation and engaged participants in a discussion about how their use can enhance learner experiences and outcomes, increase patient safety, and contribute to improved patient care outcomes. Innovative and Creative Teaching and Learning Lunch and Share Sessions
Holy Grail? Or Temple of Doom? Towards Virtual Reality (VR) and Pedagogy Integration: An amazing introduction to VR, the 2 Brent's shared their experiences of integrating VR in the classroom. They inspired others to envision how to leverage this technology in their own practice. Brent McMillen and Brent Mekelburg.
Voice Up – a Social Justice Student Engagement Project: This project provided students with a creative opportunity to highlight areas of oppression and stigma through the use of interactive based theatre and Theatre of the Oppressed techniques. Mary Harber.
Supporting Student Success: We are all aware of the multi-faceted challenges that students may be managing during their time at Camosun. In this session, innovation and inclusive processes and strategies to support students to achieve knowledge and skill competencies was shared. Ways of accommodating students who may be facing the many challenges of today's world were discussed. Kristin Ross and Jody Watson.
Actualizing Dr. Martin Brokenleg's, Circle of Courage: The Circle of Courage is a holistic approach, grounded in the science of resilience, and in the values of deep respect for the dignity of students. Join us as we explore the following core values for nurturing our students in the clinical setting: belonging, mastery, independence, and generosity. Laura Sacilotto, Faye Martin, and Kayla Douglas.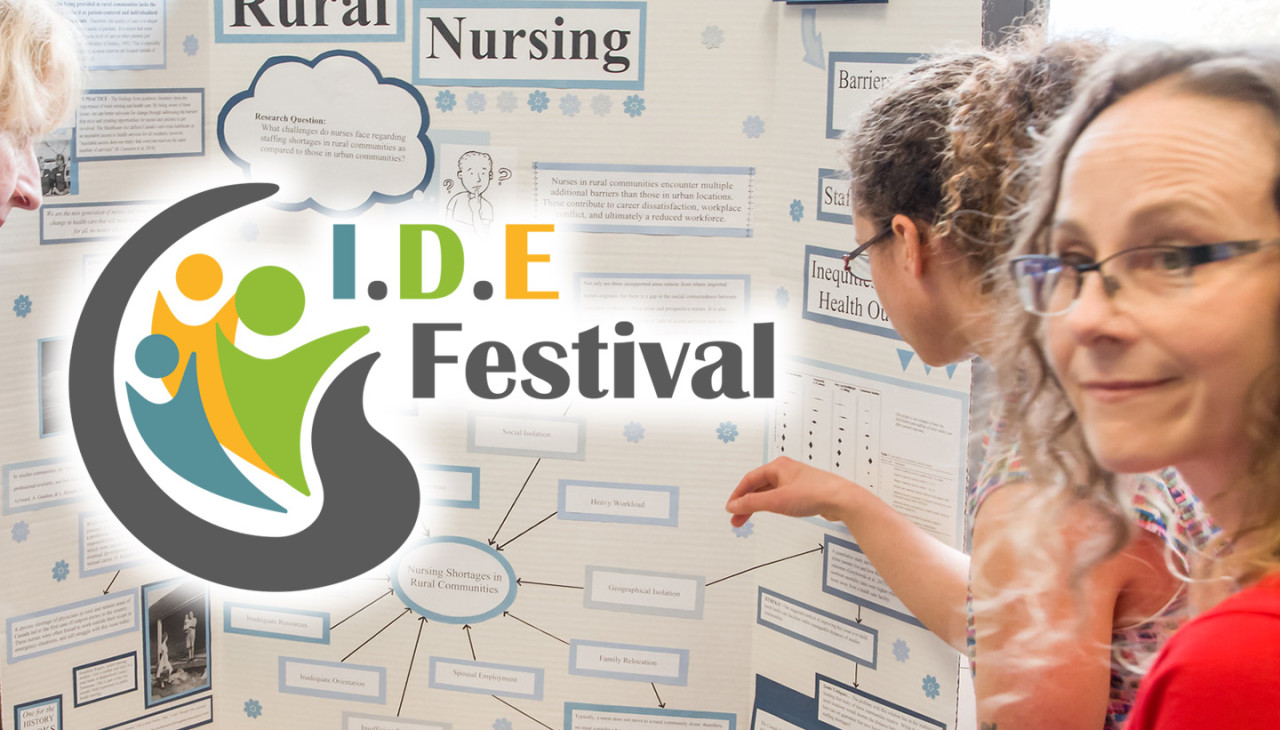 IDE Student Initiative