2023 Teacher Recognition - Innovation in Student Success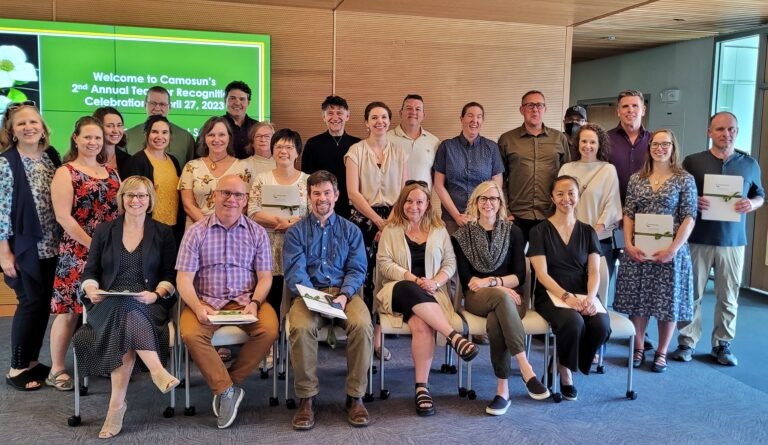 Congratulations to 28 faculty from across the college who have been recognized for their contribution to teaching and learning. While nominations came from both Camosun employees and students, there was once again this year an overwhelming response from students. Their voices and stories highlighted some of the amazing work being done at Camosun to support student learning.
"Recognizing faculty who have gone above and beyond what was expected of them in promoting student success, by using engaging and flexible approaches to better meet the needs of all learners."
Andrea Durdle, Plumbing and Pipe Trades
Arloene Burak, Psychology
Brent McMillen, Medical Radiography
Brooke Cameron, Biology
Dan Reeve, Political Science
Darren Hall, Plumbing and Pipe Trades
David Armstrong, Hospitality Management
David Raju, Biology
Dianne Patterson, Health Care Assistant
Emah Christiansen, Massage Therapy
Gilles Cazelais, Math
James Smyth, Plumbing and Pipe Trades
Joanne Irvine, Management and HR Leadership
Joyce van de Vegte, Electronics and Computer Engineering Technology
Katie Waterhouse, Anthropology
Kendal Adam, Diagnostic Medical Sonography
Lynnea Jackson, English Language Development
Matt Agbay, Business Statistics
Meaghan Feduck, Education Assistant, Community Support
Michelle Lysak, Accounting and Finance
Nicole Kilburn, Anthropology
Noreen Ortilla, Massage Therapy
Pei Mei Chia, English Language Development
Phil Vreugdenhil, Electronics and Computer Engineering
Richard Burman, Mechanical Engineering Capstone
Robin Fast, Community, Family and Child Studies
Selena Hebig, Nursing
Tony Vernon, Health Care Assistant-ESL
Read the testimonials for these Teachers
Teacher Recognition is an annual initiative of Camosun's Teaching and Learning Council - a collaborative, peer-based, interdisciplinary group of faculty from across the college with a passion for advancing quality teaching and learning at Camosun, including advocacy, supports and strategies.
Contact information