Camosun will use the funding to empower more women and Indigenous people in trades through bursaries and scholarships and to increase both the overall number of skilled graduates and the diversity of B.C.'s skilled workforce.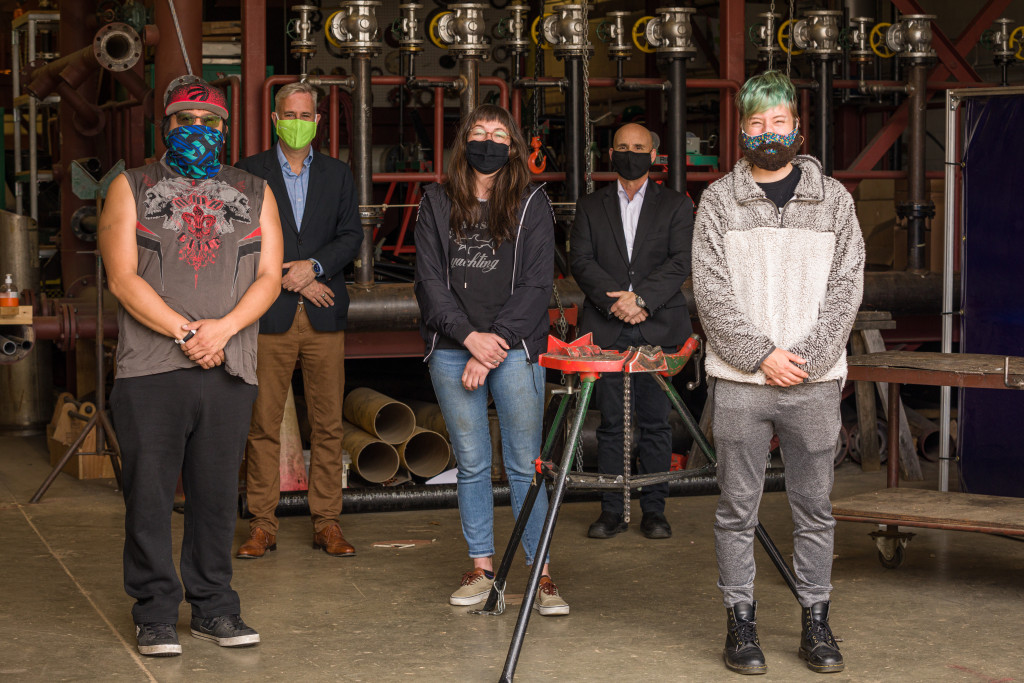 Allan Shook, Camosun AV Services
New bursaries and scholarships for women in trades and Indigenous learners, as well as specialized equipment and a soon to be developed micro-credential in marine welding will be made possible by major funding provided to Camosun College by the Dennis & Phyllis Washington Foundation in conjunction with Seaspan.
Camosun will use the three-year, $444,000 funding to empower more women and Indigenous people in trades through new and existing bursaries and scholarships, and to increase both the overall number of skilled graduates and the diversity of B.C.'s skilled trades workforce.
"As the leading ship repair and conversion operation on Canada's west coast, having diversity in our skilled workforce is critical to our success," notes Joe O'Rourke, Vice President and General Manager, Seaspan Victoria Shipyards. "Camosun College has been an excellent partner to help more women and Indigenous students launch their careers in the marine industry and we are proud to continue our longstanding relationship."
The donation is part of the Washington Foundation's Diversifying the Tools for Success initiative. Of the $444,000 total, $100,000 will be allocated annually for three years ($300,000 total) towards student scholarships and bursaries for women and Indigenous trades students. The funding will focus on wrap-around supports including tuition assistance, food security, childcare, work clothing and equipment, and more in order to help students thrive. Additionally, a one-time grant of $144,000 will go towards the purchase of advanced equipment including new marine welding booths and virtual training consoles.
"Camosun provides diverse students with real-world skills to achieve success in a wide range of challenging and economically vital careers," says Geoff Wilmshurst, Vice President Partnerships at Camosun. "We are grateful for this generous gift which will benefit students through new bursaries, scholarships and equipment with the aim of diversifying and expanding B.C.s skilled trades workforce in the years to come."
Camosun College welcomes the generous support of Seaspan and the Dennis and Phyllis Washington Foundation and looks forward to supporting student success in a range of vital, fast-growing trades and technology industries throughout British Columbia.
About the Dennis and Phyllis Washington Foundation
The Dennis and Phyllis Washington Foundation is the major philanthropic organization for The Washington Companies and the Washington Family. The Foundation strives to better the human condition by supporting programs and services that give people the tools to enhance the quality of their lives and to benefit society as a whole. Funding for the Foundation comes from personal contributions from the Washington Family and annual contributions from The Washington Companies.
About Seaspan
Seaspan is an association of Canadian companies focused on the marine economy, including ship repair, shipbuilding, ship assist, coastal and deep-sea transportation, ferry services and fuel bunkering. Seaspan's Victoria Shipyard is a leader in complex vessel repair and conversion in the Pacific Northwest. Strategically located and with a highly skilled workforce, the company has a track record of delivering quality repair, refit and modernization projects for Canadian and international naval fleets, as well as for a variety of commercial vessels.
About Camosun College
Camosun College is located in beautiful Victoria, British Columbia, with campuses on the Traditional Territories of the Lekwungen and W̱SÁNEĆ peoples. Established in 1971 and celebrating its 50th anniversary, Camosun is one of the largest colleges in the province, delivering innovative, life-changing academic and applied programs to 20,000 students annually.
Contact information
Ivan Watson
Marketing & Communications Strategist
Camosun College
Kris Neely
Senior Manager, Corporate Affairs
Seaspan Shipyards