What's the difference between a good and bad death? Why and how do the living continue to interact with the dead? How do different cultures perceive death?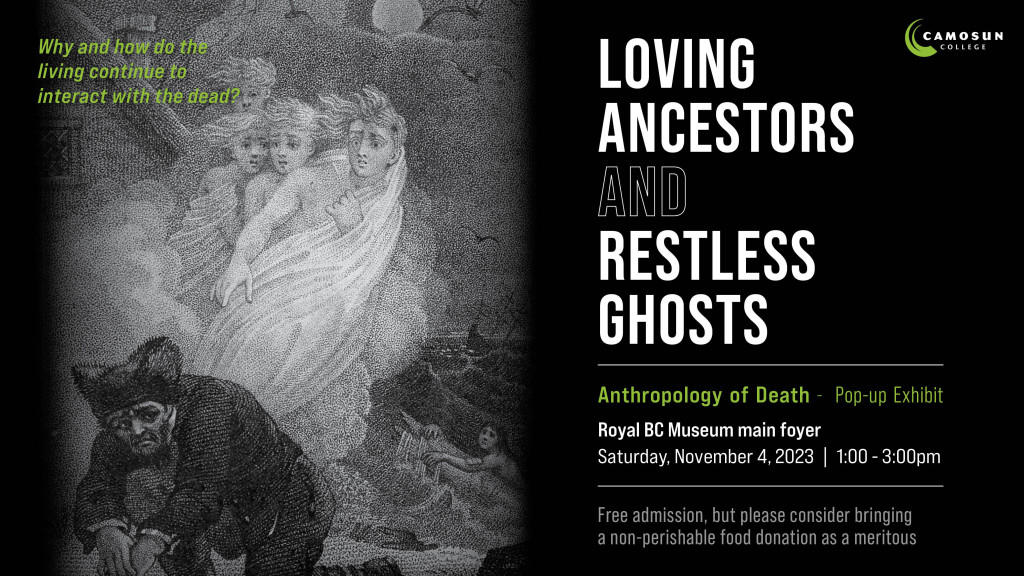 Students from the Anthropology of Death class at Camosun College are presenting answers to these questions and more at a pop-up exhibit titled 'Loving Ancestors and Restless Ghosts' in collaboration with the Royal BC Museum.
This exploration of death literacy and grief management delves into cultural perspectives on good and bad deaths, communication with ancestors using mediums and technology, and global traditions of caring for ancestors.
"Our partnership with the Royal BC Museum provides creative learning opportunities for students and allows us to bring compelling topics to our community. Partners like the museum enriches student learning, making community partnerships a driving force for applied knowledge,"

- Nicole Kilburn, Program Leader and Anthropology Instructor.
Highlights:
Good versus Bad Death: Uncover cultural perspectives on what constitutes a good death and its impact on the transition to ancestorhood.

Connecting with Ancestors: Explore traditional mediums and modern technology to understand who, why, when, and how communities connect with their ancestors.

Caring for Ancestors: Discover global traditions from the Qing Ming festival to Dias de los Muertos to help shed light on maintaining relationships with ancestors.

Applying Lessons to Our Lives:

Learn how these cultural lessons can be applied to our lives in promoting death literacy and easing anxiety.
The exhibition invites everyone to consider death not as a morbid topic but as an essential aspect of life, fostering death literacy and easing death anxiety.
"We are delighted to once again collaborate with the talented students from Camosun College, who bring a fresh perspective and academic rigour to this exploration of cultural celebrations, ancestor reverence, and community care. Their partnership with our museum has consistently shed new light on the rich themes within our exhibits. This ongoing collaboration exemplifies the power of education to inspire us all."

- Kim Gough, Acting Director of Audience Experience at the Royal BC Museum.
As the seasons transition and various cultural celebrations approach, 'Loving Ancestors and Restless Ghosts' offers an opportunity to explore the reciprocity between the living and the dead in different cultural contexts.
When: Saturday, Nov. 4, 1:00 pm to 3:00 pm

Where: Royal BC Museum
Learn more about Anthropology of Death and other anthropology courses at camosun.ca/anthropology
Contact information
Alisha Dsouza
Camosun College