Students, faculty, staff and alumni at Camosun College are celebrating more than 10 years of delivering programs aimed at encouraging women to explore the trades.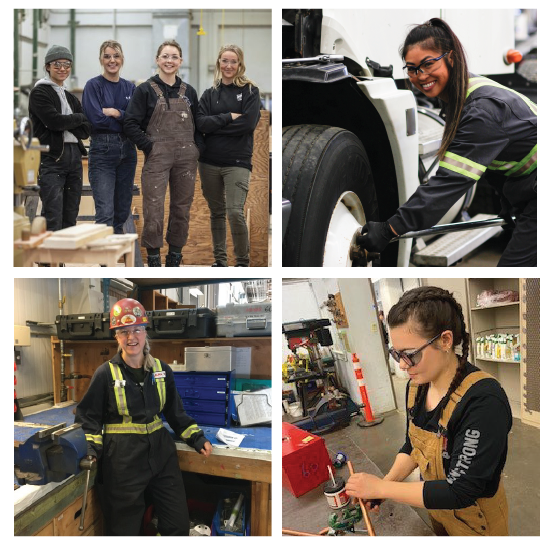 Alumni, students and employees gathered together to mark the anniversary at an event on Sept. 21 at the Centre for Trades Education and Innovation on the college's Interurban campus.
"I feel like I've found my people."

- Heather Wilson, Plumbing and Pipe Trades student
"The women in trades program has helped me gain the knowledge and skills to start a career I wouldn't have otherwise had the confidence to pursue," says student Heather Wilson, who began her journey with the trades sampler, which then led to her completing a certificate in Plumbing and Pipe Trades. "The trades industry has an incredible sense of community that I'm proud to be a part of. I feel like I've found my people."
With 85,000 job openings in skilled trades occupations over the next decades in British Columbia, the need to change outdated perceptions of the trades is at an all-time high. Over the past decade through the efforts of women in trades programming, enrollment of women has increased from five per cent to nine per cent at Camosun and continues to grow.
"This program is truly life changing. Because of it, I can see a real future for myself and my boys, and I can't wait to continue this journey," says Sarah Cooper, who completed the Women in Trades sampler in 2021 and who will soon be returning to the college for her next level apprenticeship. 
Women who are interested in beginning their trades career education have multiple options available to start, including a focus on construction, one in marine labour, or a foundation sampler where students get the opportunity to explore their strengths and interests.
"Supporting women to be confident and skilled is our ultimate goal."

- Jayna Wiewiorowski, Trades Training and Development Coordinator
"We're so proud of how Women in Trades has evolved over the past decade. From helping women interested in the trades discover their passions, to supporting those same students throughout their careers, it's fantastic to see the program continue to grow even faster," says Trades Training and Development Coordinator Heather Solomonson.
As a result of the women-specific programs, over 1,000 women have gone on to pursue a career in high-demand areas such as carpentry, plumbing, and sheet metal among others. Some alumni have even come full circle by returning to Camosun to instruct the next generation of skilled trades people.
"Supporting women to be confident and skilled is our ultimate goal. Being able to see the program grow into a network of supportive tradespeople throughout the industry is such a positive change for women beginning their careers," says Jayna Wiewiorowski, Trades Training and Development Coordinator from Women in Trades Training.
Contact information
Katie McGroarty
Marketing/Communications Strategist
Camosun College
Jayna M. Wiewiorowski
Training Coordinator
Camosun School of Trades and Technology