The college community is transitioning back to a full and safe return to campus in September 2021. Many employees may feel excited, nervous or anxious. Some departments have already partially or fully returned based on their role. We'd like to share their stories about when they came back, the supports put in place to make them feel share and how they feel about September. 
Keith Todd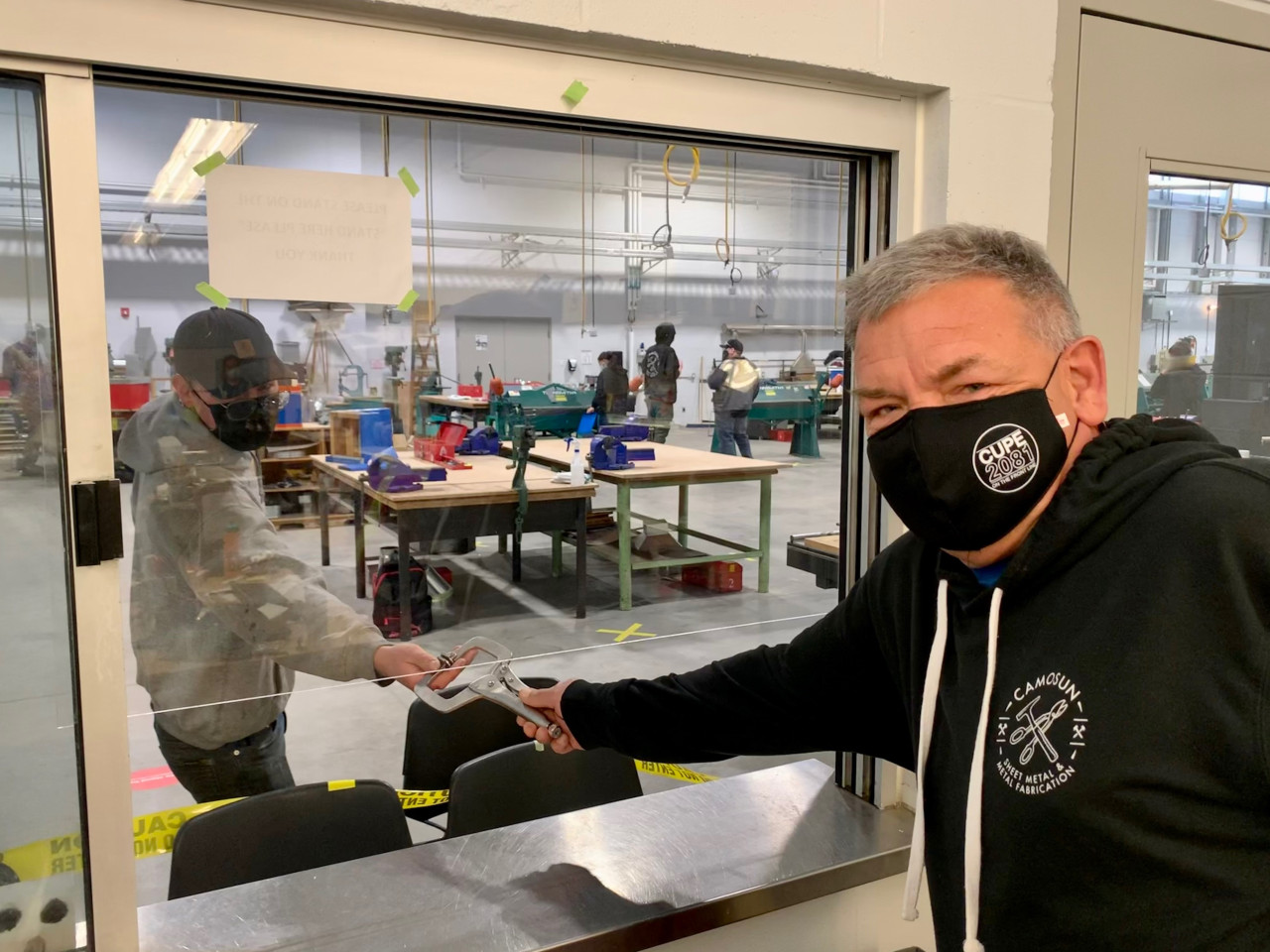 When did you come back to campus & how did it feel?
"Most of the Trades staff and instructors have been working on campus since March 2020 when the pandemic began. Even before the Safe Start guidelines were in place, our Trades shops took it upon ourselves to put up barriers and measure out two-meter spaces for students to work in."
What changes were introduced at work to maintain your health & safety?
"The Trades, because of the their physical nature and the heavy equipment we use, inherently already have safety protocols and procedures built in, so we're very used to practicing safe work routines. Now, of course, we all wear masks in our shops and classrooms, tools are sanitized before and after they're used. We disinfect our hands constantly, follow the arrows on the floor and respect each other's personal space."
How do you feel about the return to campus in September?
"When the rest of the college community returns in September, my advice to other staff members is listen to your supervisor and follow the college's Safe Start guidelines. They are there to keep you safe. Our jobs are very important to the functioning of the college. We're here to support students, but of course we want to keep everyone's health and safety in mind.  If staff members find that they need assistance after our return to campus, they can give the CUPE office a call."
Tika Brown
When did you come back on campus and how did it feel?
"I came back to campus in August 2020 to implement the completion clinics for our junior Dental Hygiene class. This was done to facilitate progression into their senior year starting in September 2020.  With the closing of our dental clinic in March 2020, students were unable to finish seeing their clients which resulted in an earlier start than normal for them (and instructors and staff)."
"It honestly felt good to get back into clinic and get hands in the mouth again. We had implemented a Safe Start Protocol in May and June of 2020 to ensure that our senior students would graduate in June of 2020, so measures were in place to ensure our safety. Although there were many uncertainties throughout this year, we tried to remain positive and adapt to the changing climate of the pandemic and our work environment."
What changes were introduced at work to maintain your health and safety?
"With the help of Occupational Health and Safety, our Dental Programs were able to devise a plan for the safe return of students, the public (our clients), staff and instructors. Some of these changes included directional arrows, handwashing and donning/doffing review, screening our clients for safe return, following recommended PPE guidelines, staggered entry and exit and daily COVID screenings of all students, clients and instructors coming to campus.  We changed the way we provided care to clients to accommodate the judicious use of aerosol generating procedures.  It was a lot of work but keeping our students, clients and each other safe was paramount in creating the learning experience required."
How do you feel about a returning in September 2021?
"I'm hopeful that face-to-face delivery this September will facilitate a more shared and connected experience for students, faculty and staff.  You don't realize how much you miss student engagement on campus; it has been very odd coming to campus every day without seeing this."
"I also think that by having a solid plan in place for safety and by supporting each other in our teaching and learning during this pandemic we can have successful outcomes. Although there are still many unknowns, we can be confident in our abilities to navigate this everchanging landscape as our new normal unfolds."
Gord Rant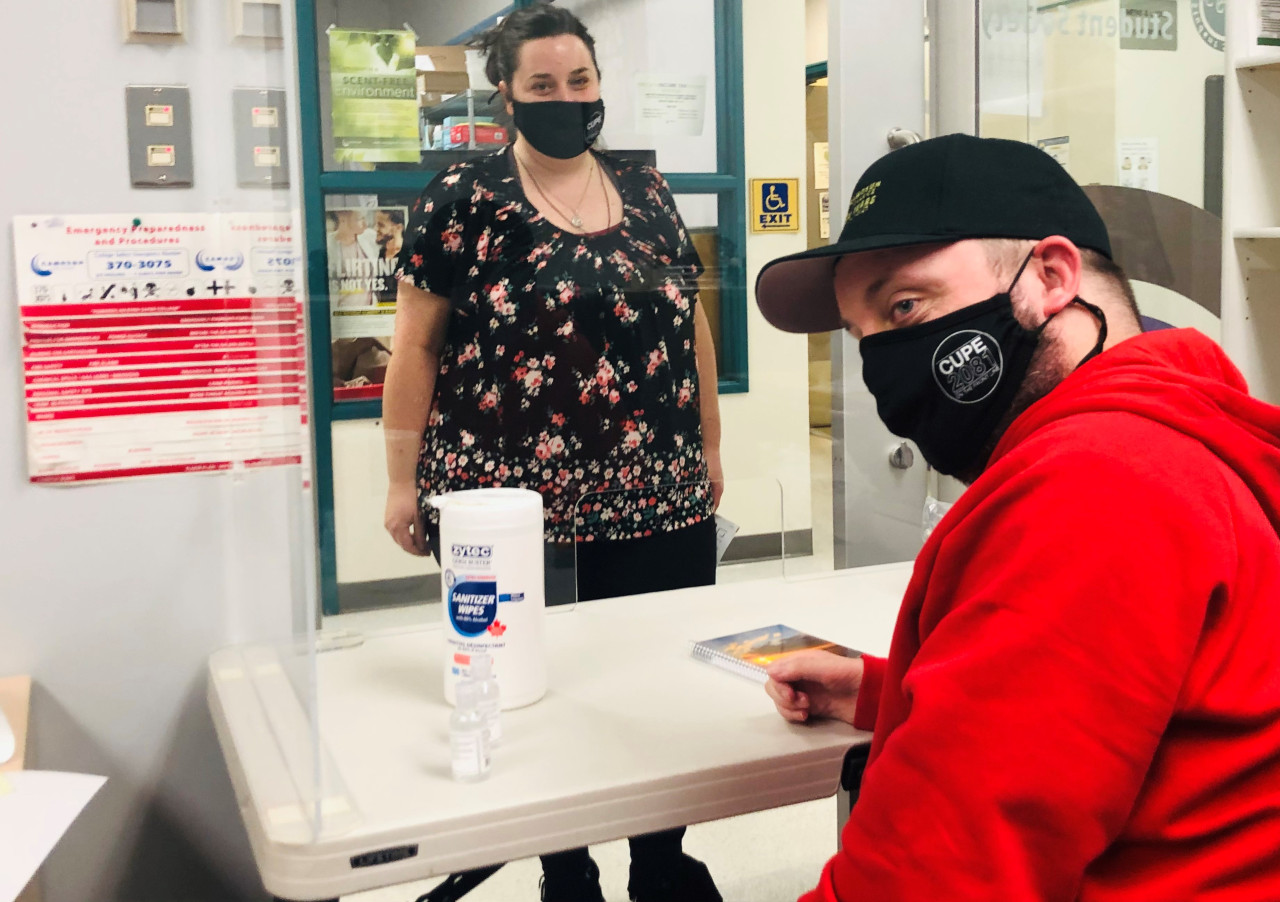 When did you come back to campus and how did it feel?
"I came back to campus in late December 2020 and, to be honest, I was happy to get back in the office and gain a little bit of a sense of normalcy. It made me feel good."
What changes were introduced at work to maintain your health & safety?
"A plexiglass barrier was put in my office to create a protected service window, which students come to with their questions and concerns. The Camosun College Student Society modified our schedules to reduce the number of staff in the offices. There is hand sanitizer and masks in the office, and we also received some other comfy masks from CUPE 2081."
How do you feel about the return to campus in September?
"I am excited for the return to campus in September. My front-end service position with the Camosun College Student Society gives me the satisfaction of helping the students. I am excited to see my colleagues, the students, and friends again!"
Debbie Webb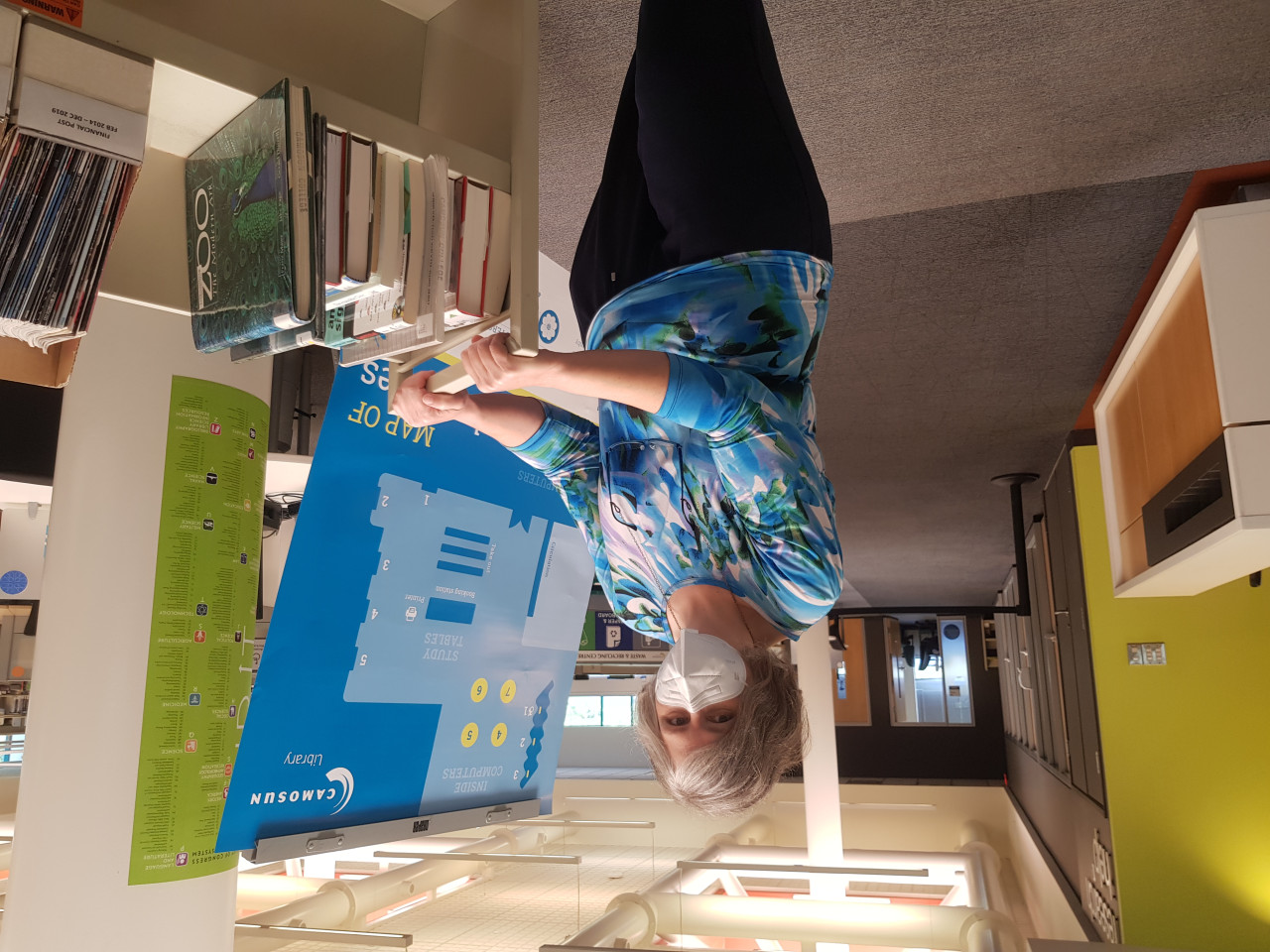 When did you come back on campus and how did it feel?
First, I would like to say my experience was likely quite different from most people's. I was on a long-term medical leave before I came back on campus and was not part of the emotional and physical demands of the shutdown. I came back on campus during the summer of 2020 at first, I was often the only one in the library, and it could be a little lonely. We reopened for services in September of 2020, and it was great to be back at work and seeing colleagues. It could be awkward at times in the beginning navigating working with other people again in the same space, but everyone here has been respectful, and we were all able to figure it out quickly. I have been on campus two to three times a week since. As I said the libraries have been open since September 2020, providing Computers, study spaces, Library take out books, Books by Mail and Photo ID to name of some our services and we have been on Campus helping students navigate space bookings, ID and U-Pass pick up and all of the behind the scenes things to have material ready to mail out or pick up in the libraries for the Camosun Community. As a supervisor, I and Donna Blair have also been there to help staff navigate all of the new and ever changing processes and procedures. Our other supervisor, Megan Nelson, also worked hard to create and update a document for front line staff on all of the changing processes and procedures.
What changes were introduced at work to maintain your health and safety?
I feel care was taken in making the changes necessary to maintain my and everyone else's health and safety who visited the library. Plexiglass was made and put up around our front-line service point as well as for Photo ID stations that were set up outside the library to limit numbers in the library. Staff were assigned personal workspaces. Computer, study tables and eventually group study rooms were added for students to book and use in the library and set up with two metre distance between them and a system to allow bookings to help keep the numbers in the library at or under capacity. Extra sanitizers, and wipes were provided, stanchions were placed to block off closed areas and extra cleaning of high touch areas happens. Security has been great at showing a presence and reminding people of the rules around distance, masks, etc. around campus. Things changed and adapted as necessary with health orders and adding of more services.
How do you feel about returning in September 2021?
I am both excited and nervous about a full time return in September. I am looking forward to being open, serving the Camosun community and working with a great team of co-workers. I am also a little nervous about going back to full time and providing service to the number of people we would see in the libraries, but I do feel confident that we will adapt and make changes as needed to continue to maintain the health and safety of everyone. I feel the Occupational Health and Safety team has been working hard and really do take the need for health and safety seriously. I am also lucky to work with a group of co-workers who are working hard to make processes and procedures that help keep us safe and help give us a sense of control and confidence in our abilities to get through this together.
Pat Jones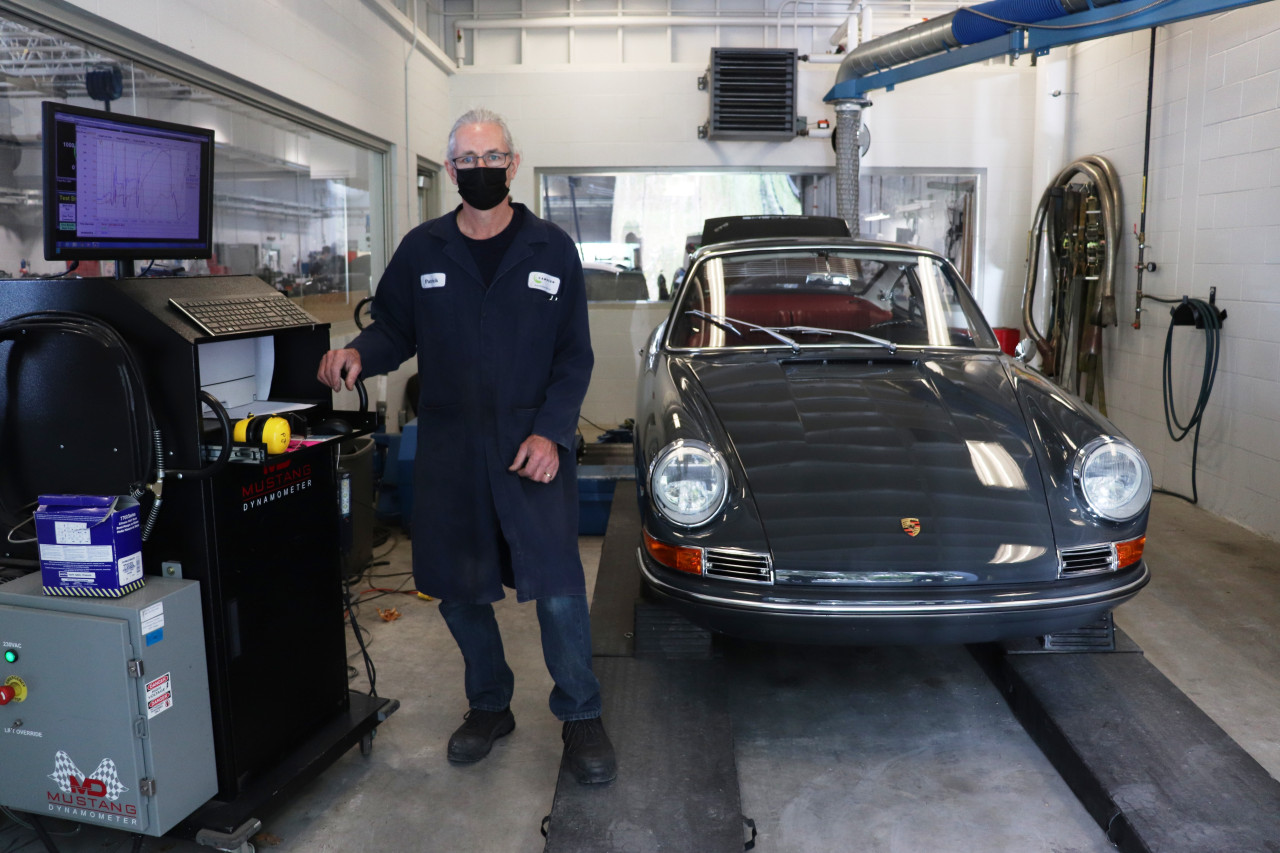 When did you come back on campus and how did it feel?
When face-to-face classroom instruction was cancelled in March of 2020, I continued to come to the campus and work with our other automotive instructors to implement full-time online instruction. I did work from home off and on for the next few months, but for the most part I have been on campus since the pandemic shut-down began. Working during that time on campus was pretty strange as there were very few people here, and no students at all. I worked with Mike and Jim, (our other two automotive instructors) as well as the great people at CETL to get up to speed on D2L, which was totally new to us. Those first weeks were fairly intense, I was teaching a third year apprentice class at the time and it was essential to keep those students on-track to meet the course requirements. I was able to implement on-line engine diagnosis simulator that enabled assessment of practical abilities without having the students on campus. Although it was a challenge that required many extra hours to become comfortable with the new systems we were using, it was a great help to have students let us know how appreciative they were of our efforts to keep the programs running and them focussed on successful course completion.
What changes were introduced at work to maintain your health and safety?
Initially it was hand sanitizing and face masks, but when there was planning to get students back into our shops, the SafeStart group prepared our building and shop spaces for movement and spacing of students to ensure safe but productive social distancing could be maintained. The protocols that were implemented: extra cleaning of tools, reduced sharing, single person work-zones, and our alteration of the shop schedules have worked to keep instructors and students safe throughout the pandemic.
How do you feel about a returning in September 2021?
I am really looking forward to having students back in front of me in the classroom! Hopefully we can get a little closer to "normal" by then… I don't have any concerns.
Tracy Dales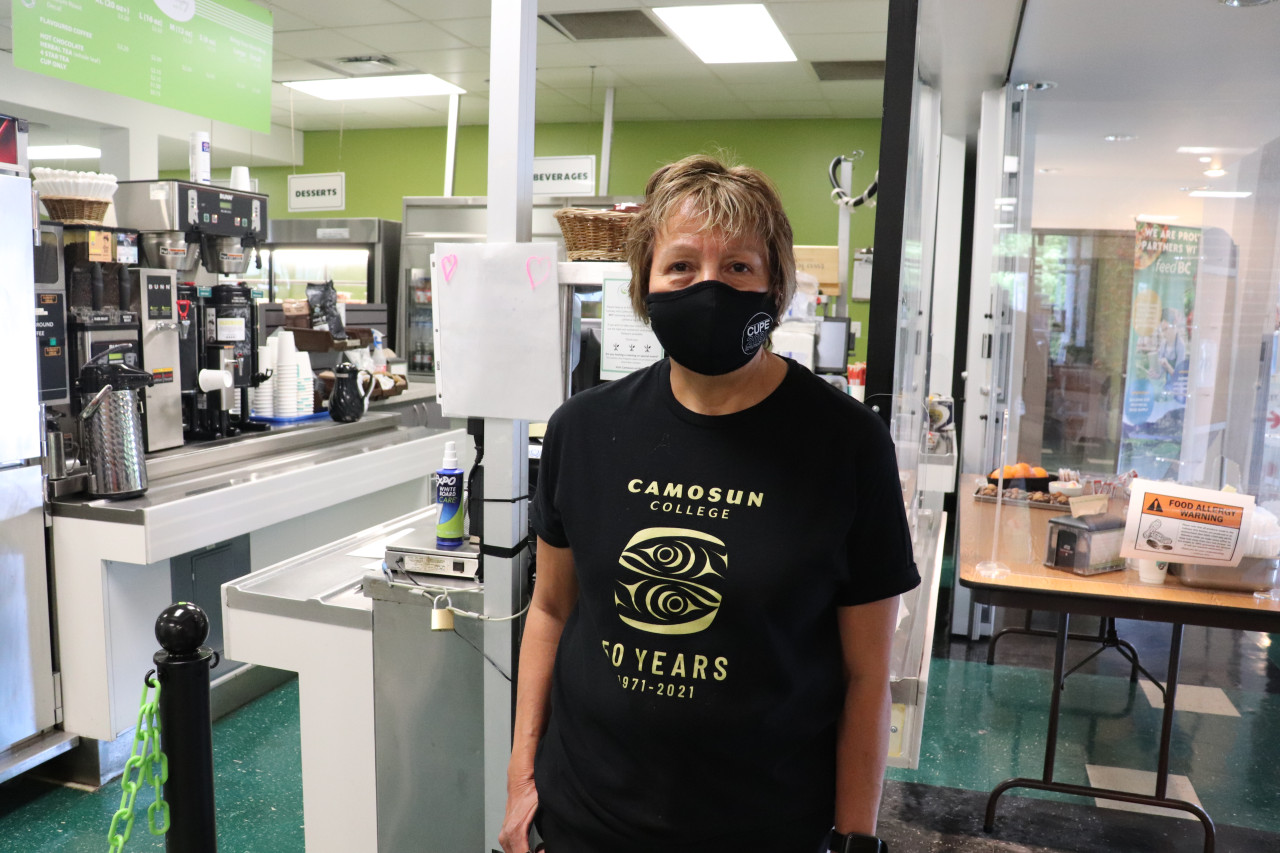 When did you come back on campus and how did it feel?
I came back on a gradual return to work in mid November so it was part-time. It was a good system we had in place in the cafeteria. My role was and is a cashier in the culinary arts program. So far it's been very well organized and a good system set-up.
What changes were introduced on campus to maintain your health and safety?
Limiting the general public in the cafeteria. Back in November the cafeteria was closed for eating inside, now we have limited seating which is good. We also have a plexiglass area for our protection as well as the obvious in one way and out the other.  Lots of sanitizing throughout the cafeteria.
How do you feel about returning in September?
I'm a bit nervous about it but if everyone continues to receive all the vaccines and the COVID-19 numbers continue to drop it will be reassuring!