Faculty/staff profile
Department Chair Instructor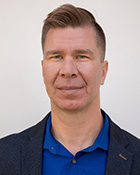 Interurban
Centre for Business & Access (CBA)
264
M. Ed., CPA, CMA
Management & Human Resource Leadership
School of Business
Stephen Scott is a Chartered Professional Accountant who began teaching at Camosun College in 2012 after working in senior finance roles in the hospitality industry for 15 years.  In addition to his career, Stephen is a very active member of the community, having enjoyed volunteering for Our Place Society, Peninsula Baseball and Softball Association, and the Peninsula Celebrations Society.
Stephen has focused his career on providing financial leadership to several businesses in the roles of Vice President, Finance and Controller.  These roles have occurred in settings from historical, mature companies to companies transitioning from pre-opening to becoming viable stand-alone businesses.  Stephen was responsible for successfully communicating targets, objectives, and goals of the business through all organizational levels.  Stephen's experience was in a diverse range of industries including hospitality, retail, real estate, and property management.
Stephen received the Certified Management Accountant in 2003.  Prior to enrolling in the CMA program, he completed the University of Victoria Bachelor of Commerce program in 1996.  Stephen also has also completed the BC Provincial Instructor Diploma and graduated from the Simon Fraser University Master of Education program in 2017.
Courses taught ACCT 110 Financial Accounting, ACCT 130 Financial Accounting-Hospitality, ACCT 161 Financial Accounting, ACCT 207 Managerial Accounting, BUS 290 Business Strategy, HGMT 283 Hotel Management 2