Faculty/staff profile
Women in Trades Training Coordinator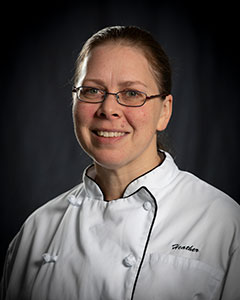 Interurban
Technologies Building
TEC 240
School of Trades and Technology
Heather joined the Camosun Culinary Arts team in 2018. She brings with her a unique perspective due to her diverse industry experience. Heather has spent her professional life cooking in restaurants and catering, event planning and working in sales with much time spent servicing butcher shops and supporting local suppliers grow their businesses.
Heather grew up all over small town Alberta. She completed her culinary training at the Northern Alberta Institute of Technology in Edmonton, Alberta. She obtained her Red Seal in 2001 and moved to Victoria shortly thereafter.
When Heather isn't in Short Order she can usually be found in her garden, fishing or working with local youth as a Scout leader. Heather is passionate about sustainability, fermentation and believes that everyone should know how to feed themselves.