Cowichan canoe builder, Francis Wilson, is guiding Indigenous trades students through the process of creating paddles with designs reflecting Camosun College's strategic priorities.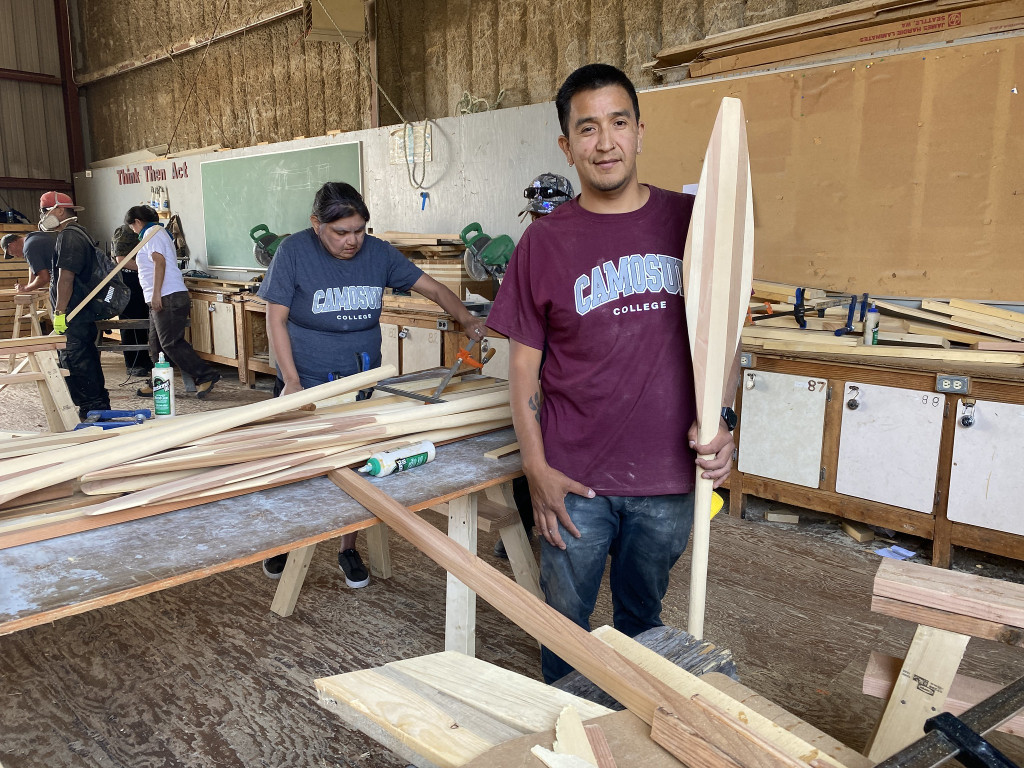 Camosun College
Students from Camosun's Indigenous Peoples in Trades Training program are applying their new carpentry skills by preparing the red and yellow cedar paddles for the designs. The artwork, created by Camosun alum and Coast  Salish artist Dylan Thomas and featured on the six priorities of the Strategic Plan 2023-2028, will be stenciled onto the blades of the paddles at a later date.
"It's been amazing to work with these students and see them apply what they've learned in the trades classroom," says Francis. "I've watched their confidence in their new skills grow every day, and they've become more proud of their culture, too."
Francis is a third-generation canoe builder from Cowichan Tribes. His dad Frank and younger brother Rennie are also on campus while the project takes place, sharing their expertise and skills with students.
"I've enjoyed watching the young people learn traditional skills in their trades training," says Frank. "Our family has been carving and building canoes for generations. I'm inspired to see younger generations learn these skills."
"It's inspiring and appropriate that Indigenous students are crafting the paddles," says Dr. Lane Trotter, President of Camosun College. "They represent the college's strategic plan for students' success. The designs reflect what's important to the college community and will help us paddle forward together."
Camosun's six strategic priorities and accompanying paddle imagery include strengthening the Camosun Advantage (Thunderbird), ÍY,ĆȺNEUEL OL: doing good work together (hands together), responding to community needs (eagle), rising to the challenges of climate change (salmon), honouring Indigenous resurgence (the ancestor) and advancing social justice, equity, diversity and inclusion (mink).
Imagery featuring the canoe paddles and Dylan Thomas's artwork occurs throughout the Strategic Plan. "The canoe is a good metaphor for life," says Larry Underwood, Coordinator, Indigenous Peoples in Trades Training. "We're working towards a common goal and same destination, and there's a better chance of getting there if we pull together."
Learn more about Indigenous Peoples in Trades Training and Camosun's Strategic Plan 2023-2028.
Established in 1971, Camosun is one of the largest colleges in British Columbia with campuses on the Traditional Territories of the Lekwungen and W̱SÁNEĆ peoples. For over 50 years, Camosun has been delivering innovative, relevant and applied education, supporting communities, businesses and employers.
Contact information
Roseanne Harvey
Marketing & Communications Strategist
Camosun College