Program at a glance
Work experience
Clinical/fieldwork placement

Length
2.5 years at Camosun College, 1.5 years at the University of Victoria
Highly competitive program
Next intake: Fall 2024
Application period: Sept 15, 2023 – Jan 15, 2024
Document deadline: Jan 31, 2024
Blending patient care with health technology
Start in September
We inspire, educate, and transform nursing students for service to humanity through curiosity, innovation, and excellence.
As part of the Camosun College/University of Victoria BSN Program, you'll build your knowledge, skills, and attitudes. You'll learn from a combination of practical experience and coursework in science and the humanities. As part of your degree, you'll have access to meaningful work term placements so that you can integrate your academic knowledge with real-world nursing practice.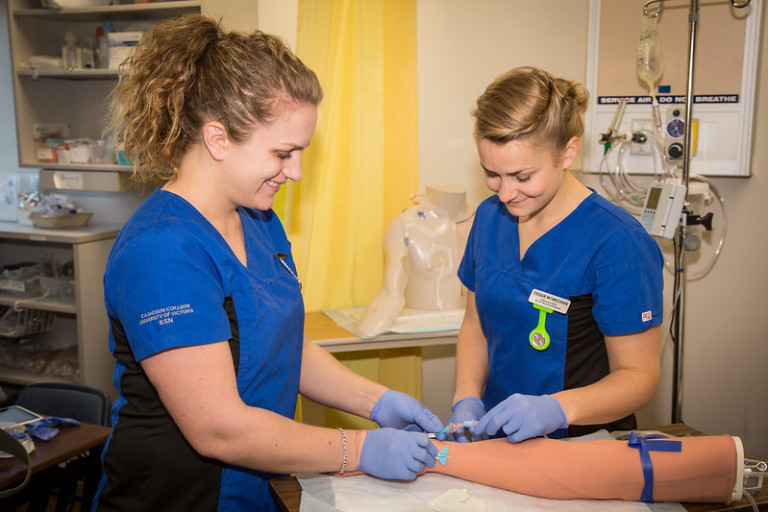 Experiential learning
As a nursing student, you'll apply your learning in simulated lab and nursing practice settings throughout your program. Through experience, reflection, conceptualizing, and application, you'll continually build your knowledge.
Complete your BSN education
You'll spend 2.5 years at Camosun, which includes 5 academic semesters and 2 spring practicum terms. You'll then move to the University of Victoria to finish up your final 2 semesters and consolidated practice experiences, which takes a total of 1.5 years. You may be eligible for entrance scholarships to UVic at this time.
Current information for School of Health and Human Services students and BSN program specific handbook.
Becoming a registered nurse
After completing your four-year program, you'll be ready to write the NCLEX licensing examination, and will have met the British Columbia College of Nurses & Midwives (BCCNM) entry-to-practice competences. You will become a registered nurse (RN).
Working as a student
Island Health (formerly Vancouver Island Health Authority or VIHA) allows you to apply to start working as an employed student nurse (ESN) after your second year of study. After year one, some students are able to work as health care assistants.
BSN information sessions are a great way to learn more about the program and to get your questions answered by faculty and staff.
Registered Nurses of British Columbia
The British Columbia College of Nurses and Midwives (BCCNM) sets the standards of practice for Nurses to provide competent and ethical care.
The professional association, Nurses and Nurse Practitioners of British Columbia, acts on behalf of nursing in order to advance the profession and influence health and social policy.
Working conditions
Pay
BC Registered Nurses on Vancouver Island have a 9-step wage scale. 
Hours
Most nurses work either 8 or 12 hour shifts, depending on the unit. You should expect to work weekdays, weekends, and a combination of days, evenings and nights.
Demand
Currently, there is a very high demand for registered nurses across Canada, and internationally. Recent statistics suggest that between 90 and 100% of BSN graduates find work in their field fulltime, within the first year after graduation. This is amongst the highest rate for all occupations in Canada. This statistic is true for both men and women in nursing! A Canadian program, BSN will prepare you for graduate studies in universities around the world, and is a stepping stone to many learning opportunities, including specialty education.
Unions
Public facilities, such as hospitals, are unionized with the BC Nurses' Union. Some employment agencies (some clinics) may not be unionized. Information about the union and the collective agreement can be found online.
Indigenous Limited Priority Admissions 
The School of Health & Human Services (HHS) offers Priority Seating for Indigenous students in all Health related programs.
Visit Eyēʔ Sqȃ'lewen - Centre for Indigenous Education & Community Connections (IECC) for information on how to apply.  
Any questions about the application process, please contact hhsindigenoussupport@camosun.ca
The Indigenous Limited Priority Admissions process, approved by the Board of Governors, supported by the Education Council, and approved by the BC Human Rights Tribunal, welcomes applications from all qualified Indigenous applicants.
What you'll learn
Current students wanting information about your program, go to student planning in myCamosun.
Program outline
For more details, including courses, please see the program outline in the Academic Calendar.
Blending patient care with health technology
We inspire, educate, and transform nursing students for service to humanity through curiosity, innovation, and excellence.
Location and schedule
For the first 2.5 years of your program, you'll study at Camosun's Interurban campus, situated near some of Victoria's most beautiful neighbourhoods and urban beaches. Class time and nursing practice hours are scheduled for a maximum of 25 hours per week. Of these hours, nursing practice per semester varies from 4 to 25 hours per week.
You'll be expected to spend at least 3 to 4 hours of preparation, review, and studying per day. Nursing practice locations and hours vary, but most are located within Greater Victoria, and may include evenings and weekends. Limited numbers of learners travel to International Field Schools, the Yukon, and potentially other remote placements.
Streams of learning
Each semester will have a unique focus. There are five streams that run across the four years of the program: Nursing Practice, Relational Practice, Health and Healing (theory and lab), Professional Practice, and Health Sciences.
All fall and winter semesters include theory, lab, and nursing practice time.
Finish your program at UVic
After 2.5 years at Camosun, you'll finish your program at the University of Victoria. See the UVic calendar for program outline and course descriptions.
Year 1
The focus of year one is on the roles of the registered nurse, including promoting health and well-being, as a professional; becoming self-aware as a practicing nurse; nursing assessment; basic nursing care; and growth and development in the context of family.
In addition to your nursing courses, you'll be required to take English and anatomy and physiology.
Year 2
In your second year, the focus shifts to nursing care of patients with both acute and chronic illness in a culturally safe and ethical manner, on an interprofessional team.
You'll study pathophysiology, interprofessional communication, philosophy and ethics, in addition to extensive nursing knowledge, including skills such as intravenous therapy.
Year 3
During your last six months at Camosun, your courses and nursing practice placements will involve complex and specialty nursing including maternity, pediatrics, and mental health.
Course work, in both theory and lab, will prepare you for advanced nursing skills such as intravenous insertion, cardiac monitoring, newborn assessment, and how to care for patients and families in unstable and crisis situations.
Tuition and fees
Effective from September 1, 2023, to August 31, 2024.
Estimated tuition
Tuition estimates are for the entire program.
Nursing, Baccalaureate of Science
$12,711 (domestic)
Domestic tuition fees vary depending on the individual course fees for the classes you select.
Student fees
In addition to tuition estimates, student fees are calculated based on your enrolment. Refer to: Student Fees.
Financial assistance
You may need to find more than one source of funding to help pay for your education and living costs while attending college. Check out sources of money you don't need to pay back as well as those that need to be repaid.
Admission requirements
High School and Adult Basic Education Applicants

If you are applying using high school-level and/or Adult Basic Education (ABE) courses, you will need to submit proof that you meet the following admission requirements.

For information about applying or admission requirements, please contact Admissions.

BC/Yukon high school students are eligible to apply in their Grade 12 year. GPA will be initially calculated on interim grades to determine provisional qualification.

Note: GPA for competitive entry ranking will be calculated on the four Grade 12 courses or ABE alternatives listed below

 

University Transfer Applicants

To meet the admission requirements, you can still use your high school/ABE courses as listed on the previous tab or you can use the following courses to meet the subject requirements.

For information about applying or admission requirements, please contact Admissions.
Requirement

Camosun courses

Alternatives

English
one of:

B in ENGL 103 and ENGL 104
B in ENGL 142
B in ENGL 151
B in ENGL 161
B in ENGL 164
B in ENGL 170 and ENGL 273
B in ENGL 175

BC Transfer Guide

Math
one of:

B in MATH 100
B in MATH 101
B in MATH 107
B in MATH 108
B in MATH 109
B in STAT 116
B in STAT 216
B in STAT 218

BC Transfer Guide

Biology
one of:

B in BIOL 103
B in BIOL 126

BC Transfer Guide

Chemistry
one of:

B in CHEM 100 and CHEM 110
B in CHEM 100 and CHEM 120
B in CHEM 100 and CHEM 121

BC Transfer Guide

University Transfer
four of:

Additional transferable UT course based on the
BC Transfer Guide

 

English Language Proficiency

All students must complete the English
Language Proficiency requirement

 

BCCNM requirements

Complete the RSA acknowledgment form here.
Acknowledge and understand the requirements for registration with the British Columbia
College of Nurses and Midwives (BCCNM) as laid out in the BCCNM document Requisite Skills and Abilities (RSAs).

 
 

Notes:
After the January 31 document/transcript deadline, no in-progress course work can be used towards admission requirements (exceptions for current BC/Yukon high school students).
The program will maintain a short waitlist for entry into the same year, pending withdrawals or deferrals. In extenuating circumstances an invited applicant may apply for a one year deferral. The waitlist will not be retained for future years. Those applicants meeting the academic requirements, but not gaining a seat in the year of application will need to reapply and resubmit academic information already provided.
Students who are not in good standing at Camosun or UVic, or in a healthcare program at another institution are ineligible to apply.
When you apply you will need to submit proof that you meet the program admission requirements listed above. Where a letter grade is specified, you must have proof of that grade or higher.
For more details, including courses, please see the program outline in the Academic Calendar: Loading...
This program is in high demand and the number of qualified applicants greatly exceeds the number of seats available, and, as such, not all of those meeting minimum requirements can be admitted.
Ready to get started?
Next intake: September 2024
Application window: September 15, 2023 to January 15, 2024
Final Documents/Transcripts due January 31, 2024
Check our current program availability.
Missing admission requirements?
You may be able to take an assessment or upgrade with us.
Need help applying?
Find out more on How to Apply or speak to an Admissions Advisor.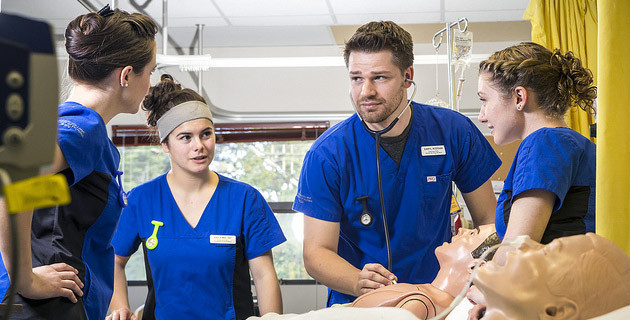 Learn more
For more details, including courses, please see the program outline in the Academic Calendar. 
Contact information
School of Health and Human Services
Campus location
Alex and Jo Campbell Centre of Health and Wellness (CHW) 207
Location link
Admissions Questions: