Faculty/staff profile
Instructor, Allied Health and Technologies (AHT)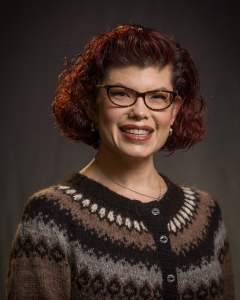 Interurban
Alex & Jo Campbell Centre for Health and Wellness (CHW)
Certified Medical Laboratory Assistant (CMLA), Diagnostic Medical Sonography (SONO), Medical Radiography (MRAD)
School of Health and Human Services
Lynelle Yutani has resided in Victoria, BC as an uninvited visitor to the communities of southern Vancouver Island that are the Traditional Territories of the Esquimalt, Lekwungen (Esquimalt and Songhees), Malahat, Pacheedaht, Scia'new, T'Sou-ke and W̱SÁNEĆ (Pauquachin, Tsartlip, Tsawout, Tseycum) peoples since 2010.  Lynelle spent two amazing years travelling on the territories of other Coast Salish, Okanagan, & Kootenai peoples in the rural BC Interior while working for the BC Cancer Agency's Mobile Mammography Screening program.  Lynelle's ancestry is of Ainu and Japanese descent from her father's lineage and mixed Anglo Euro-Norse from her mother's lineage.  Lynelle's pronouns are she & her.  Each day she walks in awe and gratitude for the privilege of living, learning, working, playing, and thriving on these un-ceded territories. 
Lynelle immigrated to Canada from the United States of America for the promise of true love & adventure and has never been disappointed by either.  She most recently had resided in the Arapaho and Cheyenne territories now known as Wyoming and grew up mainly on Apsaalooké (Crow), Michif Piyii (Métis), and Niitsítpiis-stahkoii ᖹᐟᒧᐧᐨᑯᐧᓴᐦᖾᐟ (Blackfoot / Niitsítapi ᖹᐟᒧᐧᒣᑯ) lands common to all the Očhéthi Šakówiŋ (Sioux) plains peoples.  Lynelle describes herself as being "a prairie girl"; although Island Life now suits her perfectly - which she attributes to her ancestry (on both sides). 
With a total of over 16 years in clinical practice in the US and Canada, this graduate of Weber State University in Ogden, Utah brings a unique cross-border perspective to Allied Health education at Camosun.  Joining Camosun College in early 2012 to teach courses in the (then) brand new Medical Radiography Program, Lynelle has taught radiographic procedures, image critique, and, pathology.  She is also qualified to teach courses in the Diagnostic Medical Sonography and Certified Medical Laboratory Assistant programs.  Lynelle chaired the Allied Health & Technologies Department from 2014 - 2021. 
Lynelle's first career, right out of college where she had studied Theater & Business Management, was with a 90's era dot com called Black Belt Imaging.  She was responsible for designing icons, writing technical documentation, testing user interfaces, and providing front-line technical support for the image manipulation software called 'WinImages'.  This software was used extensively for digital post-processing and special effects for the TV shows Sliders & Babylon 5; and some of the most recognizable work on key morphing sequences for the movie Super Mario Brothers.  Lynelle really enjoyed using a combination of her theatrical and technical skills which have unexpectedly come in handy teaching a unique interdisciplinary applied-learning course that allows students to share and practice their program learning with their peers and showcases their capabilities at the annual Interdisciplinary Student Festival at Camosun College of which Lynelle is an inaugural member of and co-chair for the HHS planning and support committee.   
Lynelle holds a ridiculous number of certifications including, a master's in Radiologic Sciences, two Advanced Imaging baccalaureate degrees and practiced as a midlevel physician extender in central Wyoming for 6 years prior to moving to Canada. After starting her health care career in the Ambulance Service as an EMT, she found her passion in Medical Imaging, earning certifications in X-ray, CT, Mammography, and Nuclear Medicine/PET.  Lynelle also performed Fluoroscopic Imaging Exams, Interventional Breast Ultrasound, and Image Guided Intervention for palliative care as a Radiology Practitioner Assistant
More recently, Lynelle was re-elected as the President of the Camosun College Faculty Association (CCFA) and since September 2021 has been honoured to serve her peers as the voice of the Union.  She is continually humbled by the profound trust and faith her many colleagues have placed in her.  Lynelle hopes that together, all the members of the College can learn how to harness as many positive outcomes as possible in the post-pandemic learning-scape that honours the challenges we've all had to overcome.  She believes her service as the CCFA President to be a logical extension of her ongoing commitment to the College's efforts in Reconciliation, decolonization, climate action, social justice, equity, diversity, and inclusion for students and employees alike. 
Lynelle lives happily in the downtown core with her family (the previously mentioned successful love interest, an adult child, and a yellow-crowned Amazon parrot named, Lonnie) in a "green" re-claimed condo.  She spends most of her free time struggling to convince something other than kale and strawberries to grow in her rooftop garden, playing video games badly, trying not to set off the fire alarm when baking gluten-free keto snacks, and learning to knit without swearing.  Whenever possible, she enjoys all the amazing fringe benefits of living within walking distance of the ocean AND the mountains; like eating fresh Pacific salmon, riding her e-bike, kayaking, and hiking – all on the same day.