Camosun aims to offer affordable and healthy food services options which evaluate and minimize their impact on the environment and local community. On campus, students have a variety of food options, offered by our food services partner Aramark, the Professional Cook programs, and the student-run Farm Box program.
Aramark has been operating Camosun's dining establishments with sustainability initiatives as part of its contractual agreement, since 2008. Aramark helps Camosun limit its environmental impact.
Sustainable food
As part of Aramark's Green Thread Environmental Stewardship program, sustainable food means purchasing and providing sustainable, locally grown/raised and socially responsible products.
Learn more about how the College is taking on these challenges and striving to serve up sustainability through local options.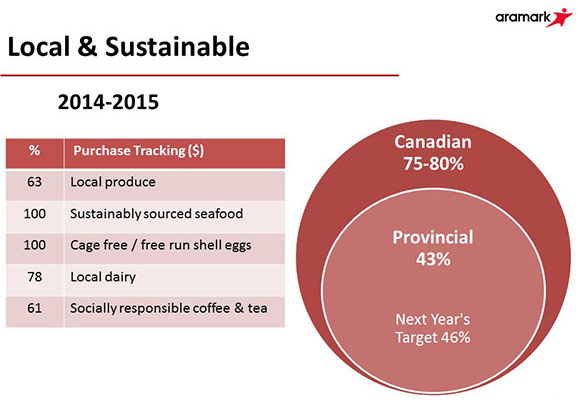 Responsible procurement and disposal
This involves considering the environmental impact of purchasing practices and how the business is operated, and making sustainable choices with regards to disposable packaging, paper products, cleaning products, and source packaging. Examples include:
97% of cleaning products for dishwashing and surfaces are Green Seal certified, with the exception of the cleaner used for the coffee urns.
Daily use napkins and paper towels are made from 100% recycled content, are non-chlorinated and EcoLogo certified.
Compostable plates, takeout containers, soup bowls, cutlery, and coffee cups are provided.
Packaging must be compostable, recyclable and made from recycled content.
Bulk purchasing helps reduce packaging waste e.g. for condiments, grains etc.
91% of paper products are compostable and 98% are biodegradable.
Education and engagement
Aramark ensures that clients have a better understanding of how their food choices impact their own health, as well as the health of the environment, communities and the planet.  This is achieved through initiative such as themed meal days focusing on locally grown or vegetarian options and providing information about menus and ingredients explaining the benefits of eating locally and of eating food from lower on the food chain.
Learn more about Aramark and their sustainability initiatives.
View their self-evaluated sustainability score cards:
Contact
Donna Burger
Director of Food and Catering Services for Camosun
burgerd@camosun.ca
250-370-3650
At the Interurban Campus, professional cook apprentices from the Professional Cook programs operate the Helmut Huber Culinary Arts Centre. It offers high quality and affordable meals and snacks and on-campus catering. Revenue generated goes back to support the program.
At both facilities, food use is maximized and any remaining kitchen waste and leftover food is composted via reFUSE. Fats, oils and grease are collected and recycled through GREASEcycle. Disposable cutlery and take-out containers are compostable, with the exception of plastic cutlery. Food containers are often reused for other purposes, or go to the college's gardeners or recycle bin.
Edible herb gardens
There are a variety of edible plants around both campuses, particularly Interurban, but in order to enjoy this natural treat, one has to know how to find and identify them. Recently the Culinary Arts department has been working to create an educational program about fresh herbs and edible plants, which will also have spin-off benefits such as enhancing the green space around the Culinary Arts Centre. Future plans for the project include:
Planting additional edible plants in existing and future gardens
Creating a map/inventory of plants
Creating a basic instruction manual and educating professional cook apprentices to identify, care for and harvest the plants
Learn more about the student-run food options and view their schedules and menus.
Contact
David Lang
Chair, Culinary Arts
250-370-3778
langd@camosun.ca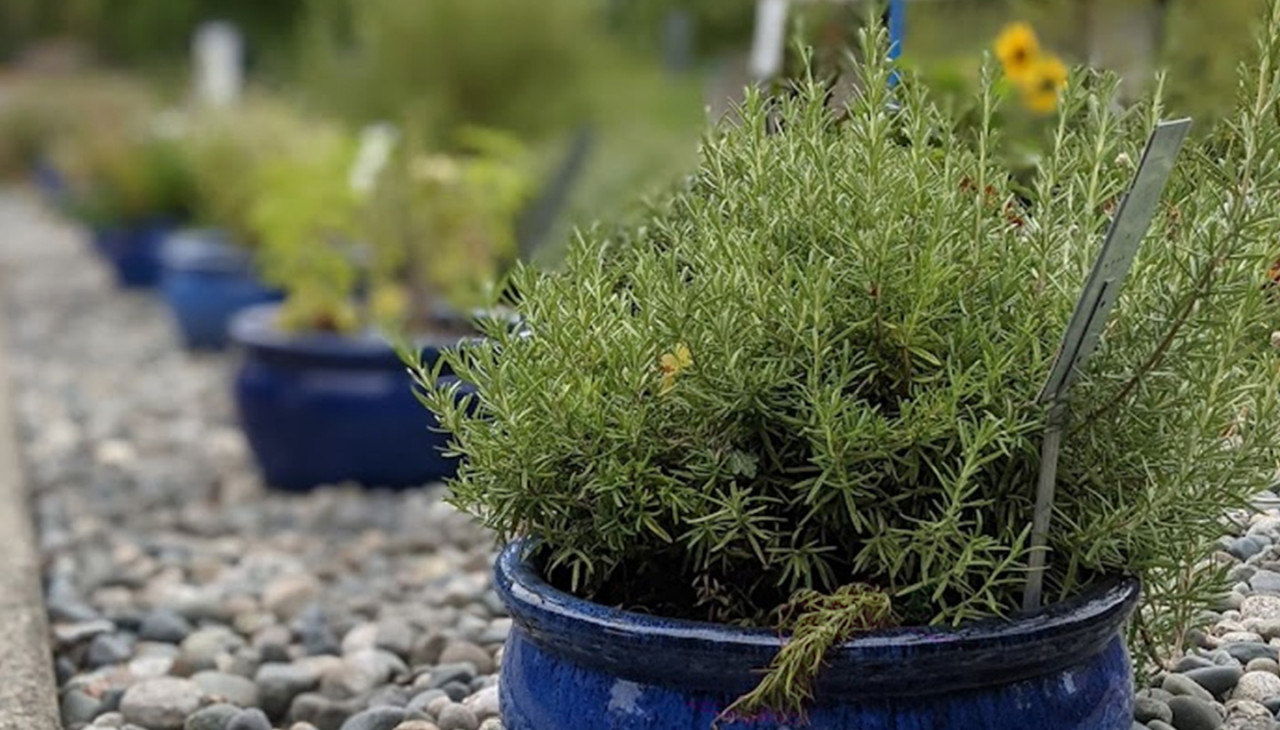 Green maps
Looking for a place to recycling your soft plastics? Wondering where to charge your electric scooter? Use our Green Maps to find sustainability-related points of interest on Camosun's campuses.