Fuelled by the pioneering sim(PLY) technology designed by Clemson University, Camosun Innovates is manufacturing a proof-of-concept housing structure —the first step in an international post-secondary and community partnership.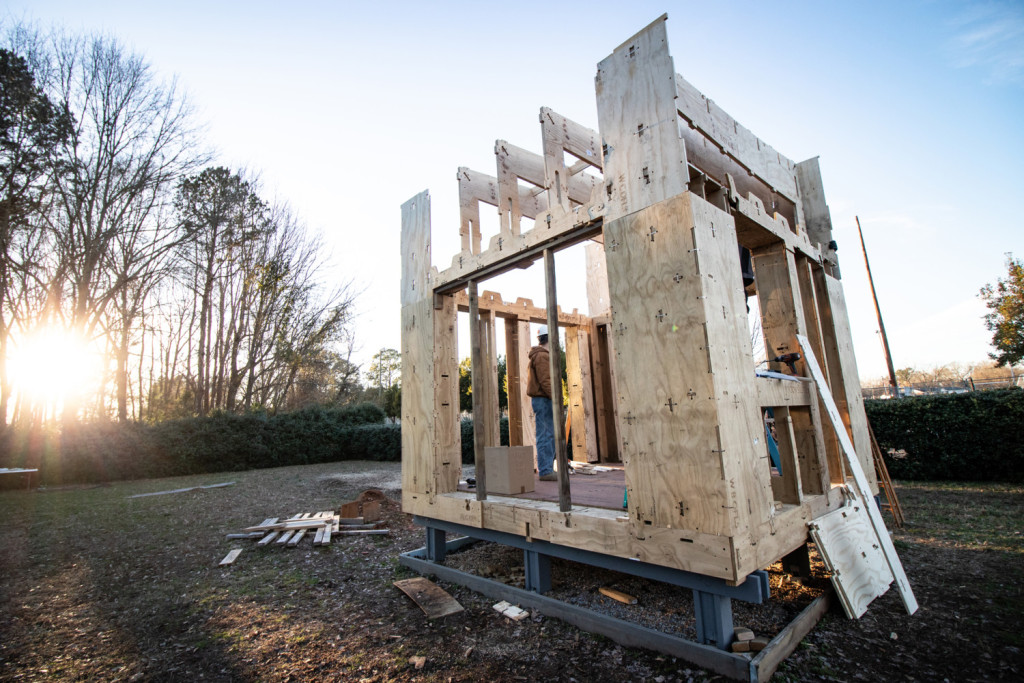 "Clemson University designed this amazing, sustainable, affordable, and durable 'DIY' technology for housing," says Jamie VanDenbossche, Associate Director of Camosun Innovates, "And right here at Camosun, we have the advanced manufacturing capabilities at Camosun Innovates to bring those designs to life—for the very first time in Canada."
All three partners—Camosun College, Clemson University and Anomura Housing Society—are teaming up and building on each other's strengths, with the aim of making the sim(PLY) technology widely available in both Canada and the US over the coming months and years.
"The houses can be produced cost effectively and then assembled over the course of a few days using common household tools," explains VanDenbossche. "The final structures are durable and also modular so they can be moved to new locations and configured later to add rooms according to the needs of families."
Anomura Housing is a non-profit society dedicated to the creation of accessible housing solutions for all members of the community. They are working on a proof-of-concept with service providers to create a series of demonstration projects and to affect sustainable change in the housing market.
Clemson University is taking the concept of hands-on, 'DIY' construction to the next level with a newly patented 3D building technology, jointly developed by faculty and students. Called Sim[PLY], the building system blends technological advancements with DIY sensibilities. And by finding better ways to build, Clemson is also leading the way in a variety of uses for the technology, from affordable housing to disaster relief shelters, pop-up health care facilities and more.
The first manufactured structure by the Camosun Innovates team will be exhibited at Camosun and out in the community during spring and summer 2019. Project leaders hope that the technology's debut will spur further investment in affordable housing and manufacturing in the South island region, leveraging a 'made-in-Camosun' approach to tackling such critical social and economic issues.
Camosun College's Interurban campus is home to Camosun Innovates' Babcock Canada Interaction Lab and the only Technology Access Centre in Western Canada. As one of Canada's leading research colleges, Camosun Innovates is a focal point for applied research, manufacturing, social innovation and sport innovation that enriches the interdisciplinary education of Camosun students, and benefits their clients and community. By providing access to a sophisticated suite of intellectual, technology and manufacturing assets, Camosun Innovates drives innovation, creates effective business solutions and spearheads beneficial social advancements such as this initiative to manufacture sim(PLY) housing technology.
One of the United States' most selective public research universities, Clemson University in South Carolina serves a uniquely driven and highly accomplished student body. A top-25 public university with a reputation for excellence, Clemson is a science- and engineering-oriented college dedicated to teaching, research and service.
For more information on the sim(PLY) model, please read the feature story from Clemson University.
Contact information
Ivan Watson
Marketing & Communications Strategist
Camosun College