Faculty/staff profile
Instructor, Electronics and Computer Engineering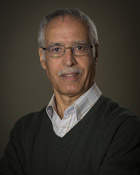 Interurban
TEC 215
B.Eng, M.Eng., PhD, ID
Electronics and Computer Engineering
School of Trades and Technology
Amar has more than 25 years of teaching experience in the field of electrical engineering which includes 19 years at Camosun College, Victoria, BC. He holds an engineering degree in EE (Polytechnique  Algiers, Algeria), a Master's in EE (New Jersey, USA), a PhD (Sheffield, UK), and an ID (Victoria, Canada). His main interests are: Electromagnetic modelling, Bio-electronics, Medical imaging, Analog-Digital signal processing, Control Systems, Power and Renewable Energy Systems.
Amar has worked with a medical resonance imaging (MRI) research team in Vancouver where he developed a model of the gradient coils for an open MRI machine, and calculated the distribution of the electromagnetic field generated in 3D space. He designed and implemented an NMR probe and High Power filters for exciting the gradient coils. Amar has also worked with a research team (Algeria) to study the impact of ocular movements on reading proficiency, and to correlate the ocular movements (motor) to the cognitive processes. Some of the implications are the determination of the optimal format for printing text, such as font size and spacing. The study extended to language structure effect on the cognitive processes.
Amar enjoys nature, swimming and playing soccer with his two sons, and spending time with family.