Faculty/staff profile
Chair, Motor Vehicle and Metal Trades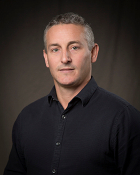 Interurban
Centre for Technology Education and Innovation (CTEI)
108
Automotive Service Technician Foundation, Sheet Metal & Metal Fabrication Foundation
School of Trades and Technology
Kyle began his Trades career when he successfully completed the Red Seal apprenticeship program in Automotive Mechanical Repair at Camosun College in 1992. Shortly thereafter he was hired by a local GM dealership where he gained experience in working on all aspects of automotive service and repair.
In 2005, he was promoted to service manager where he gained experience in customer service and relations, warranty administration, staffing, and departmental budget management. Having attended dozens of technical training courses throughout his career, Kyle developed a keen desire to pursue a career in Trades training. In 2007, that desire became a reality as he was hired on as a full-time instructor at Camosun College.
Before the end of 2009, he had earned his BC Provincial Instructor's Diploma, as well as taking on the role of Program Leader in the Automotive Training department. In 2014, having served in the role of Program leader for many years, as well as teaching all levels of the Automotive training program, Kyle took on a new challenge by obtaining the position of Chair of Motor Vehicle and Metal Trades. This involved becoming familiar with and coordinating four additional Trades training programs including Heavy Mechanical, Sheet Metal, Metal Fabrication, and Welding.
In addition to his regular duties as Chair, Kyle was also heavily involved in the planning, construction, and moving in phases of the new Center for Trades Education and Innovation building, which in February of 2016, became the new home of the Motor Vehicle and Metal Trades.
Kyle feels both privileged and honoured to be part of this new era of trades training at Camosun, and is looking forward to continuing to grow and learn in his career at Camosun.
In his free time, Kyle enjoys cycling, fishing, music, camping, and socializing with close family and friends.