Faculty/staff profile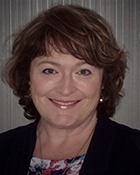 Interurban
Centre for Business & Access (CBA)
233
Accounting & Finance
School of Business
Born and raised in Victoria BC, Susan has devoted her career to providing meaningful, practical and understandable financial advice to her clients. Susan spent the first fourteen years of her career with Grant Thornton Chartered Accountants. As a Senior Manager in their Independent Business Group, she was instrumental in developing the local firm's small business advisory and bookkeeping services departments. She also spent many years as the audit manager for a large variety of charitable organizations.
In 2002 Susan further pursed her career in the Charitable Sector and joined the Victoria Foundation as their Finance Director. As one of Canada's largest Community Foundations, she was a key player in the growth of the Foundation's assets and the organization's presence in the local charitable community. The role focused on the Foundation's endowment fund, the national and international community foundation movement, BC First Nations groups on specific trusts, and the review and updating of the Victoria Foundation Act in 2009. In 2011 Susan opened her financial consulting practice with a focus on providing financial mentorship, training, and controllership services to both non-profit and for-profit organizations. Susan's outlook is to empower her clients by training them to understand their financial processes and enhance their efficiencies. Susan is a regular presenter with Volunteer Victoria and many other charitable organizations on a wide variety of topics impacting the non-profit sector. It has been this love of sharing her knowledge and experience that led to the next chapter of her career – instructor.
As a Camosun College alumnus, Susan continued to be involved with the College, particularly the Co-operative Education Program for accounting students, as an employer. It was this involvement that led Susan to accept a teaching role in 2017. Since then, Susan has become a valued instructor in the School of Business.
You will find Susan spending her days interacting with her students, her clients and of course, her family. Her varied and nuanced career provides her clients and students with an unusual breadth and depth of experience. Susan continues to walk the walk of her vision statement. Education, Empowerment & Empathy. Words to live, learn and work by!